My family loves to visit Chicago, because it's just a couple-hour drive from our home in northwest Indianapolis. Here are some of our favorite things to do in Chicago in summer and at Christmas. One of our very favorite Chicago hotels is ACME Hotel Chicago, because is a far cry from the standard boring chain hotel. Here is my review of one of my top 10 hotels!
It's easy to fly to Chicago on Southwest using Rapid Rewards points and the amazing Southwest Companion Pass that lets one person fly free with you for up to two years. Download my free ebook below to learn how to easily earn this pass!
[convertkit form=5025785]
Note: This post contains affiliate links for which I may earn a commission if you make a purchase after clicking through — at NO cost to you. You never have to use my links, but I greatly appreciate it if you do!
ACME Hotel Chicago Review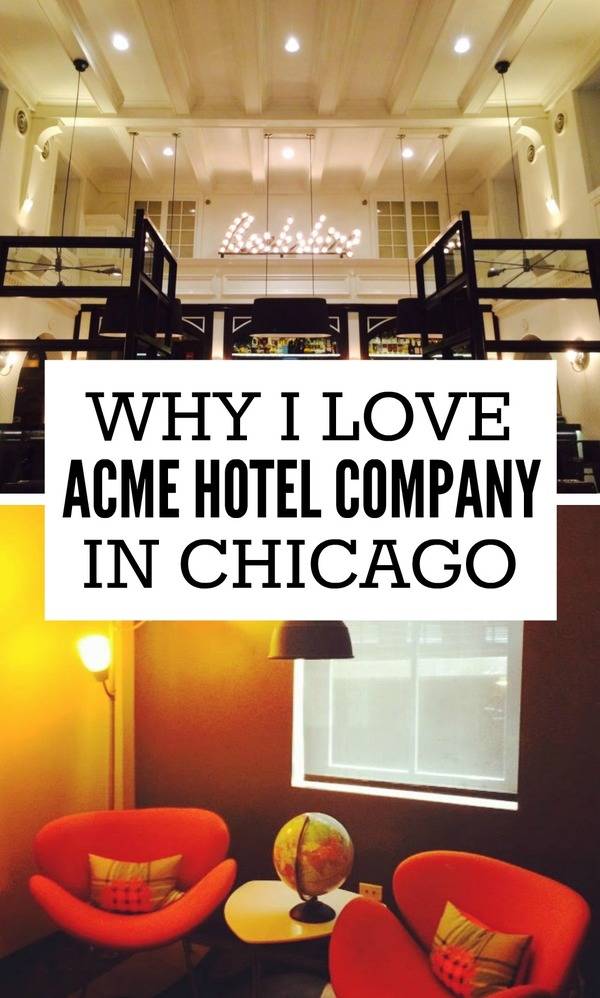 I love fun, funky and different, and ACME Hotel Company Chicago located downtown Chicago certainly fits the bill if that's what you like, as well.
Location
The ACME Chicago Hotel has a great location on Ohio Street near the Hard Rock Cafe, Rainforest Cafe and just a few blocks from our favorite Chicago eatery, Gino's East Pizzeria. I just can't seem to get enough Chicago Deep Dish! Also, just a few blocks away is the Red Line subway system for transit, as well as Michigan Avenue, and even Navy Pier isn't too far of a hike.
Amenities
This boutique Chicago hotel really suits any age, though at first glance you might think "millennial." We brought our kiddos, and while there weren't necessarily amenities designed for kids, it still worked very well for families.
We always love a minifridge (one that actually works and isn't packed with expensive drinks the hotel wants you to buy, that is) in the room for storing waters and juice, and ACME rooms also came with a microwave, which we used for reheating our deep dish one evening.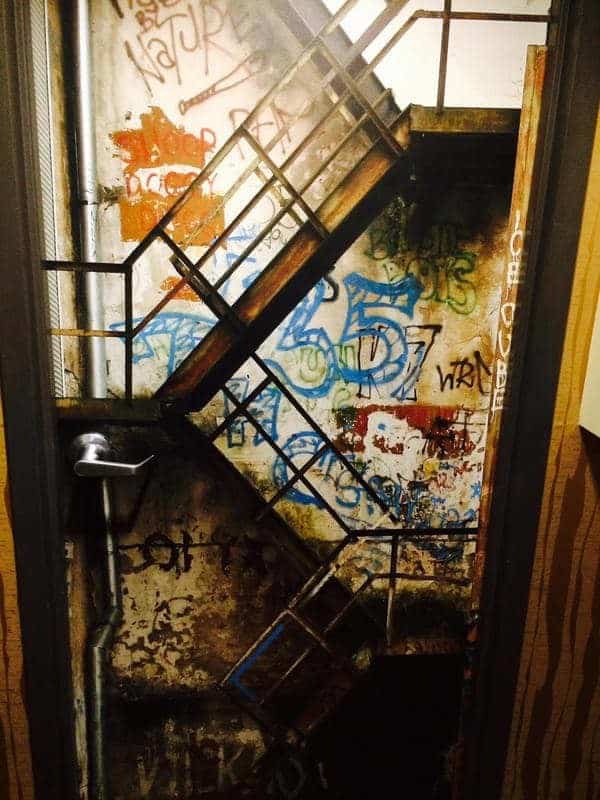 There's free high-speed WiFi for anyone who needs to access a device, and you can even check out a Hot Spot To-Go FREE to carry with you around the city, especially handy for international travelers for cell phone coverage.
There are also hook-ups for PCs and Apple devices to stream content right to the in-room TV and wireless audio systems so you can listen to Pandora or iTunes right from your bed. They also have Amazon Echo in every room!
Another fun amenity at the ACME Chicago hotel is their Knock & Drop Room Service. Just order something from the bakery, and they will deliver to your room with a knock, leaving your goodies in a brown paper bag without you having to fumble around for a towel to answer the door or worry about a tip.
Coffee lovers will also appreciate the FREE Morning Joe Coffee Room Delivery.
Decor
The room was super snazzy, sort of Midcentury Modern with a more contemporary, industrial feel. Whimsical art is used throughout the hotel, including the hand prints over the beds and the flying trapeze artist sculptures out your window. There are also city views for $15 more per room per night.
Elevators have rock 'n roll record albums as decorations, doors are designed to look like alleyways with graffiti, and the kids had a ball with the chalkboards on the doors, which do away with the traditional do not disturb signs. Bathrooms have rain showers and a fun "smooch" on the mirror, which serves as a night light.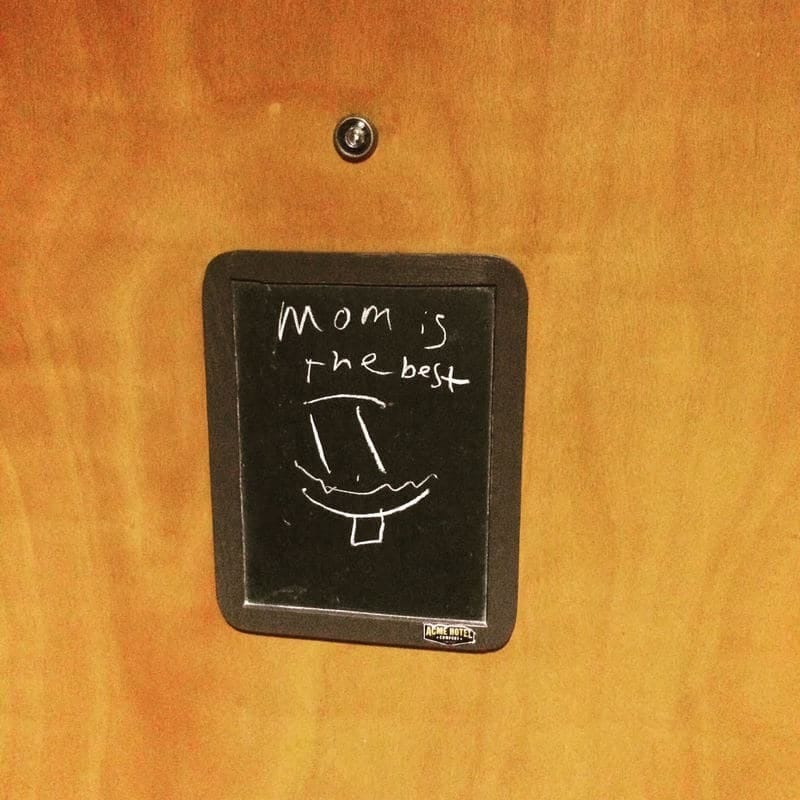 Dining
There's the handy West Town Bakery on the first floor for breakfasts or light lunches and seemingly infinite restaurant options within several blocks' walk.
We also enjoyed the fact that the minibar in the room is not overpriced and about the same cost as a vending machine. We used it several times for soda at just $2 a pop.
The younger crowd may enjoy the onsite Berkshire Room, the ACME Hotel Chicago bar popular with locals (it was packed on a Saturday night during our stay) with its very sleek, old-world, yet modern design. Sip on barrel-finished cocktails, wine and blue collar lagers.

We thoroughly enjoyed our stay at ACME Hotel Company in the Windy City and would absolutely stay there again. Give it a try if you're SO OVER standard boring hotel rooms and looking to spice up your hotel stay.
As far as what to do in Chicago, CITYPASS or the Go Chicago Card both offer significant discounts on attractions by purchasing multiple tickets at once. Plus, these cards let you bypass the long ticket line and gain admittance directly into the attraction! Kidventurous also has 15 free activities to do with kids in Chicago.
Read More:
Note: This room was provided free of charge in exchange for a fair and honest review.