Hello Go to Travel Gal readers, if you've been following along for the past few months, you may know that my family was super excited to book a trip for four — me, my husband and my two sons (9 & 13) — to Europe on Aer Lingus using miles.
You can read the complete details if you are newer to the blog, but essentially we signed up for the Chase Sapphire Reserve when it was offering a 100,000-point sign-on bonus and booked off-season tickets on Aer Lingus, the national airline of Ireland, for 26,000 miles round-trip per person.
[convertkit form=5025289]
I then used additional Chase Ultimate Rewards points combined with Starwood Preferred Guest points — both of which I transferred to British Airways and then to Aer Lingus Avios — to book additional flights within Europe: Dublin to Paris and Bologna back to Dublin.
We are flying Ryanair, a discount airline in Europe (I have heard it's not a great experience, but we shall see), out of pocket for a short jaunt between Paris and Bologna, Italy. It was tough to turn down the price of less than $300 for four people to fly + 4 bags!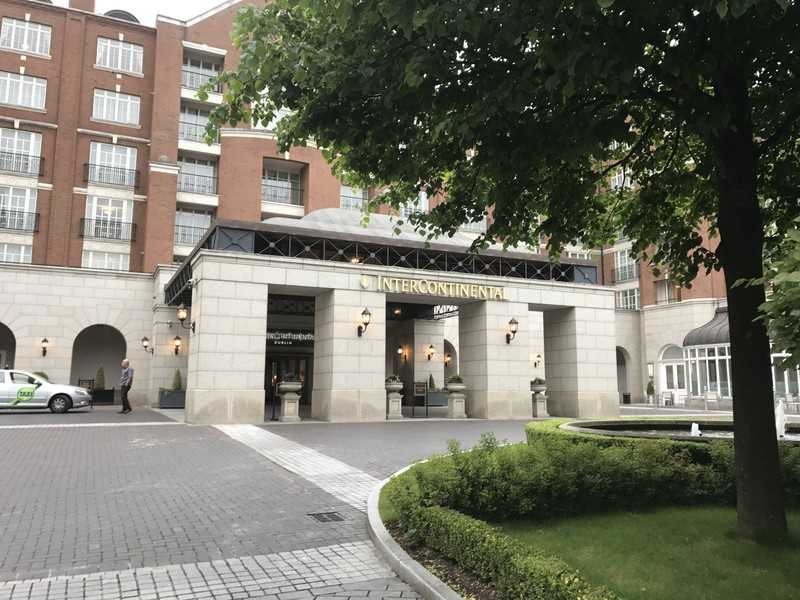 At any rate, we just completed the first leg of our trip, spending two nights in Dublin at the lovely InterContinental Dublin, an elegant hotel about 10 minutes outside the old part of the city in a high-end area called Ballsbridge. This area has its own village where we enjoyed dinner at a pub our first night.
Follow Our European Journey on Instagram
Please follow @GotoTravelGal on Instagram for more real-time photos.
If you are not as familiar with Instagram and only want to get Go To Travel Gal posts, you can easily set up an account by downloading the Instagram app.
Once you have an account, type in GotoTravelGal and then "Follow" and then select the three dots at the top right. Then, if you want, you can select Turn on Post Notifications to get notifications whenever we post a new photo of our travels.
Dublin Summary
While in Dublin, we spent one day in the "City Centre" portion, which is the old part of the city. The Guinness Storehouse was kind enough to offer us a tour of what has become the most visited attraction in Ireland. Our guide, Alan, was fantastic and a total beer connoisseur, giving us tons of information about how beer was made.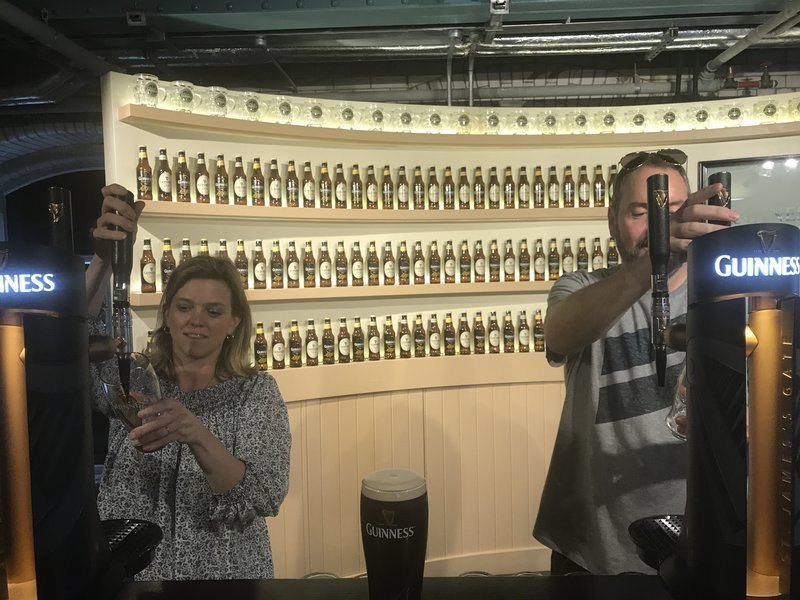 Guinness has been using the same strain of yeast since the 1790s, uses 100,000 tons of barley every year and is not really "black stuff" as it is often called, but actually a deep red. We learned how to pour it — filling it about 3/4 full, letting it settle and then topping it off till the foam just overflows the top.
We also learned how to drink it: don't drink the foam, swish it around your mouth and then after you swallow, exhale. I'm not a fan of beer, but I loved learning about Guinness and found it a very smooth drink.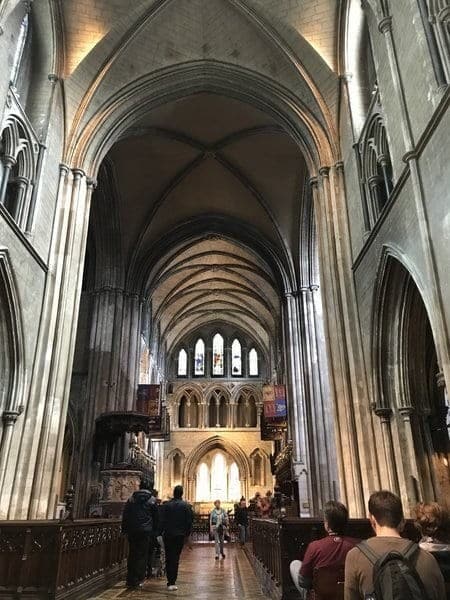 We also visited St. Patrick's Cathedral where St. Patrick is said to have baptized converts and which was founded in the 1200s. It is one of a few remaining Medieval structures in Dublin today.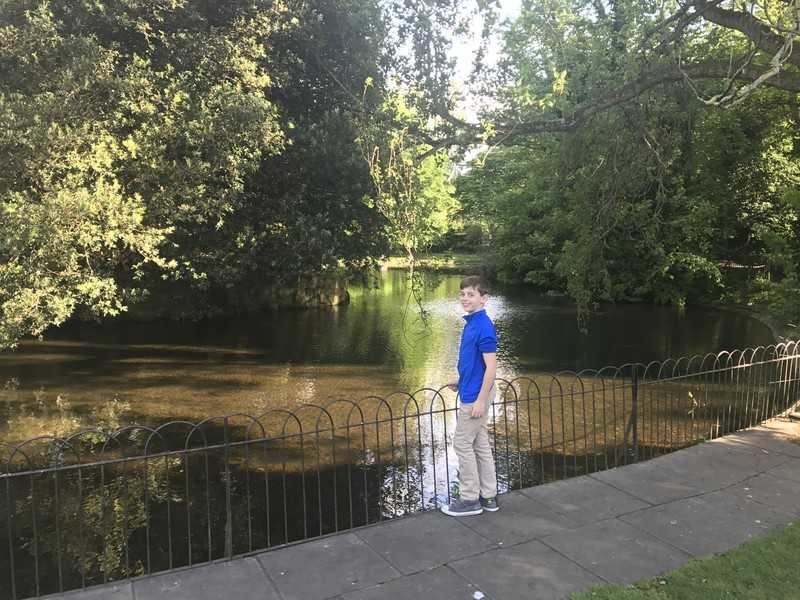 Afterward, we took a jaunt around the Temple Bar area, where you will find many a lively pub for drinking a pint, headed down Gaston Street, Dublin's shopping district and wandered through St. Stephen's Green where many Dubliners were enjoying the beautiful sunshine we were lucky enough to have this day.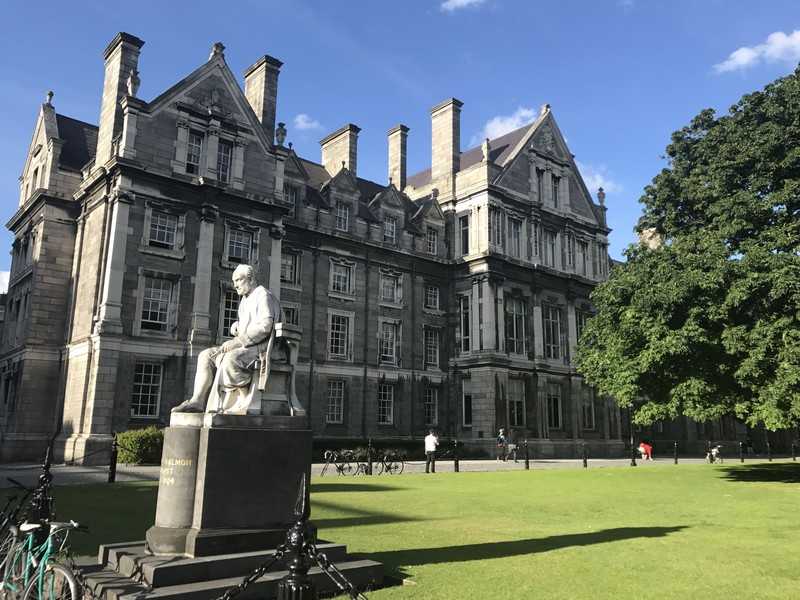 Finally, we peaked into Trinity College's campus, which was stunning. Now, that is what a college campus should look like! It was founded in the 1500s and is one of the oldest universities in Western Europe.
This morning, we flew Aer Lingus again (booked with British Airways Avios) to Paris' Charles de Gualle Airport and are now sitting at the lovely Hotel Indigo Paris Opera in awe that we are in Paris… More to come!
[convertkit form=5025289]
Read More About Our Trip to Europe: