We have arrived in Paris and enjoyed our first three days here. All I can say is that this city is truly amazing. Literally everywhere you turn is another incredible building. It's hard to believe you are walking where kings and queens walked as you stroll through the Louvre or the Tuileries gardens and going beneath the same arches as Napoleon's army. Wow.
I'm so happy I figured out a way to get our family to Paris entirely on miles! Read how we did it and how you can, too!
[convertkit form=5025289]
Note: This post contains affiliate links for which I may earn a small commission if you make a purchase after clicking through.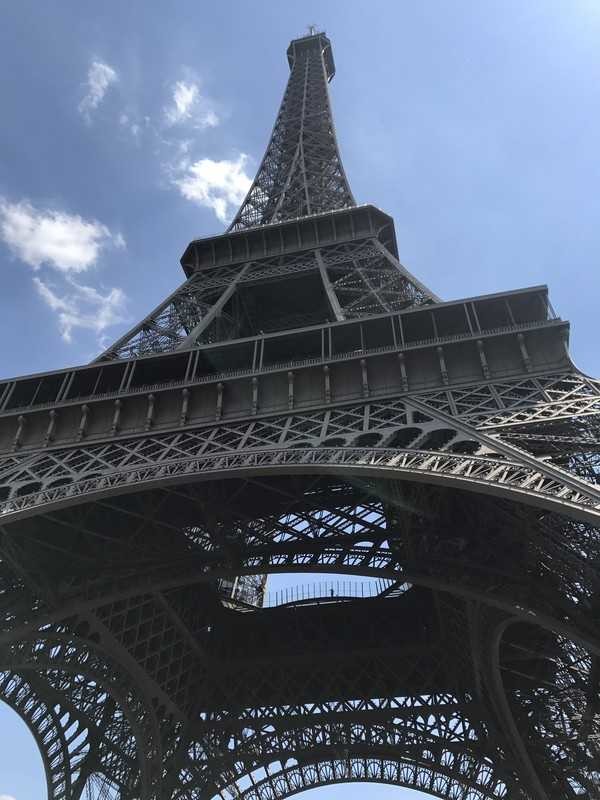 It has taken us about four days since arriving in Europe to adjust to the time — 5 hours ahead of Eastern time in Dublin, 6 hours ahead in Paris. I think we might have gotten with the program one day earlier except for an early morning flight from Dublin to Paris that threw us off a bit.
The day we arrived, we crashed in our room a bit and then explored the area around our lovely hotel, Hotel Indigo Paris Opera. It is in an absolutely fantastic location, literally in its own little arcade off the main street, and within walking distance to some of the major sights like the Place de la Concorde, Vendome, the Louvre and the Seine. It is easy to catch the metro or a bus from here to get to other places a bit further out.
The hotel is on the Right Bank of Paris, which is known to be the more upscale side of town with the Left Bank known for its more artistic, Bohemian, student feel. We will also spend two nights on the Left Bank in an apartment we rented via HomeAway.com
Big Bus Tour Paris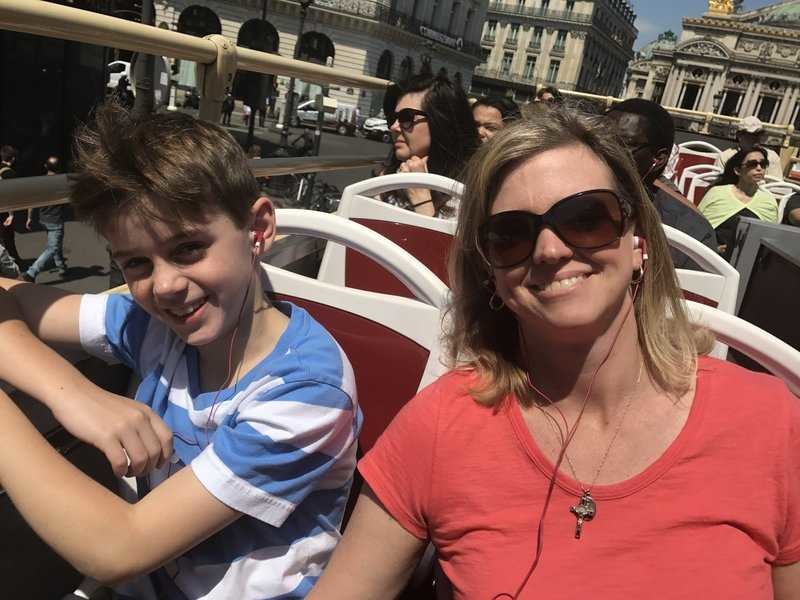 On our second day, we headed out on a bus tour of the city. We really enjoy the tours offered by Big Bus, and have done them in both New York City and San Francisco. While "bus tours" typically get an eye roll as a very touristy thing to do, we find them to be incredibly helpful to get an overview of the area and help get familiar with where everything is located.
It's also, of course, a quick way to see all the sites, and we find that sitting on the top of the bus in the open air gives a unique perspective of structures and their architecture that you would not find lower down from the ground. These bus tours are also "hop on, hop off" meaning you can get off at any major stop to explore an area further and then "hop back on" when you're ready to continue the tour.
We did both the main Big Bus Paris tour, as well as the one that goes up into Montmartre, a part of the left bank that houses the Moulin Rouge and the former artist's colony.
Eiffel Tower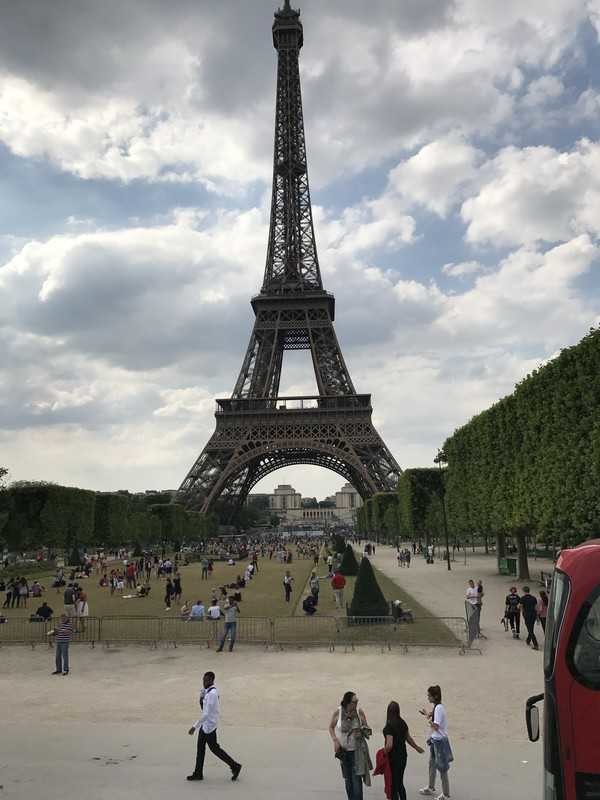 The Big Bus Paris tour takes you right by the Eiffel Tower, so we "hopped off" here, as how can you not go up in the Eiffel Tower when in Paris? We had heard it takes a while, but the crowds did not look too bad to us. I will warn you that is a bit deceptive, however, as the real lines start once you are up in the tower waiting to get on various elevators to go up and down.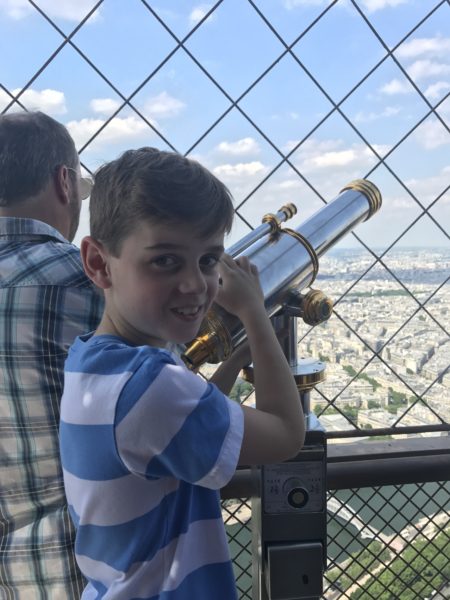 All said, though, it only took us about 2-2 1/2 hours total to go up and come back down. You can bypass some of the crowds if you are willing to walk up to the first floor of the tower, which doesn't sound far, but it actually REALLY far. It is basically walking up the height of one of the "feet." We chose to take the elevator to the first floor and then a second elevator to the top. While it was busy up there, it was not too crowded to see the sites, which of course,  is a lovely view of all of Paris.
Centre Pompidou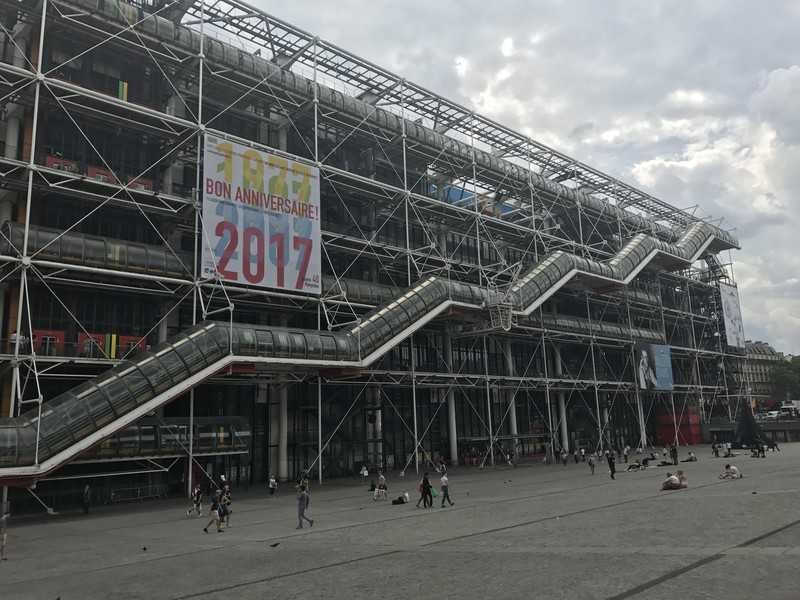 The following day we head up to the modern museum of art called the Pompidou Centre, a funky building that is inside out with all the electrical and plumbing on the outside instead of the inside. All the pipes are color coded by their job, including the red pipes, which move people up escalators :).
We got to see paintings by modern artists like Matisse, Jasper Johns, Andy Warhol, Kandrinsky, Jackson Pollack and more. Very cool! And the area around the centre is worth checking out as well with the streets made into pedestrian walkways from cobblestone.
The Louvre
And, of course, we had to go to the Louvre, which though amazing for the art it holds — including the Monna Lisa and the Venus di Milo — is equally as amazing to be able to wander an ornate palace and wonder what it was like to live as the kings and queens of France, including Napoleon.
We went to the Louvre on a Friday evening, when the museum is open late until 9:30 p.m., and found the crowds were not bad at all. We had a perfectly fine view of the Monna Lisa and were one of only a couple people gazing on the Venus de Milo, Greek sculpture likely of Venus sculpted by an unknown between the 3rd and 1st Century B.C. and found on the island of Milo.
The museum is also free for everyone younger than 26 and is free for everyone the first Sunday of the month October through March. We used a Museum Pass, which afforded us entrance to most Paris museums over the course of two consecutive days. Kids are free in most Paris museums.
Speaking the Language
One of the things I was most afraid of in coming to France and Italy was not being able to speak the language! And, though I'd intended, I did not get any practice in before leaving home. Instead, on the plane from Dublin to Paris, where there was no WiFi :), I read this fantastic book by Rick Steves (Rick Steves' French Phrase Book & Dictionary), which gave a great overview of French culture and basic language.
I actually have had tons of fun trying on French for size. I am decent at the pronunciation from years of ballet and a brief stint of French in elementary school and I've found tossing in plenty of Bon jour (which is how you pretty much greet everyone), bon soir (good evening), merci beaucoup (thank you very much) and si vous plait (please) gets you pretty far.
Then you can use pointing and English to get across what you need/want. Almost all Parisians have been quite friendly and can speak some English. They are usually willing to pipe in in English when they see you are trying. Another handy phrase is "Ca va" which when asked as a question means "Is this OK?" or as a statement means "all set" or "we're good" or "it's OK."
Here are more tips for traveling to Paris with kids!
[convertkit form=5025289]
Read More About Our Trip to Europe: