By Cami Sauder
ALOHA! It's been almost a year since Southwest started their Hawaii flights, and as the first Go to Travel Gal team member to try the route, I want to tell you all about it and hopefully, you can enjoy it soon, too :)!
My husband and I headed from our hometown in Indiana to Maui to attend a Southwest All-Access Event in mid-February and here's what it was like.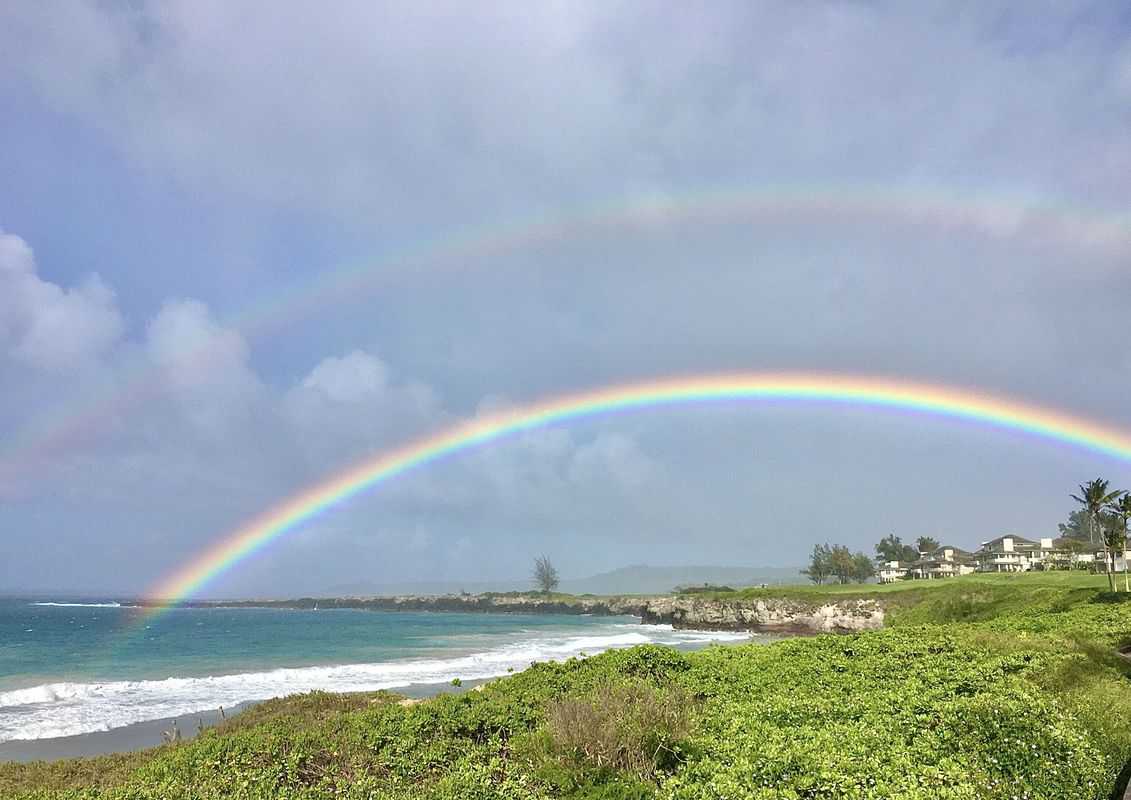 Getting to Hawaii on Southwest From the Midwest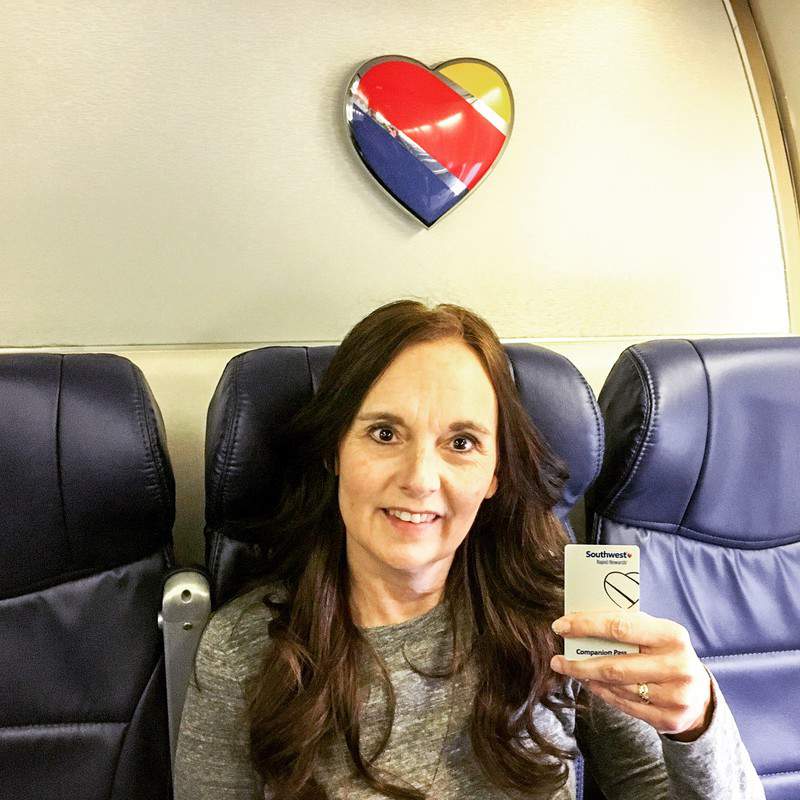 Flying to Maui from the Midwest is a long haul, but thankfully it's possible. I wasn't looking forward to checking in at 6:30 a.m. the day before our flight (24 hours ahead of our departure), but I was so excited about the trip that I ended up waking even earlier! We had our choice of times to depart but they were all VERY EARLY in order to get us to San Jose in time for our flight to Maui.
Our flight departed at 6:30 a.m. from Indianapolis (my Southwest home airport) to Denver. When we arrived in Denver, we were supposed to stay on the same plane, but they ended up moving us to a different one.
We had no boarding passes for this flight, so we wondered, how would we board? Turns out, they allowed us to board right after the pre-boarding folks by showing our photo IDs. Easy peasy and a great selection of seats, of course!
From Denver, we flew to San Jose, California, from which we'd fly directly to Maui. The San Jose Airport is very small with only 30 gates and no additional security required, so it was easy to navigate.
We made our way to the Priority Pass Lounge to use two of our 10 yearly free passes that we get via my Hilton Honors Surpass card. Since I knew we wouldn't be served an actual meal on the flight, I wanted to be sure I wasn't hungry, as it would be at least six hours before dinner. In the lounge, we knew we could relax for a bit in the quiet and recharge our phones.
If you hold a Priority Pass Select via the Chase Sapphire Reserve card, you can also take advantage of the lounges here. Check out Lyn's hack to save on drinks for the plane using her Priority Pass Select!
Flying From San Jose to Maui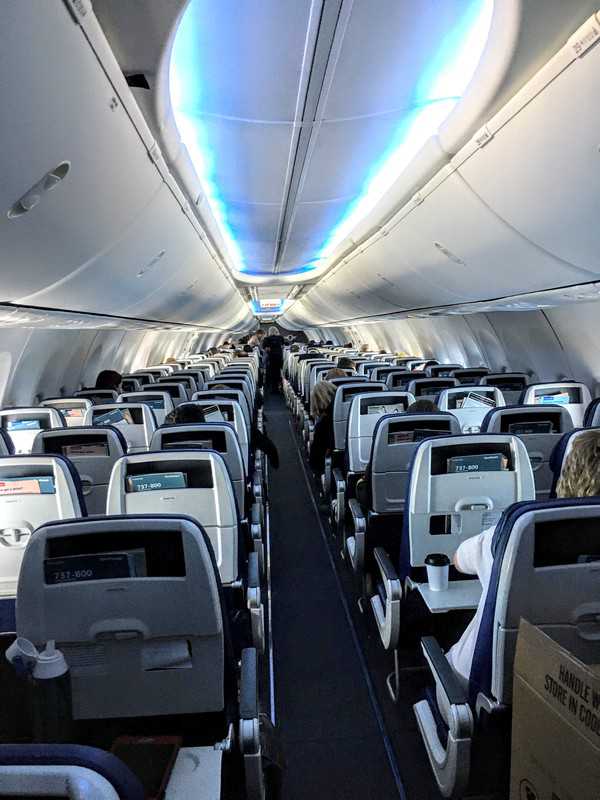 We boarded the flight from San Jose to Maui around 11:30 a.m. in A-30 positions, so there was no problem getting seats together. In fact, the plane was only half to two-thirds full, so the crew actually had to monitor where everyone sat for proper weight distribution for take off!
The plane Southwest flies to Hawaii currently is the Boeing 737-800. Check here for the seat map so you can scope out your best seating option. For this longer flight, you might want to go for the exit row seats!
Be sure to check in exactly 24 hours in advance to get the best possible boarding position.
This plane is modern with Southwest's new interior design, including 175 of the 32-inch pitch seats, more legroom and three bathrooms. The sloping overhead storage bins and sculpted, lighted ceiling leave the plane with more of a wide-open feel, which is nice for longer-haul flights.
You might be greeted, as I was, by flight attendants wearing leis, Hawaiian aprons and frangipani flowers in their hair. Yes, you really ARE on a flight to Hawaii! 🙂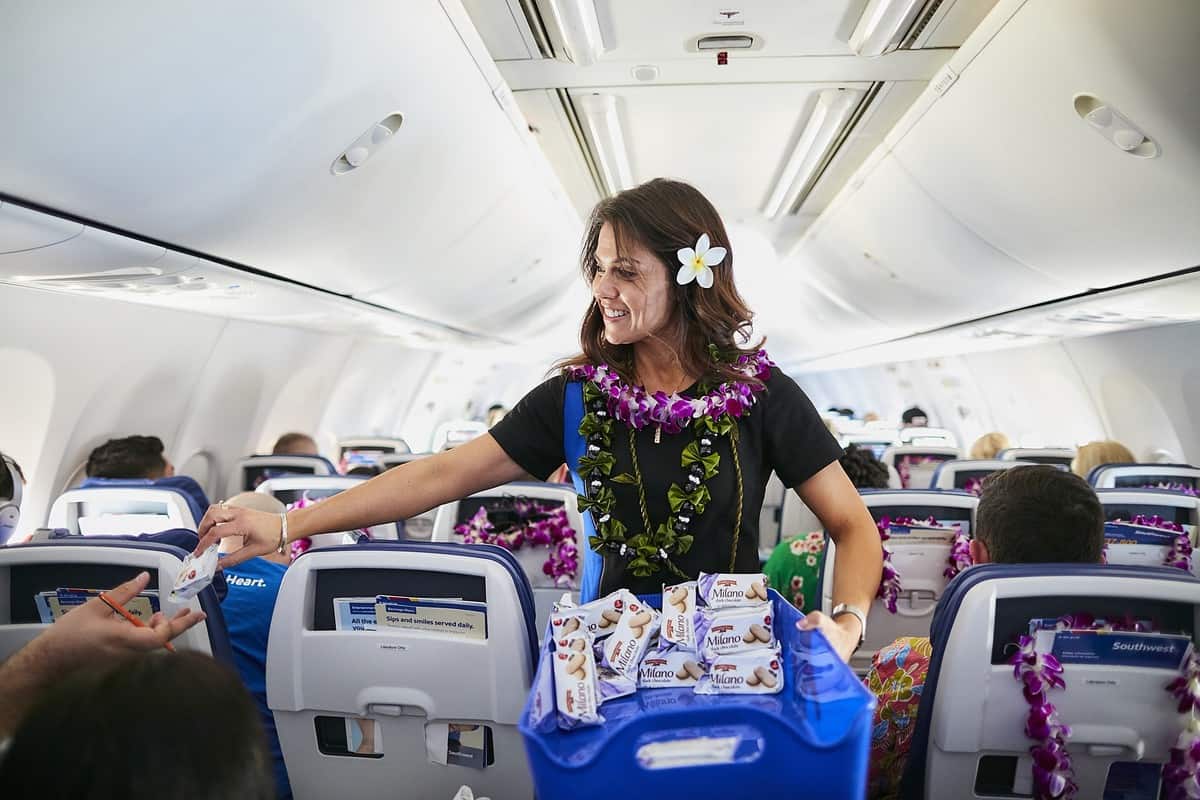 Don't forget to load the Southwest app before take-off, so you can watch their free TV shows, movies, flight path, music, weather and more. Also, while in airplane mode connected to their signal, you can send messages via WhatsApp or iMessage (this is if you have an iPhone and are sending messages to another iPhone connected to WiFi). And for $8, you can purchase their satellite-based WiFi to surf the net from the clouds :).
Here's everything you wanted to know about Southwest wifi and entertainment options.
We grabbed a seat near the back, as I never like to sit over the wing because I want to see the sights along the way like the view below. Ahh…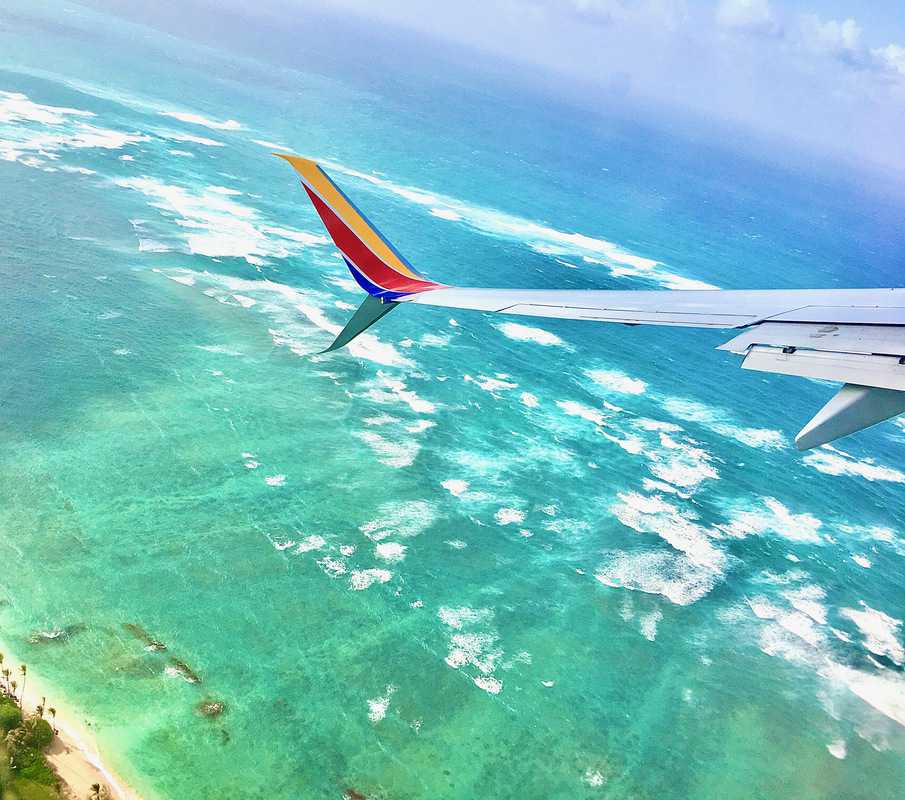 Soon after take-off, the flight attendants came by with the drink cart. You can choose from their free drinks, but the Southwest Hawaii flights have a special pineapple orange blend juice, as well.
If you'd like to purchase an alcoholic drink (here are 5 ways to try to get free drink coupons from Southwest), a Kona Longboard Island Lager and Blue Chair Bay Coconut Spiced Rum are specials just on Southwest's Hawaii flights to put you in the Aloha spirit.

Southwest planes don't serve a meal even though you'll most likely be on board when you'd normally be eating. They do serve a larger-than-normal snack box, which includes Wheat Thins, white cheddar cheese spread, pretzels, fruit snacks and Tic Tacs. But if that's not enough to tide you over, don't forget to bring your own snacks!
Later in the flight, the crew will also serve you a package of Milano cookies and offer water or coffee to go with it to help you make it to the end.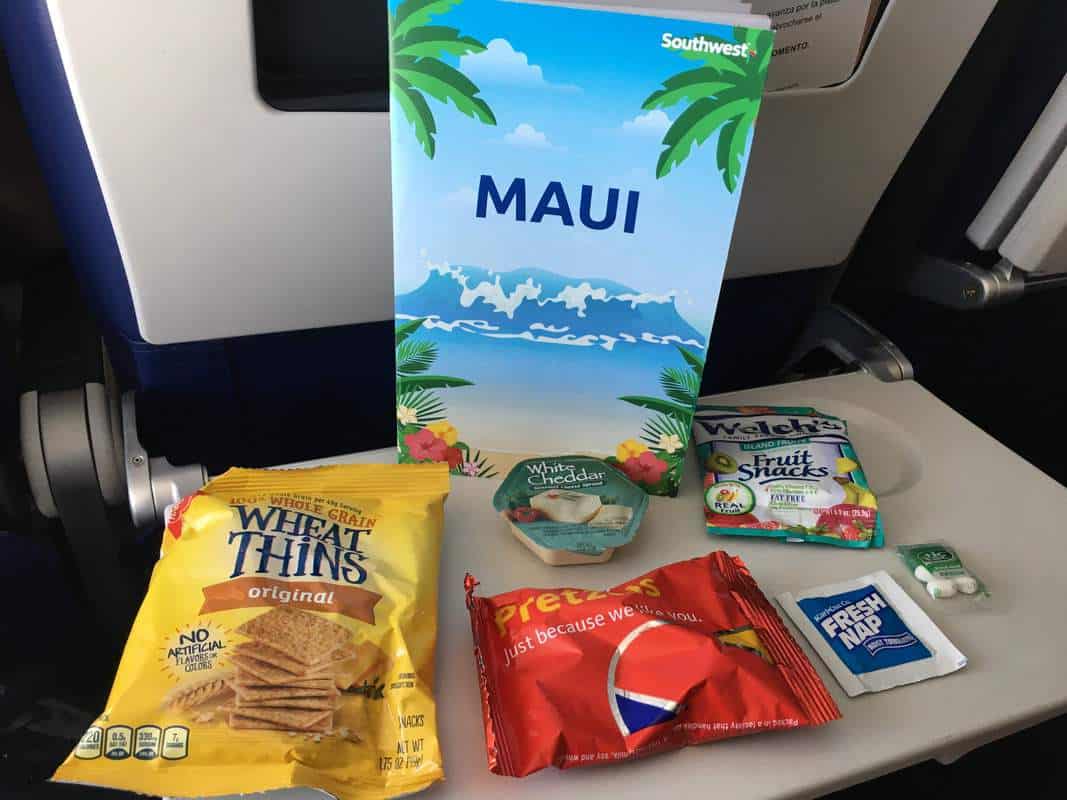 The time passed very quickly for me, as I read a book and then watched a movie. Soon enough, they said we were about to land. Then the beautiful coast of Hawaii came into view!
The gorgeous waters surrounding this tropical paradise and the sand along the shore are sure to catch your eye, but don't forget to look above the cloud layer to find the summit of Haleakala in all its glory!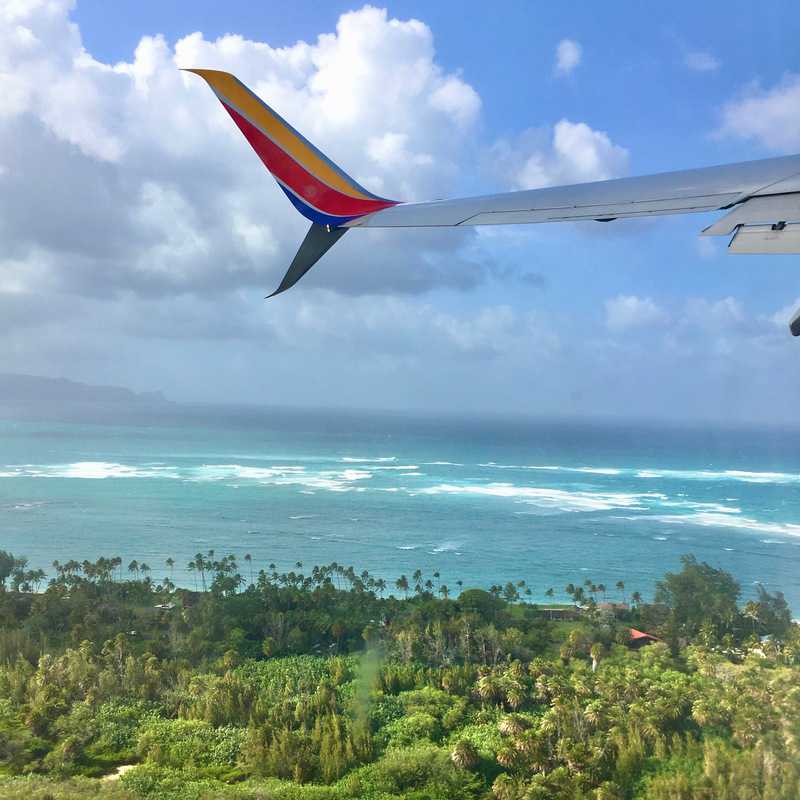 Flying Home From Hawaii on Southwest
Returning to the Midwest, as is the case for those flying to the eastern half of the U.S., we had to stay overnight in San Jose. This is because Southwest doesn't operate "red eye" flights (overnight flights), and it's impossible for them to get you from Hawaii in the morning all the way to the other side of the U.S. (which is six hours ahead) by day's end.
We left Maui at 4 p.m. and got to San Jose and into our room at around midnight. We then got up at 4 a.m. or so to catch our 7 a.m. flight back to Indianapolis. Just keep in mind to plan an extra night when booking flights if you live in the Midwest or further east.
You could even turn this into a longer stop-over in San Francisco (San Jose is just outside the city) or San Diego (which also flies to Maui beginning in April) as Lyn and her family plan to do.
Our adventures in Maui were certainly worth all the flights and overnights. When will you book a Southwest Hawaii trip if you haven't already?
Read More: