Our family made our first trek to Europe together in 2017. We were nervous. I had traveled to Europe once, but the rest of my family had not. Our plans took us to Dublin, then on to Paris followed by Bologna in northern Italy and then Tuscany.
What if we can't communicate? What if we can't figure out the train system? What will there be to eat? What Ireland, France and Italy travel tips were the most important?
Needless to say it was WAY easier than we thought, as we got along perfectly fine :). And in 2018, my husband and I took a couples' trip to Rome. Venice is still on our to-do list! But nevertheless, I feel like I've really got the lay of the land when it comes to traveling to Italy.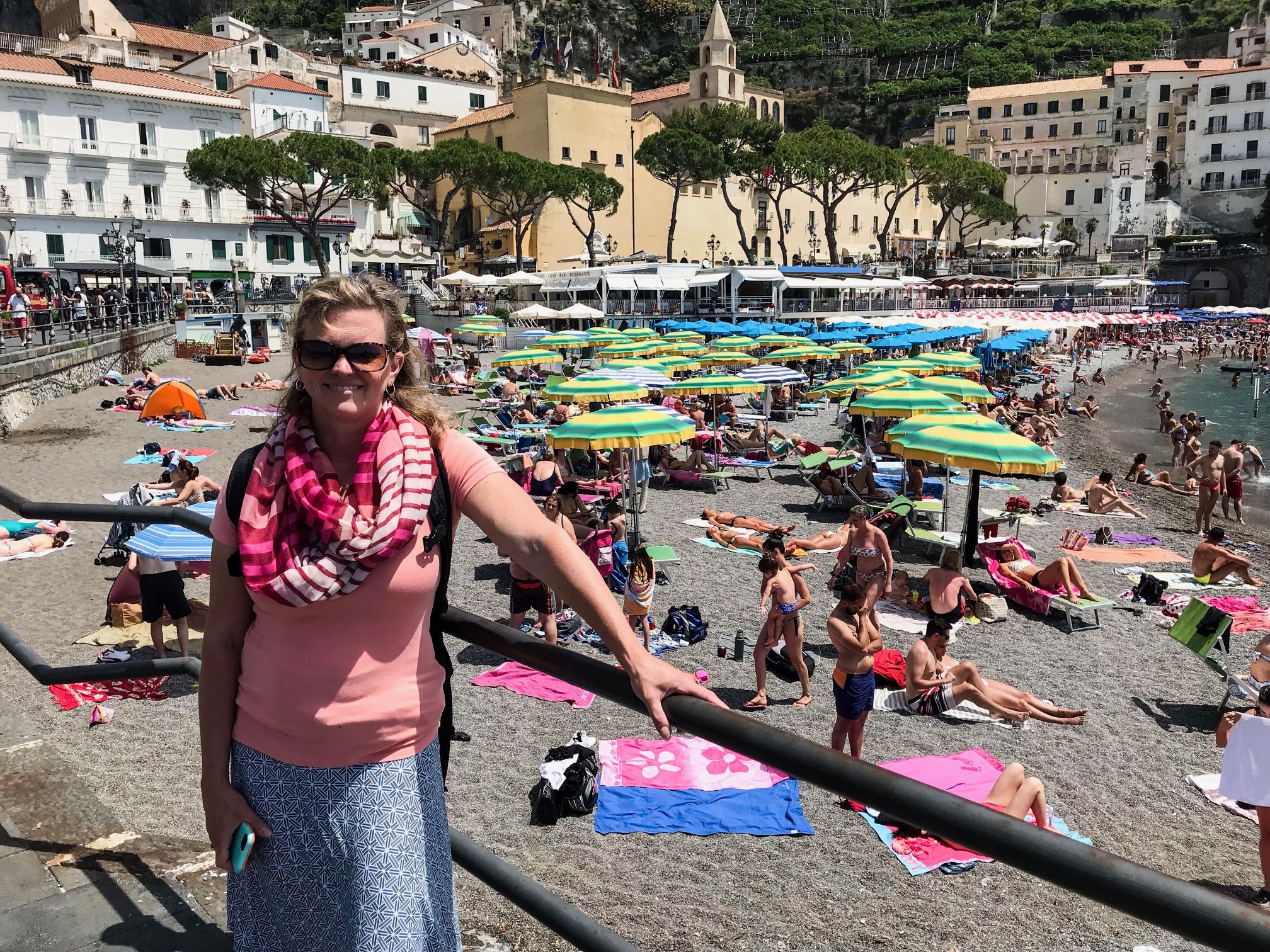 This post has been swirling around my head for a long time, and I'm finally getting it down on the blog! Yea!
Here are the things I think you need to know before hopping the pond to Italy to ensure your trip goes as smoothly as possible and to help calm your nerves.
Consider it Italy basic training. It's the perfect list for first-timers or those who haven't been to the country in a while and need a refresher.
What to Pack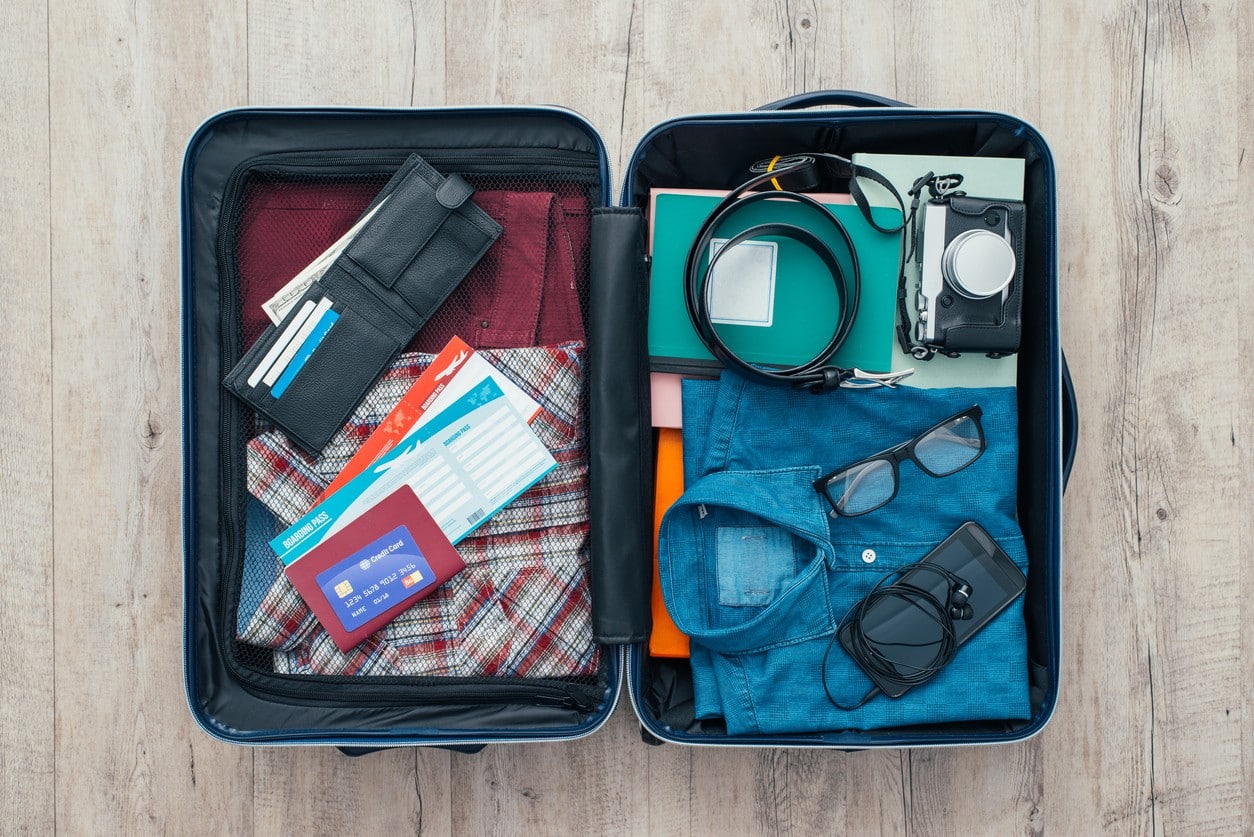 Packing for Europe is definitely different than the U.S. Here in America, we are super casual with our shorts and flip-flops. The Italians tend to dress quite a bit nicer and more stylishly, and when you show up in shorts, you're basically putting a sign on your head that says you're a tourist.
The men seem to dress in fitted suits and the women in dresses and upscale jeans.
We packed lightweight pants, cotton skirts for me and nicer-than-ordinary outfits for our trip to help keep us from standing out so much.
Here are some other Italy packing tips that will make your trip much more pleasant.
1. Bring Wash Cloths
One weird thing we discovered about Europe, at least in France and Italy, is the lack of wash cloths. We still haven't figured out how they wash themselves — using just their hands, I suppose? 😉
If you stay at a hotel that caters to Americans, especially at American brands like Holiday Inn, Hilton and Marriott, you'll probably be OK on the wash cloth front, but if you're staying at European brands, boutique hotels or vacation rentals like Vrbo, wash cloths may be nonexistent.
This was a surprise on our first trip, but we were prepared when we traveled to Rome. We bought these disposable wash cloths for $15, which work for one use and then you toss them. They were perfect!
2. Don't Bring Expensive Jewelry
A lot of pickpocketing goes on in European countries, again, especially if you stand out as a tourist. There are all sorts of scams that cause you to divert your attention while someone picks your pocket. This tends to happen a lot at train stations, and they say not to let anyone help you unless you know they work there.
I was completely paranoid about this on our first trip, always keeping my backpack in front of me, and leaving my engagement and other family heirloom diamond ring at home.
On our trip to Rome, I completely forgot about this and wore my rings. Our Vatican tour guide warned us before we headed down to the Amalfi Coast and back up through Naples on our way to Rome NOT to wear my jewelry, especially in Naples. She noted, "They feel there that if you have something nice, we all should enjoy it." Oh dear…
Leaving it off also unnerved me in case our bags were stolen, but I put it in my money belt under my clothes.
After three trips and about a month total spent in Ireland, France and Italy, we never had any problem.
3. Wear a Money Belt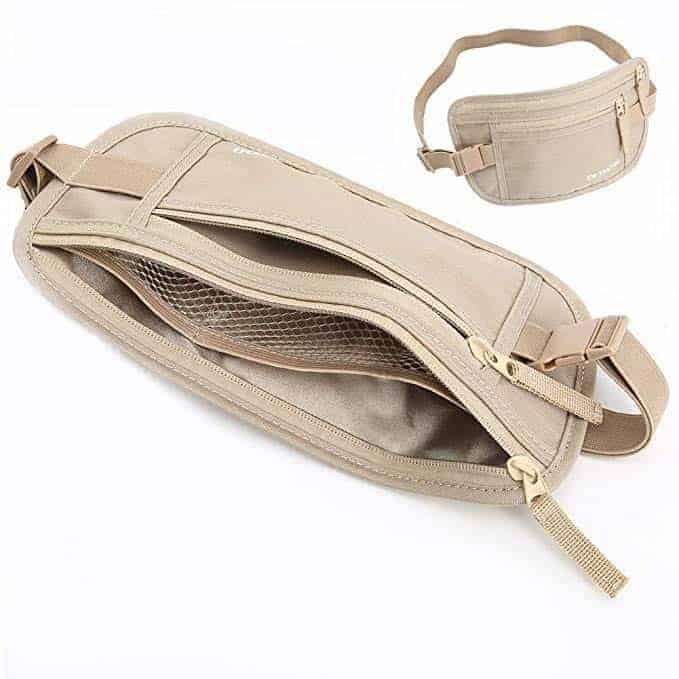 A money belt can also help provide safety from pick pocketers. This is a thin belt you can wear beneath your clothes to keep your money, room key, credit cards and any other important items safe.
I wore this most of the time, and again, had no issues.
There are lots of money belts to choose from, and here you'll find a list of 9 of the best travel money belts.
4. Travel With Tissues
European toilets, especially public ones, are not quite up to the standards we enjoy in the U.S. Very often they are quite rudimentary with no lid for ladies to sit on (I've no idea why!) — see my photo of a typical Rome toilet above — and I've even run into a couple that are literally holes in the floor!
Also, don't be surprised that sometimes you have to pay to use a toilet. We found some of these in Paris and in Tuscany, so keep a few coins in your pocket.
Needless to say, travel with tissues (I like the small portable travel tissues that you can get at the drug store or grocery store) that can be used as toilet paper when in public restrooms, as well as to lay down on the toilet bowl if you want to attempt to sit :). You'll be glad you have those tissues!
5. Bring a Scarf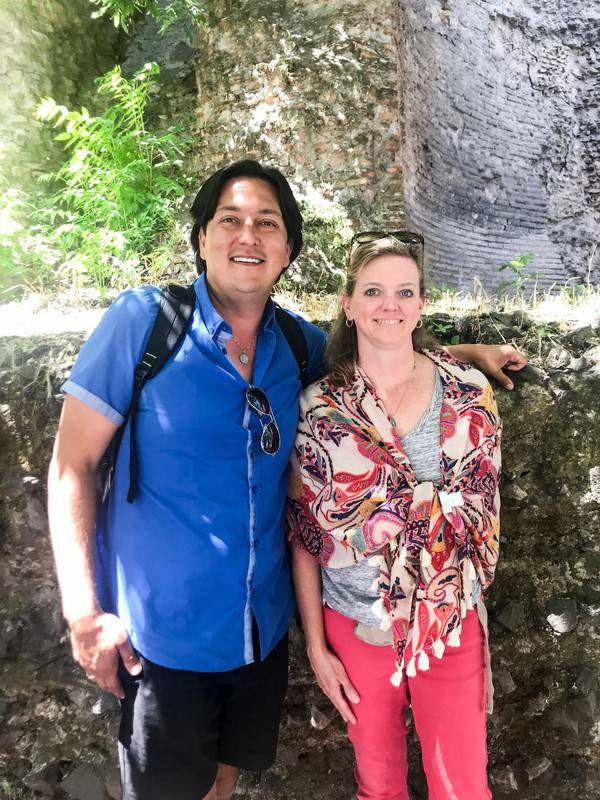 A scarf is a must-have for women in Italy, especially if you plan to visit churches and religious sites. If you have exposed shoulders (this may be the case in the hot Italian summers!), you'll need to cover them up out of respect and to be allowed entry into many holy sites.
I also found it helpful in Rome when we were touring catacombs and other below-ground spaces, as it could get quite cool down there. This allowed me to put it around shoulders if needed, and I sometimes put it around my waist to cover my money belt, as well, if I didn't have it below my clothes for easy access.
And… it helps with that whole Italian style thing as well :)!
Here are more of my favorite travel products on Amazon.
Food and Eating
One of the BEST parts of Italy is the food. It is simply divine. Don't eat for a month before you go so you can eat to your heart's delight when you are there ;-).
Gelato … pasta … olive oil … limoncello … wine … and the list goes on!
Here are my tips for eating in Italy.
6. Eat Where the Locals Are
When selecting a restaurant, try to pick one where the locals seem to be eating. You'll be able to tell the tourists from the locals ;-).
Down back alleys or holes-in-the-wall are good signs!
We made the mistake in Florence of eating at a tourist trap right by the cathedral (packed with tourists). We might as well have eaten at Olive Garden. The fact that I missed a great Italian meal even once almost kills me…
7. Skip Restaurants With Picture Menus and People Trying to Drive You In
Another big clue that it's a touristy spot is if they have pictures on their menus (that's a big no-no) or if it's in English. Sometimes better restaurants will have an English menu, but usually you have to ask for it.
Also, skip any restaurant that has someone out front trying to get people to come in. The ones that are really good don't need to do a sales job.
In fact, a restaurant recommended to us in Rome, da Enzos in the Trastevere area, had an hours-long wait no matter when you went. THAT's the sign of a good restaurant!
8. Pasta Is NOT the Main Course in Italy
Surprise to Americans, pasta is NOT a main course in Italy. In fact, it's the course BEFORE your meal. And portions are quite small compared to what we serve in America.
We Americans have gotten pasta all wrong. We're not intended to have a giant bowl of spaghetti, but rather a small taste before our main protein course.
Oh, and when in Bologna, get the Tagliatelle Bolognese. It is TO DIE for!
9. Ordering Italian Wine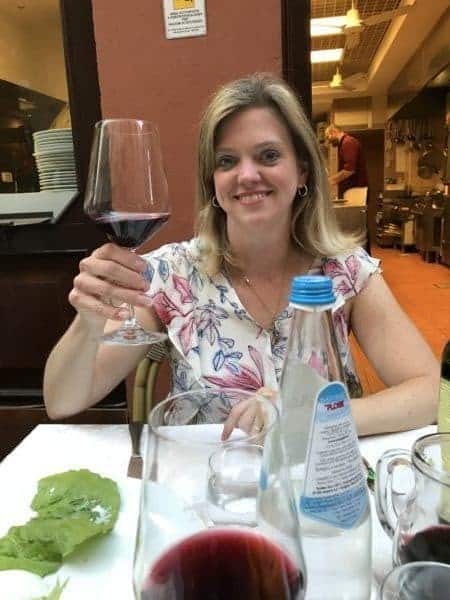 Ah, the wine in Italy… My absolute favorite is to order the red table wine at a local restaurant. Ask for a "quattro," which is almost, but not quite, a full bottle here in the U.S. We found that to be perfect for my husband and I. You can often get wine in Italy for less than soda. Take advantage!
Here are some of the common types of red wine (my favorite) you'll find in Italy:
Table or House Wine (cheapest and usually delicious, as it's locally-produced)
Chianti (the most common in the Tuscany region; for a yummier version ask for the Chianti Classico)
Brunello (this is the more upscale Tuscan wine)
Baby Brunello or Montepulciano (I LOVED Montepulciano, but I like dry wines :), which is a less expensive version of the higher-end Brunello)
Valpulcella – A red wine from the Venetian region
10. Italians Don't Eat Much for Breakfast
A big surprise to us was the inability to find much to eat when it comes to breakfast. It seems all Italians eat for breakfast is a light pastry and a cappuccino :).
So good luck trying to find something more!
In Europe, they don't eat eggs for breakfast, but more often as an omelet for lunch, so forget eggs. You may want to bring some breakfast foods with you, perhaps a protein bar, or something that is easily portable.
Otherwise, plan on heading down to the local Italian "bar" (see below) for a pastry.
11. Milk Is for Coffee
I have a son who is a nut for milk and in fact that's really all he wants to drink. That was a big struggle in Europe! When you ask for milk, they give it to you heated like it goes in coffee.
So if you want milk, ask for it cold and expect they don't have it at all. We tried to find a local grocery when possible to get milk if our vacation rental or hotel had a refrigerator.
12. You'll Get a Bottle of Water at Dinner
Tap water? No thanks, say the Italians. Instead, take your pick of sparkling or still. Italian restaurants always bring a bottle of water to the table rather than serving you from the tap.
It's pretty inexpensive, at just a Euro or two, and it's fresh and delicious, so enjoy!
13. Enjoy Fresh Water Everywhere in Rome
In Rome, all you need is a water bottle you can fill and take advantage of the spickets offering fresh water throughout the city. I was told that these actually run from some of the ancient Roman aqueducts. Amazing!
Here are top things to do in Rome with kids from Trekaroo.
14. You Need to Choose More Than 1 Gelato Flavor
When it comes to gelato (Italian ice cream), locals will look at you like you have three heads if you order just one flavor. Gelato is meant to be eaten with multiple flavors together that complement one another. I recommend at least three.
A good gelato spot will already have recommended pairings for you to choose from.
When in Rome, don't miss Old Bridge gelateria across from the Vatican Museums. It's to die for and a favorite of Catholic seminarians in town studying for the priesthood.
15. Drink Lots of Limoncello!
Ummm… limoncello … so yummy! You'll find limoncello as a digestif (to help your food digest) after your meal. We even found one locally-owned restaurant in Bologna that made their own and it was so good.
Limoncello is tangy and sweet and has a TON of alcohol, but that's why you only drink a shot's worth.
Along the Amalfi Coast, where they are famous for their lemons, you'll find all sorts and plenty of options to buy limoncello as a souvenir is every shaped bottle imaginable (I'm not even going to tell you the shapes they come in — crazy!).
Along Cinque Terre, it's called limoncino, though I'd say it tastes about the same :).
16. The Italian "Bar"
The Italian "bar" is not what Americans would think of as a "bar." Rather, it's a place the locals hang out in the morning or afternoon, drinking a cappuccino, enjoying a morning pastry or a sandwich (panini) in the afternoon.
It is not a place to drink a bunch of alcohol, though you can purchase alcohol in many bars. We used these bars to get a pastry for breakfast in the morning, a sandwich for lunch or a late afternoon snack.
17. Italians Eat Late, Really Late
We had to get used to the fact that in Europe, folks eat REALLY late, like if you show up at 7 p.m., you're REALLY early. Plan on eating around 9 p.m. or if you want to get into a really popular spot, show up when they open (likely around 7:30 p.m.).
You'll look like a total tourist if you show up ready to eat at 6 p.m. That's embarrassing!
I think this is why they don't each much for breakfast. They are really full from a late dinner the night before :).
18. Eat Pizza and More Pizza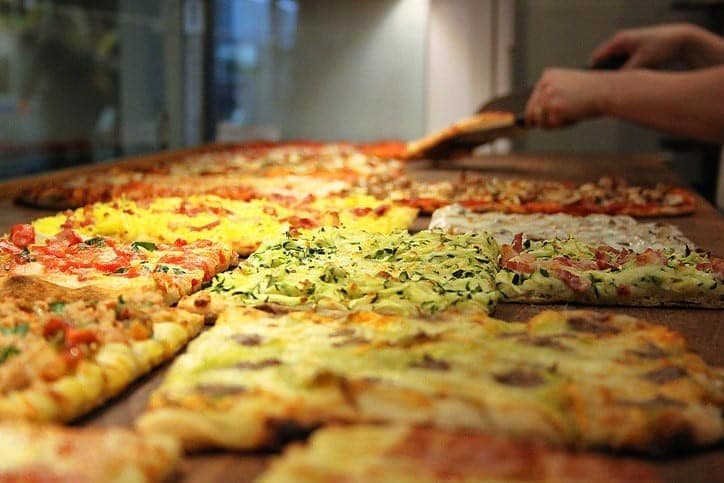 Italians invented the pizza and in fact the Margherita pizza has official World Heritage status. The real pizza is to die for and made right there in a brick oven in front of you.
Expect tomato sauce, dots of melted mozzarella and some basil leaves on top in the classic Margherita pizza. You can also order Marinara if you just want sauce and crust (no cheese).
In Rome, they had pizza "al taglio" (which means "cut"), which is cooked a rectangular pan. It's cut into "brick" shapes, and you tell them how much you want in kilograms. If all else fails, use your hands to show them more or less.
It is SO good and I'd happily eat it for lunch AND dinner.
19. The Tabacchi Is Your Friend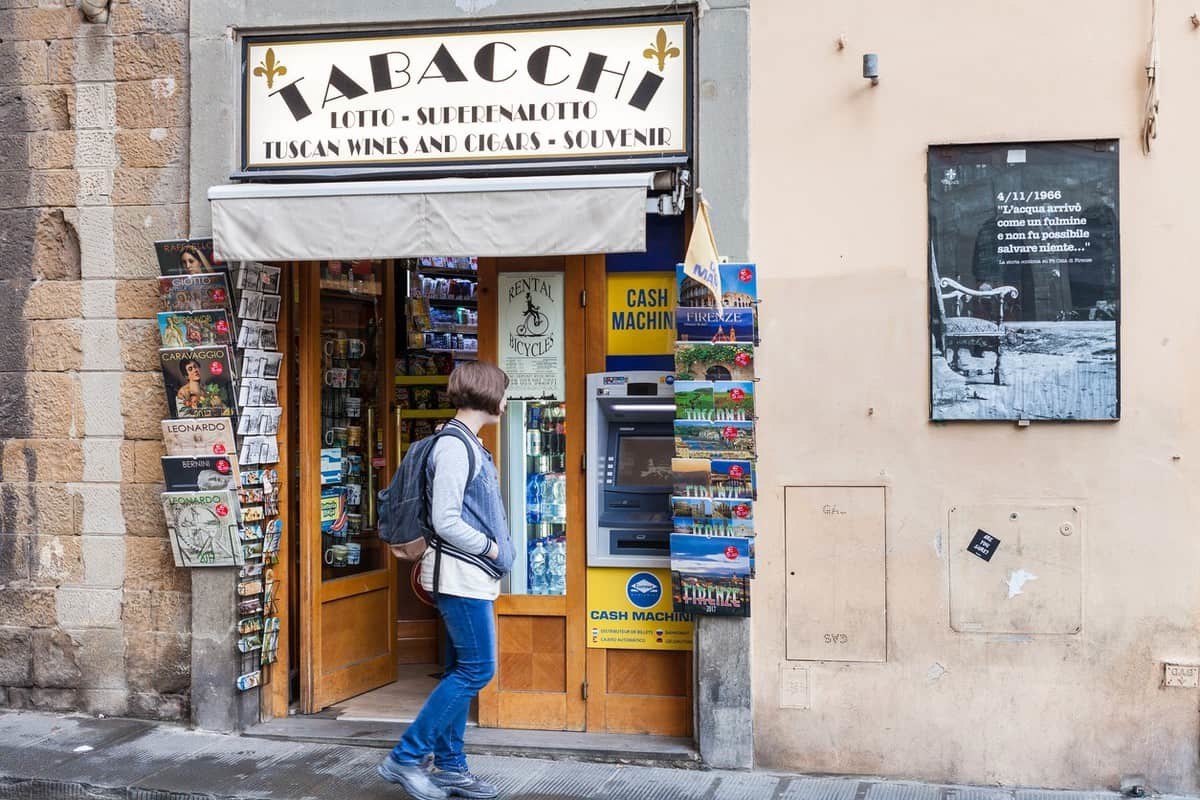 What is a Tabbachi, you say? Ah, well, it's something you MUST know when traveling to Italy. It is so named, because you can buy tobacco there (see tip below about how much everyone smokes in Italy – yuck!), but they sell so much more.
It's basically like a drug store in America except without the medicines. It's the convenient place where you can go to buy cheap water, soda and snacks. We pretty much hit up a Tabacchi every day to load up on water and a few snack items.
Getting Around
20. How to Get Bus Tickets
Riding the bus in Italy is easier than you would imagine, and we rode the bus throughout Tuscany and Rome. What can be tricky, though, is figuring out where to buy the actual tickets.
Here's your answer: the Tabacchi. Yep, head to the closest Tabacchi and ask for bus tickets, but you will need to pay in cash, so plan for that.
Though once in Rome on a Sunday in late fall, I could not find an open Tabacchi. I hear Rome operates a bit on its own schedule, so maybe the owners decided Sunday in the fall was not a busy enough day to be open!
Here's another bus tip: In Rome, we found that no one ever checked your bus tickets. So you could literally buy one set and be good for your whole trip :), but I leave that to your discretion, as I suppose it's not the most honest option. A ticket "checker" could board the bus to see if your ticket is validated and you could be fined if not.
21. Transportation in Italy Generally Doesn't Run on Schedule
Italians seem to run on their own time, which is generally late :). That includes trains and buses, as well.
Buses, especially, don't necessarily arrive when they are supposed to, so they are not a great option if you need to get somewhere in a hurry. Instead, I'd recommend a taxi (see below).
22. Buy Train Tickets Ahead
The trains in Italy are lovely, especially the ones that go from major city to major city. Trenitalia is the major train operator in Italy and you can buy tickets directly on their website.
I highly recommend buying tickets online in advance, as it can be confusing and stressful to try to purchase when you arrive at the train station.
At the train station, you will find kiosks to buy tickets, but this is also apparently a major place to get pickpocketed, as you're not paying attention to your surroundings while trying to figure out the ticket machine.
23. Get Your Train Ticket Validated
Once you have your tickets and have arrived at the train station, you'll need to "validate" them before boarding the train. This is usually done at a yellow machine near your train's platform, and you can either insert a paper ticket or scan a ticket on your phone.
A train employee may check your ticket on the train, so have them handy.
24. Check for Local Trains
While Trenitalia goes a lot of places, sometimes it doesn't offer service between smaller towns, while local trains do. For example, when we stayed in Sorrento along the Italian coast, there was not a major train to take us back to Naples where we could take a Trenitalia train back to Rome.
So I searched the town website and came across local train service to Naples, which worked perfectly fine, and in fact was quite the experience of friendly locals trying out their English on us :). The local train was definitely a bit more confusing, but we were able to navigate and did just fine.
25. Make Sure You're Going the Right Direction on a Bus, Train or Subway
One of the biggest mistakes we've made time and time again is ensuring we are going the right direction on a bus or train. If you're ever ridden the subway in, say New York City, you know there is one train that goes both ways, and you need to be sure that the train you are getting on is going the right way.
The best way to do this is to start with Google, which can tell you what train or bus to take to get where you are going. Google will usually list the stops between where you are and where you need to get off, as well as tell you the end destination for that bus or train. THAT is what you need to keep an eye out for: the end destination.
Make sure the platform or bus stop sign has the same stops Google lists and the SAME end destination. If not, look across the street to see if there is another bus stop. Check that one instead. Sometimes they can be out of site, but are usually across the way. If all else fails, find a friendly local and ask :).
26. How to Use Google to Navigate Without a Cell Signal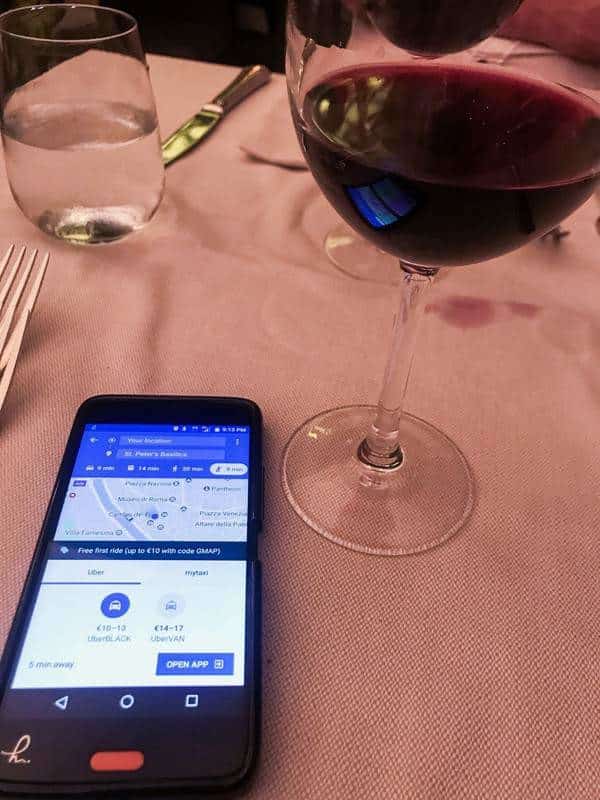 On our last trip to Italy, we did not bother to pay extra for cell service overseas. Rather, we simply connected to WiFi at our hotel or at restaurants or wherever it was available and check in online and via email at those times.
When it came to mapping where we wanted to go, we found we could map it while we had WiFi and it would stay on the screen even when we no longer had WiFi, and the dot (that is your location) would continue to move to help us figure out where we were.
A big plug for Hotel Indigo, as we stayed at Hotel Indigo Rome – St. George for several nights, which gives you a free smartphone to take with you with a cell signal that you can use for mapping. SO HELPFUL!!
27. You Can't Drive in Historic City Centers
In many historic cities throughout Italy, there are designated no-drive zones in the most historic areas. These are called Limited Traffic Zones in English or ZTLs in Italian. Be aware of this, as you can be heavily fined if you drive into them.
This includes Bologna, Rome, Florence, Milan, Pisa and most towns throughout Tuscany. In Tuscany, you'll park outside the walls of most towns and then walk in. In Bologna, look for parking lots outside the city center, where, again, you can park and walk.
Here is a good article on Italy ZTL zones.
28. Taxis Are Fine in Rome, Just Adventurous!
We had heard that we should not take a taxi in Rome, as we might be taken advantage of. After waiting on a bus a bit too long a few too many times, we opted to try the taxi.
We were perfectly fine. While riding a Roman taxi is quite an adventure, it's not dangerous — at least in fear of losing your money, maybe just your life ;-).
If you've ridden in a New York City taxi, that is nothing compared with the hair-raising experience of riding in a taxi in Rome. There are many points throughout the city, like the so called "wedding cake building" above, where traffic seems to be coming to one area from all directions, yet somehow the drivers know how to navigate it without causing a wreck.
We also rode in many a taxi that zipped down super narrow side streets where buildings were about 1 inch from your window with nary a care in the world. Ah, well… they are the experts, I suppose!
Also, unlike New York City where you flag down a taxi, taxis in Rome line up at taxi stands, which you'll find throughout the city. We tried to flag some down, but they insisted we go to the taxi stand where they could wait their turn. So polite ;-).
29. Beware the Mopeds!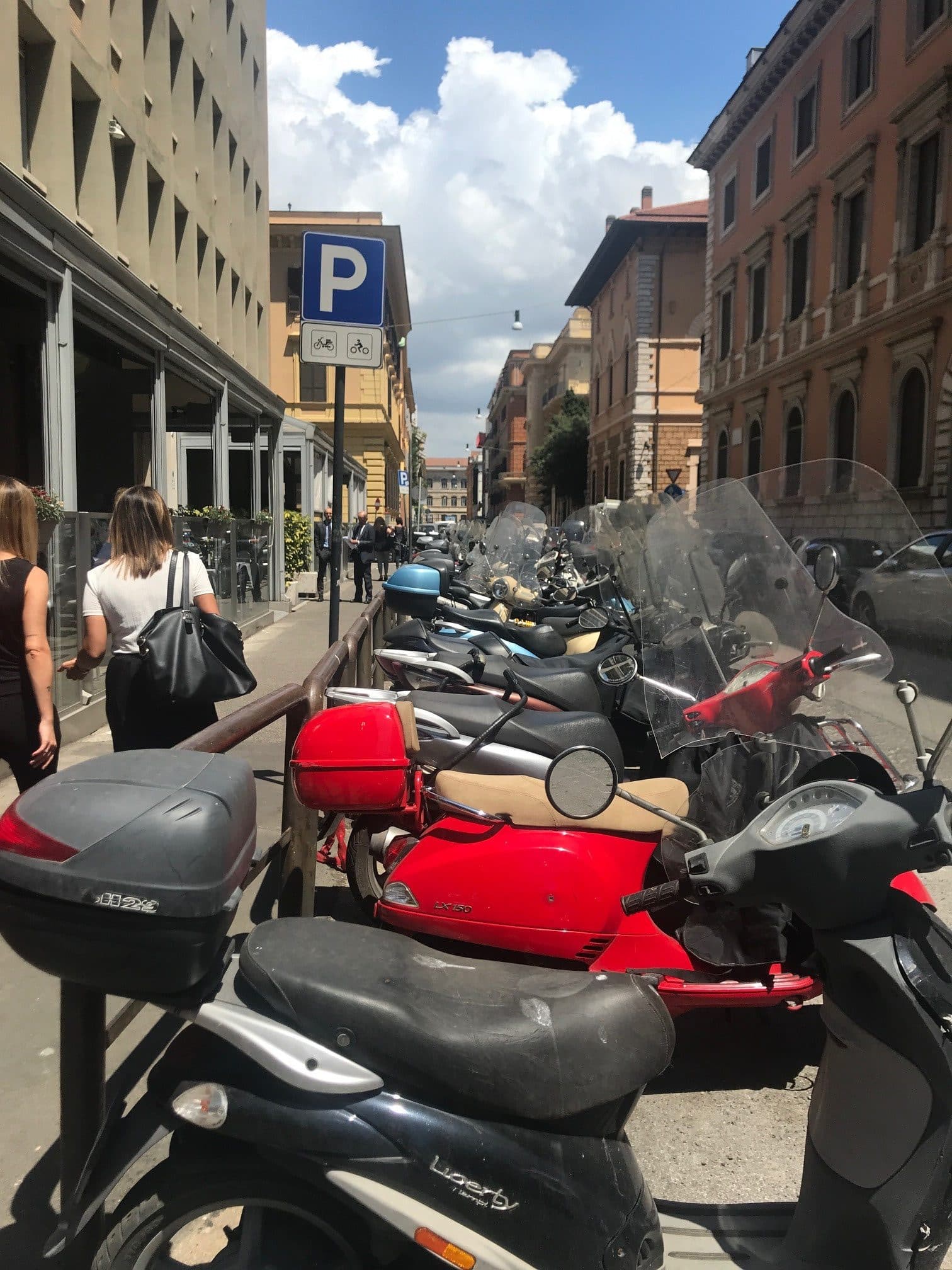 Mopeds are every where that we have been in Europe, especially in Paris and Rome. They literally line the streets in the hundreds parked and waiting on their riders. They are able to zip around the cars in traffic jams, so I totally get the appeal.
My advice is to be aware of mopeds when crossing busy streets. I have more than once almost been mowed down by a moped, because it came around the corner as I was crossing when I didn't expect it. Check and then check again before you step out into the road!
The Language
No need to be fluent in Italian, but knowing a few words will be key to your enjoyment of the country!
30. Make an Attempt at Speaking a Few Italian Words
In my experience, even if you don't know the language, just making an effort to speak a few words in Italian goes a long way. They appreciate the attempt, even if it's not a good one :).
You can make good use of greetings, please and thank you as a polite way to interact with locals. I have seen many an American walk in and expect the locals to understand English, which is fairly rude, rather than making an attempt at speaking a few words.
31. 10 Good Words and Phrases to Know
A great resource is "Rick Steves' Italy" guidebook, which does a great job of giving you the key phrases you'll need during travels, from understanding open and closed, hello and goodbye and how to order and buy tickets.
I also love the free site DuoLingo, which helps teach you a new language through repetition. And here are 8 Compelling Reasons Why You Should Learn a Foreign Language from Travel Mamas.
Here are 10 words and phrases that I found extremely useful:
Ciao – We found this word, which is a greeting like "hello," to be much more common in Tuscany, whereas in Rome, they went with the more formal "buongiorno". Ciao is a bit more casual, something you'd say to family or friends.
Buongiorno – Good morning/day. A great way to greet locals!
Grazie – This is of course "thank you." Note there is an "uh" sound on the end, not just "grazzEE" as most Americans say it. If you really want to thank someone, add "mille" for "grazie mille" or "grazie molto," which means "thank you SO much."
Prego – This is a multi-purpose word that means SO many things. Most commonly, it means "you're welcome," but I've also seen it used to ask, "Are you ready?" (ie are you ready to order?) and saw a woman offer her seat to an older lady on the train by saying to her, "Prego, signora."
Pronto – This is how Italians answer the phone :); it also means "ready"
Per fevore – This is "please." Use it generously!
Permisso – This one is handy if you are in a crowd and bumping into people. It's like the Italian, "excuse me." I found I bumped into people a lot!
Mangiare – To eat! You'll be doing a lot of this in Italy! Mangia! means "eat!"
Si – Yes
Quanto? – How much? To be used when shopping or dining :).
Misc
32. Bring About Three Times As Much Cash As You Think!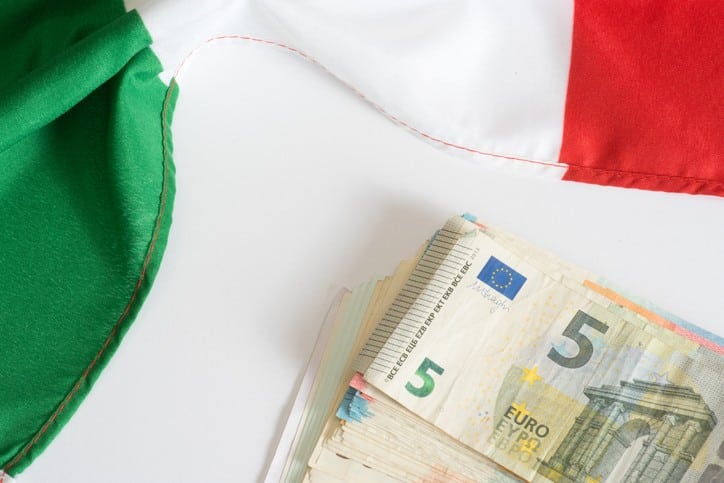 So many places in Italy only take cash, especially the Tabacchi and many restaurants. We found we ran through cash like crazy and had to keep going back to the ATM and withdrawing more. Italy uses Euros, FYI.
Consider your budget and then however much cash you think you need, double it, if not triple it. It'll likely be cheaper to get at your American bank at home than when you're overseas.
You can also use services like TravelEx, though they tend to be more expensive, as well, than your bank.
33. Italians Smoke … A Lot!
Sadly, Europeans smoke a lot more than Americans do. Parisians really puff up a lot, and Italians aren't far behind.
Just be forewarned!
34. Italians Tend to Talk Loudly, But They're Not Always Arguing
It's a bit of a stereotype, but true. Italians are passionate folk and tend to speak with a lot of enthusiasm. Sometimes this can be read as "anger" to someone who doesn't speak the language, but usually they are just engaged in a lively discussion :).
35. The Farmacia Is Also Your Friend!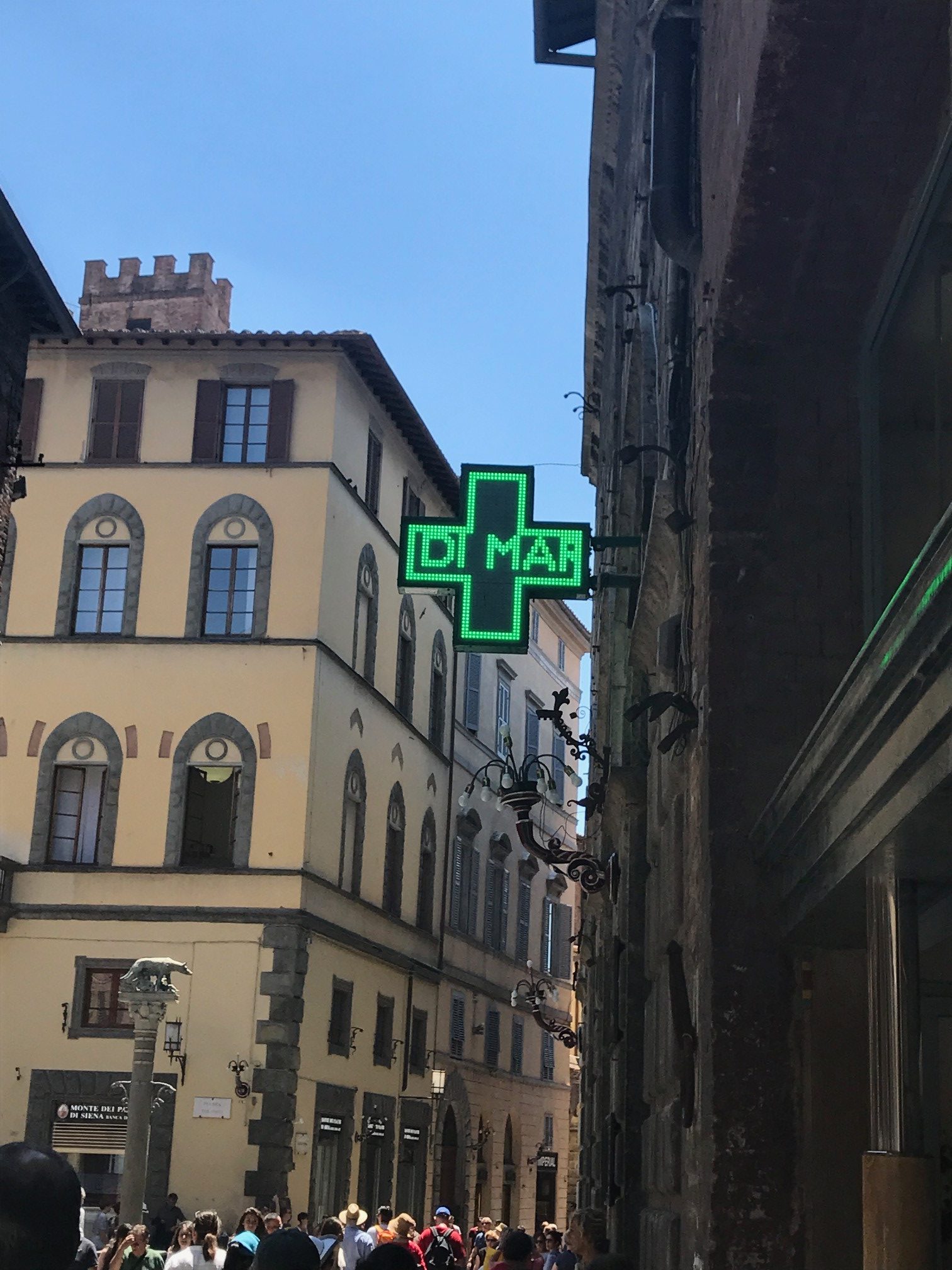 Like the Tabacchi, the Farmacia is a helpful spot. THIS is the spot where you will find all your medications — over the counter and prescription — and they, too, are located on about every corner. You'll know them by their green neon cross sign outside the door.
When my son got sick in Bologna, I had read that the Farmacia in Italy could give you antibiotics. I headed over there and they were super helpful.
They got a doctor to come to our vacation rental for 100 Euro (cash, see note above about cash!) versus waiting all day at the free hospital. The doctor then prescribed him antibiotics, which I had filled at the Farmacia. Apparently, they can give you antibiotics, but the pharmacist was hesitant to do so without knowing what was wrong with my son (very reasonable!).
I hope this helps you prepare for your trip to Italy and realize there is nothing to be afraid of. Italy is a glorious country and with these Italy travel tips in your pocket, you'll be all set!
Want more? Check out these Italy travel tips from the Scenic Suitcase blog!
Read More: