Do you struggle to find supportive shoes or sandals that are cool, comfortable and durable? I know I do! Every once in a while a product comes along that is absolutely LOVE and that I want to tell everyone about.
OOFOS flip-flops and sandals fit the bill! These are hands-down the best and most comfy and supportive flip-flops I have ever come across and I'll tell you why in this review.
Note: This post contains affiliate links for which I may earn a small commission if you make a purchase after clicking on them.
OOFOS are marketed as a workout recovery shoe for both men and women, but I'm here to tell you why they are also perfect for travel.
My family loves to wear flip-flops, and you will often find us in flip-flops throughout most of our travels aside from serious hiking.
So we are always looking for pairs that will last, provide some support (read: Old Navy's $1 flip-flops DO NOT cut it!) and that are comfortable for a lot of walking. I wear flip-flops EVERYWHERE where it is warm enough!
OOFOS Sandals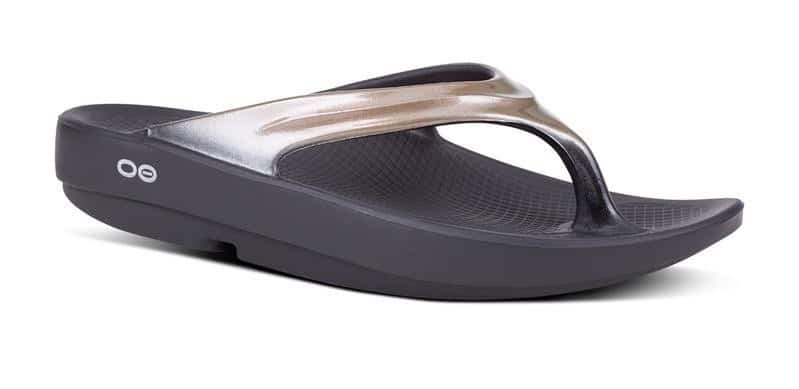 I stumbled upon OOFOS, a unisex sandal or flip-flop, at our local running shop. My son is on the cross country team, and I'd been running with him for moral support — and exercise, of course. I was in the store to purchase a new pair of running shoes and spotted these super comfy looking flip-flops on a store display.
I decided to slide them on and was instantly sold. They were actually being advertised as recovery footwear for runners after finishing a race in this store, but the employee assured me they were perfectly fine to wear in any situation.
Shortly afterward, I wore these bad boys all over Walt Disney World, and they were delightful! At Disney, I usually wear sneakers most of the time for the support with a few flip-flop days to mix it up, but these provided enough support without requiring my sneakers AND they were comfortable enough to wear the entire time rather than my foot becoming worn in a particular spot after a few days.
But I haven't just worn these shoes at Disney. I have literally worn them all over the world: Paris, Tuscany, the Cayman Islands, California, Rome, New York City, on a cruise … you get the idea :).
Reader Andrea emailed me to say she'd suffered from chronic foot pain for 25 years and that after reading this post and ordering OOFOS, she found they really helped! They helped so much that she now owns SEVEN pairs ;-). I'm totally with her!
What I Love About Them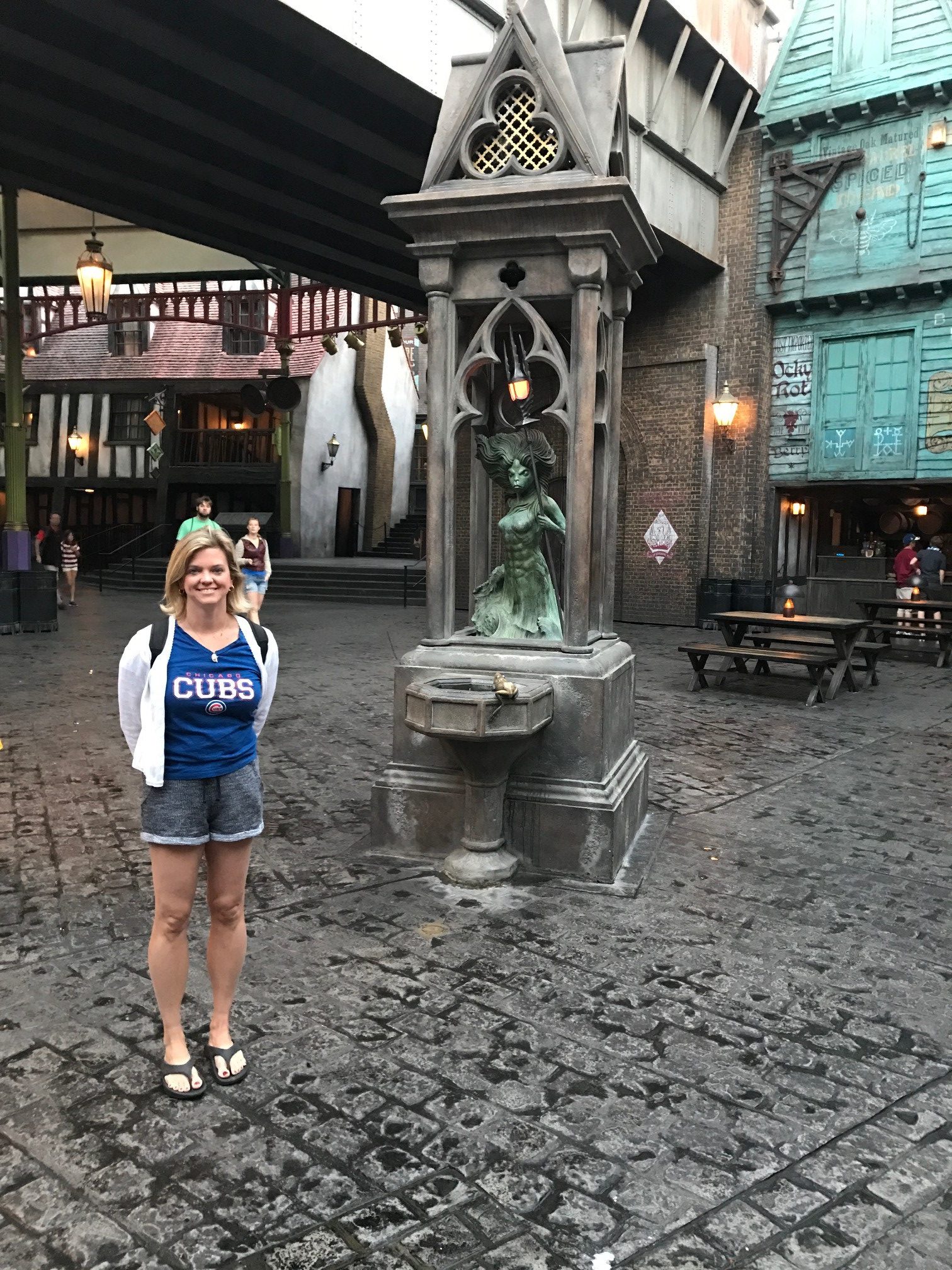 1. High Arch Support
The flip-flops have nice high arch support, which really helps reduce soreness when walking a lot. They are designed to "cradle your arch" and boy do they! This also helps take pressure off ankles, knees, hips and the back.
I had plantar fasciitis (which I finally got rid of after a year and a half) on my left foot, and these shoes made it infinitely more comfortable to walk around when it was bothering me.
2. Super Comfortable
OOFOS sandals are made out of "OOfoam," which is SO comfortable. It feels like walking on a cloud, literally. The foam holds its cushion throughout its entire life, and the material also helps your foot to use a more natural motion when walking.
I love how the foam is seemingly all one piece, including the toe separator, or thong, which is often one of the most uncomfortable spots on a flip-flop. Their toe separator does not cause any chafing and has never bothered me.
Oofos are also incredibly light, not a hard, heavy rubber, and they even float!
3. Reduces Soreness
OOFOS says that their shoes absorb more shock than traditional athletic shoe foam, which helps reduce stress on joints like ankles, knees and hips, as well as the back.
I inevitably get joint pain when doing a lot of walking if I don't wear a supportive shoe, and I've found I have the least pain when I wear my OOFOS. I regularly wear them to take my daily walk around the neighborhood instead of sneakers.
4. Moisture Resistant
OOFOS are moisture resistant, making them OK to wear in showers, by the pool and even to toss in the washing machine (I've done it all, and it works fine).
5. Durable
Any shoe that I can wear all over Walt Disney World and Universal Studios Orlando without noticing any visible wear and tear or loss of comfort or support is amazing!
It's taken me more than a year to wear out each pair of OOFOS, which I have worn every place we traveled, including through cobblestone streets in Europe. I am now on pair No. 3!
I also purchased a pair for our oldest son, who took a school trip to Walt Disney World where he wore them, and he loves them as well!
Here's a video with some more information:
OOFOS Style Options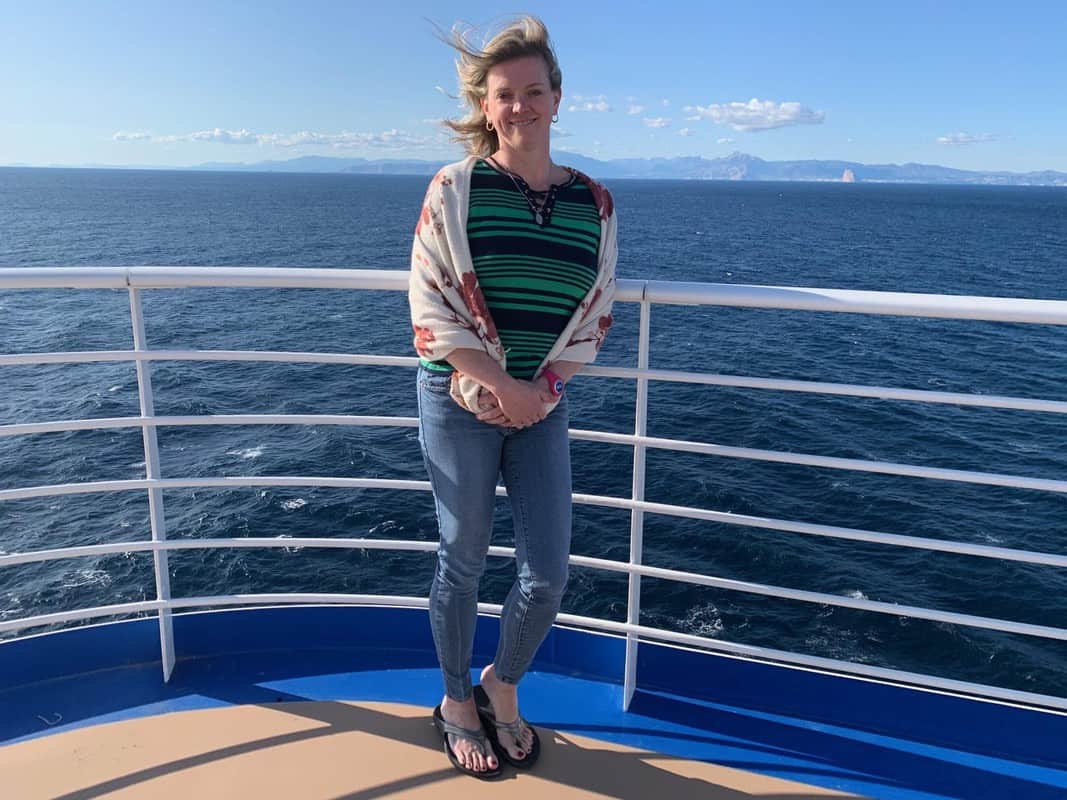 Since I first started wearing OOFOS, they have developed many more styles and options. I like the OOriginal sport sandal, but I recently upgraded to a more stylish version with gold on the top. I really like these, as they look a bit dressier if I need. You can see them in the image above on a recent cruise with Princess Cruises.
OOFOS are available for both men and women, and also come as slides and clogs and in various colors and designs.
The sizing fits correctly with your normal shoe size. They don't have half sizes, though, and the company recommends that if you wear a half-size that you go up a size.
I usually wear an 8, and an 8 flip-flop has worked great. My feet don't hang off the end, and there is plenty of room but not too much to cause chafing.
Buying OOFOS & OOFOS Rewards
You can buy OOFOS footwear directly from the OOFOS website. They retail for about $50 to $80, depending on style you choose. They also offer FREE ground shipping and free returns on all orders.
If you love OOFOS as much as I do and buy them regularly, you can take advantage of the OOFOS rewards program. When you sign up (which is totally free) on the OOFOS website, you get $5 off your first purchase.
In addition to earning points by purchasing OOFOS, you can earn points by doing things like:
Following them on Facebook, Instagram and Twitter
Sharing a link on Facebook
Writing a review
Retweeting them
50 points on your birthday!
Points earn you various discounts like:
100 points = $5 discount
500 points = $25 discount
1,000 points = $50 discount
I hope you'll give OOFOS a go. If you have any questions, comment below!
Read More: