Fall is my favorite season of the year.
I just can't get enough football, fall foliage, Halloween and crisp days!
Here in Indiana we get our fill of fall with gorgeous changing leaves, Notre Dame football and corn fields in abundance :).
Southwest flies to lots of great destinations that each have their own fall flavor, and I'm lining them up for you in case you're thinking about an autumn escape, but aren't sure where to go.
Here are my top fall Southwest Airlines destinations in the USA!
Want to jump to the finish line of using travel rewards to fly your whole family for free - WITHOUT the overwhelm? Learn more about our Families Fly Free membership, where we teach you our SIMPLE process to collect and use travel rewards to always fly for free, so you can make more travel memories with your family and save thousands of dollars in the process.
Click below to learn more...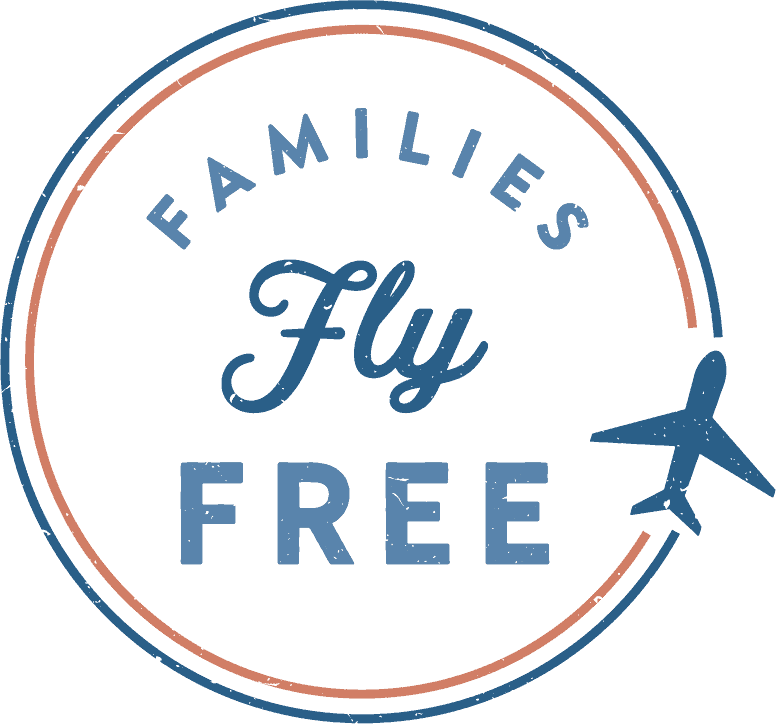 5 Must-See Fall Southwest Airlines Destinations
Please note this post contains affiliate links for which we may earn a commission if you make a purchase after clicking through. Thanks for using our links to support the blog!
1. Beaver Creek, Colorado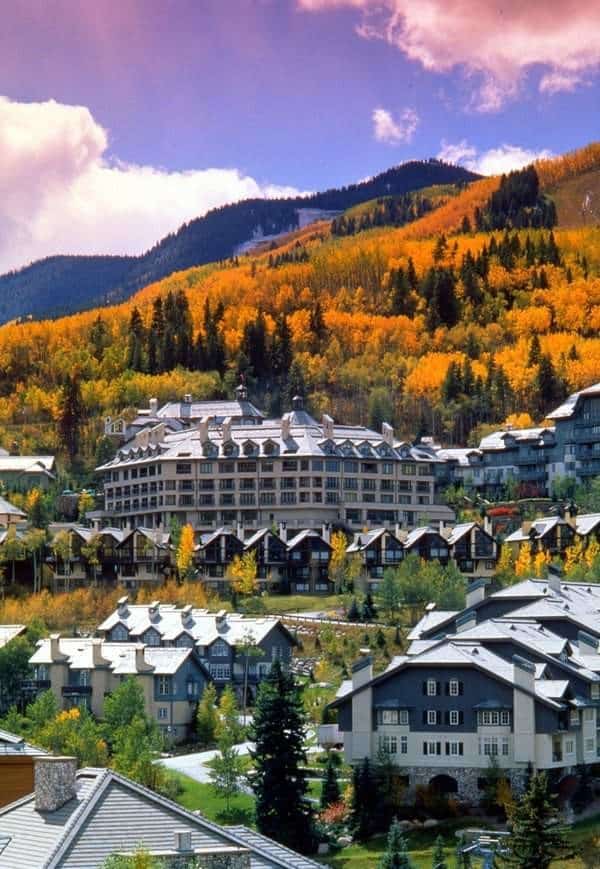 My family has been visiting Beaver Creek, Colorado, about 100 miles west of Denver (which is the airport you'd fly into on Southwest) since I was in eighth grade.
Fall is one of the most beautiful times of year at this charming ski resort that also offers plenty of outdoor activities even when snow isn't on the ground.
The aspens change the most beautiful shade of gold each September as the weather starts to cool.
It's perfect for hiking (be sure to make the trek up to Beaver Lake), mountain biking, fishing or even just relaxing and enjoying the fresh mountain air — my favorite!
My family used to own a condo at The Charter, so I highly recommend it, as it has a pool, game room, free movie rentals and is close to the village.
Other options include:
We have multiple favorite restaurants at Beaver Creek, which include:
Toscanini (Italian wine list is superb!)
Beano's Cabin, which is a cabin set up in the mountains that you can horseback ride to
Beaver Creek is also a fantastic ski resort.
Here are my tips for what to do at Beaver Creek in winter.
To reach Beaver Creek on Southwest, you'll need to take a flight into Denver (the closest major airport) and drive about two hours west through the Rocky Mountains.
Keep in mind that beginning in October, you run the risk of encountering snow along the way :).
2. Napa Valley and Sonoma County, California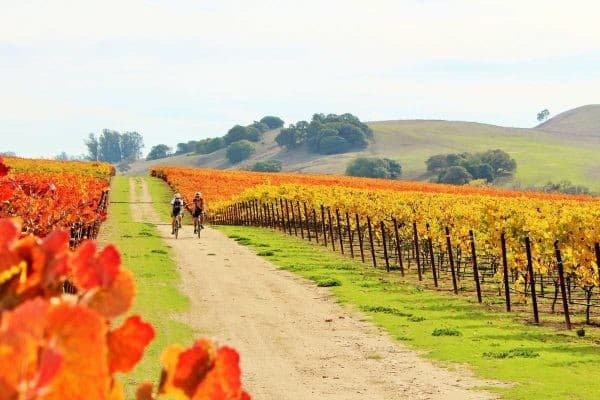 Did you know the grape vines turn brilliant shades of gold, red and orange come fall in California's wine country?
It's a great time to see the beauty of this area with its rolling hills and endless vineyards, and it's another of my favorite fall Southwest Airlines destinations.
We like Getaway Adventures for bike and kayaking tours of the area, which is perfect to allow you to see the gorgeous fall colors.
You can take a day trip, biking from winery to winery or enjoy a six-day Sonoma on a Bike getaway that includes wine tastings, accommodations and meals at some of the area's top restaurants.
They also offer kayaking tours of the Sonoma coast and area rivers that take you past gorgeous redwoods, as well as hiking and more.
During our last visit, we took an amazing balloon ride with Napa Valley Balloons where we could see all the way to San Francisco!
Check out our video below:
My recommended hotels in the area include:
To reach Wine Country via Southwest, you'll need to fly into any San Francisco-area airport, including San Francisco International, Oakland or San Jose.
3. Disneyland, Anaheim, California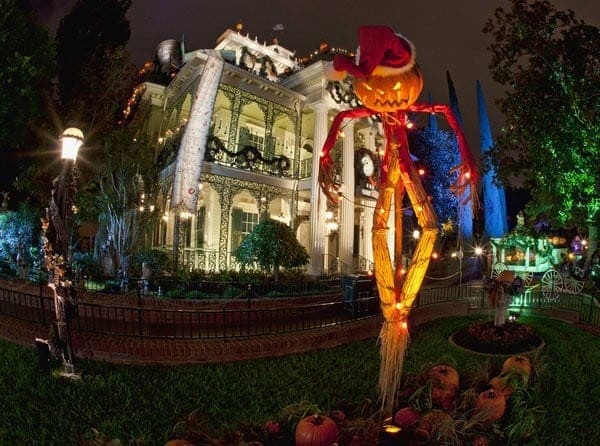 My family is BIG on Halloween!
We love all things pumpkins, friendly ghosts and spooky fun, and no one does it quite like Disneyland in Anaheim.
They really go ALL OUT for Halloween, and set a wonderful fall atmosphere as part of their Halloweentime celebration each year.
Our favorite thing to do is the Haunted Mansion, which gets a complete redo themed to "The Nightmare Before Christmas."
It's a bit of a Christmas/Halloween mash-up, and if you ask me, is worth the trip out there just to see this one attraction.
It is SO fun and well done!
Disneyland also has what I think is a better version of Space Mountain.
The ride is much smoother and the cars hold more people.
As you ride the roller coaster, there are films projected in front of you, which are normally space-themed.
But for Halloween they make it "scary" and rename it Space Mountain: Ghost Galaxy.
And, of course, you can't beat the lighted jack-o-lanterns in the windows on Main Street.
Cars Land is also super fun decked out for Halloween from top to bottom! And even the Guardians of the Galaxy (former Tower of Terror) gets a Halloween reboot.
For hotels, we've stayed at:
The Disneyland Resort properties are much more expensive, however, and book far in advance.
But the Marriott and Hilton are affordable, super close (they have a shuttle or you can take an Uber/Lyft) and perfectly fine!
To get to Anaheim on Southwest, fly into any Los Angeles-area airport, including LAX, Orange County (my favorite), Burbank or Long Beach.
Here is my full post on what to do at Halloweentime at Disneyland.
4. New York City
I adore New York City in the fall.
The fall foliage in Central Park is gorgeous, the weather is crisp (perfect for walking all over town!) and there's so much to do, but when isn't there in NYC?
What better time than fall to take a free stroll down the beautiful High Line in Chelsea?
While in the area, be sure to stop by Chelsea Market for lunch, and head over to Gansevoort Food Market for even more fresh-made yummy food.
During our last visit, we had fun with an adults-only evening out at the Comedy Cellar in Greenwich Village where Aziz Ansari showed up unannounced to try out some new material. So fun!
If you don't have tickets for the Comedy Cellar, get there about an hour before the show for the standby line and see if you can get in. We were lucky to get 2 tickets!
The New York Pass is a great deal if you want to see lots of destinations and save money and time.
As far as where to stay, we like the quieter areas of town (way too old for Times Square, thanks!) like:
We also have stayed in Brooklyn at the Williamsburg Hotel and loved it.
Be sure to catch the New York City Ferry from Brooklyn for AWESOME city views on the cheap.
Here are the most underrated but best hotels in NYC according to my many visits there :), as well as my tips on how to hail a taxi in New York in case you find that intimidating.
5. Charleston, South Carolina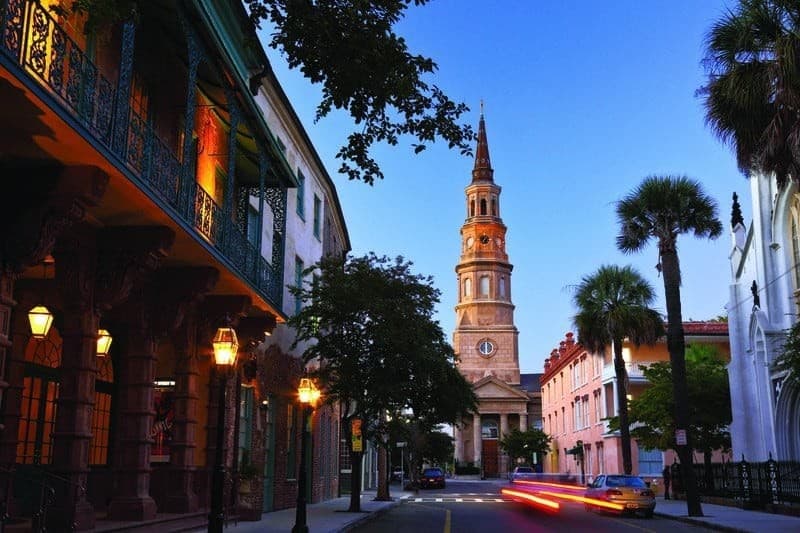 My family lived in Charleston, South Carolina, for about eight years until my oldest was ready for first grade, and it is an absolutely charming destination that is ideal to visit in the fall when the hottest days are gone.
Historic Charleston with its many preserved buildings from the time of our country's founding and Civil War is best explored on foot, and fall weather makes it much more pleasant than summer's heat and humidity.
The autumn is also host to the Fall Tours of Homes & Gardens.
Be sure to wander along the Battery, Rainbow Row, Waterfront Park, the Charleston City Market and the trendy Upper King Street district.
Charming places to stay include:
We used to live across the river from downtown in Mt. Pleasant (you can easily see on a map), which also now has Hotel Indigo, an IHG chain of which I am a fan.
Good news: You can fly directly into Charleston on Southwest! 🙂
Where are your favorite spots to visit in the fall on Southwest?
Some other great ones include international spots like:
The Caribbean
Florida
Mexico
Dallas
New England
And more!
Here are some more great New England Fall Family Destinations from Trekaroo.