I have been to New York City many times, first as a teenager for dance competitions, with my mother on a shopping trip, with my husband as an anniversary getaway and with my two school-age sons. It's different every time!
But, one of my favorite things to do in New York City is to walk the High Line in New York City's Chelsea. Watch this video I filmed during my last visit to the city that gives you a quick overview.
My family of four flew to New York City FREE on Southwest.
Chelsea is a hot spot in NYC right now with incredible modern architecture, going up left and right. There are lots of trendy bars, which are apparently top secret, local shops and just a generally "hip" vibe, especially in the hip Meatpacking District.
Note: This post contains affiliate links for which I may earn a commission if you click through and make a purchase.
We recently stayed at the Gansevoort Meatpacking Hotel in the area, which is a fantastic boutique hotel in a very convenient location just a few blocks from the High Line. It's also just a quick walk to the Village and Soho.
The High Line is an elevated railway line that has been turned into a public park and green space. It is genius! It gives you an elevated view of the city (much like a double-decker tour bus) and of the area's buildings — all surrounded by greenery and with plenty of places to stop, sit and take in the view.
Throughout the High Line, you'll walk literally through buildings, enjoy art installations and murals, and wander through lots of greenery. Be sure to notice the original rail lines that run alongside the path throughout much of the High Line.
There are also spots to grab a snack, ice cream, gelato or icey.
Be sure not to miss the super cool Chelsea Markets at the south end of the High Line with tons of locally-sourced cafes, bakeries, delis and restaurants.
For me, the best part of the High Line was taking in the innovative architecture, including a building by architect Zaha Hadid, all along the way and dreaming of having my own cozy apartment right here in the city.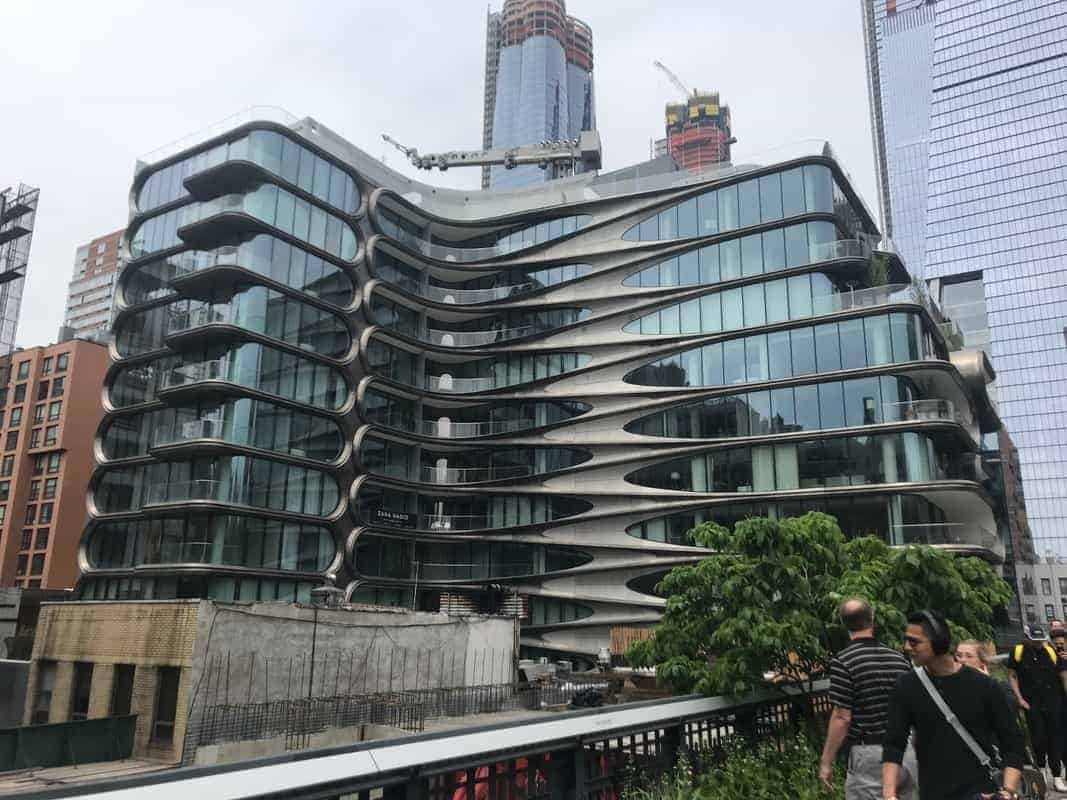 There are actually some apartment buildings going up on the High Line that have direct access! Only a couple million to purchase, I'm sure… But, of course, walking the High Line is absolutely FREE. Plus, it gets you outdoors and active in the city.
The High Line can get pretty packed during the warmer summer months, so to avoid crowds, you may want to head out early. Plus, you'll bypass the summer heat that way, as well.
Have you walked the High Line? How does it rank in terms of New York City attractions for you?
Where to say? I also highly recommend EVEN Hotels Times Square (click on the link for my full review), one of my favorite hotels ever! It sits south of Times Square just north of Chelsea and at the north end of the High Line. Wellness themed from top to bottom, it is a true marvel and delight to stay in.
Also, be sure to check out my top 7 Underrated But Best Hotels in NYC where I have stayed.
Read More: