If you're looking for a family-friendly destination that isn't just warm, but filled with opportunities to stay active and seek out adventure, consider Colorado Springs. There are so many things to do in Colorado Springs both inside and out to thrill all ages.
There's a reason why Olympic athletes train in this city, which is often touted as one of the healthiest cities in the country!
With mild temperatures year-round and low humidity (even in winter, snow doesn't stick around long), plus more than 300 days of sunshine, Colorado Springs practically begs you to embrace the great outdoors.
Set amid majestic mountains and conveniently located within driving distance of Denver International Airport, Colorado's second largest city has more than 55 major attractions for families to explore.
Here are a few standout spots not to miss on your Colorado Springs adventure.
Adventurous Things to Do in Colorado Springs
See Pikes Peak
Towering over Colorado City, Pikes Peak is one of Colorado's "fourteeners," or peaks that reach more than 14,000 feet. Nicknamed America's mountain, as it was the inspiration for the song "America the Beautiful," this purple mountain majesty is a bucket list item for many Americans.
You can reach the 14,000-foot summit via the highest and oldest cog railway in the world dating to 1891 as you climb nearly 9 miles through forests and past waterfalls across five states. The cog railway is currently closed but scheduled to open again in May 2021. In the meantime, you can drive the winding, hair-raising highway up Pikes Peak, attempt the hike or book a tour.
The elevation may make you feel a bit dizzy and short of breath, so take it easy. At the top of the mountain, enjoy a homemade doughnut, a yummy treat for having made it to the top.
The nearby Manitou Incline, originally built for cable cars to carry materials up Pikes Peak, dares extreme athletes to make the one-mile trek up 2,000 vertical feet. Rumor has it you'll be alongside Olympic athletes anytime you attempt this incredible climb.
Hike the Garden of the Gods
Close to Pikes Peak in the Manitou Springs area, Garden of the Gods is a 1,300-acre National Natural Landmark of dramatic red rocks that stand sharply in contrast against the surrounding mountains and bright blue Colorado sky.
Wander among these monoliths of sandstone, watching rock climbers make their way up and marveling at their size and varying formations.
Best of all, for frugal families, this park is entirely free of charge and offers both longer and shorter trails to tackle, depending on the ages of kids in tow; alternatively, you can opt for a jeep or Segway tour.
Kids can see if they can spot the shapes that give each rock their nickname, such as Kissing Camels and Sleeping Giant.
If you happen to be in Colorado Springs during the summer months, make sure to pack a rain jacket, as Colorado often experiences sudden afternoon storms.
Explore the Cave of the Winds
Not only can you explore a 500-million-year-old cave at a more than 6,000-foot-high elevation at Cave of the Winds Mountain Park, you can get in a thrill, too.
Step inside the ancient cave discovered by two adventurous boys in the late 1800s on the 45-minute Discovery Tour. The tour offers an overview that is not too long or scary for young children, squeezing past tight formations and viewing plenty of stalactites and stalagmites along the way. Even I, a notorious claustrophobe, was able to do this one with no problem.
Afterward, head outdoors for fantastic views over a vast gorge, trying the Ropes Course, which dangles over the edge or soaring along over the canyon in the Bat-a-Pult, a seated ride similar to a zip line that's perfect for a parent and child to ride together.
Climb The Broadmoor Seven Falls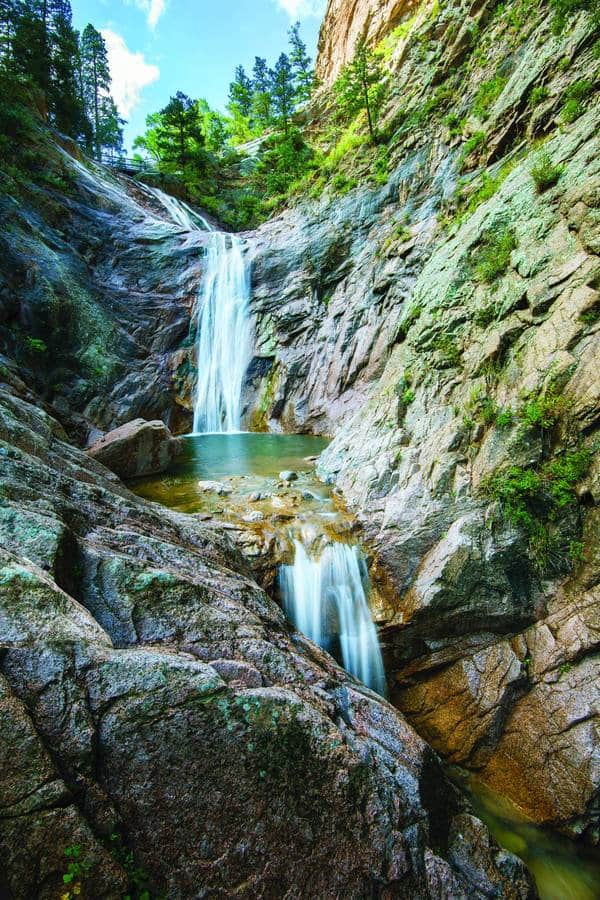 Get in some hiking in Colorado Springs at one of many area parks and trails, or check out the Broadmoor Seven Falls, a series of seven cascading waterfalls in a box canyon located just 1 mile from The Broadmoor Resort.
Climb 224 steps to the top where you can explore even more trails or just soak in the views of the falls from on high. There's also a zip line over the falls with rope bridges, rappelling and a restaurant.
Colorado Springs Hotels and Resorts
Colorado Springs offers numerous sprawling resorts ideal for active families.
Cheyenne Mountain Resort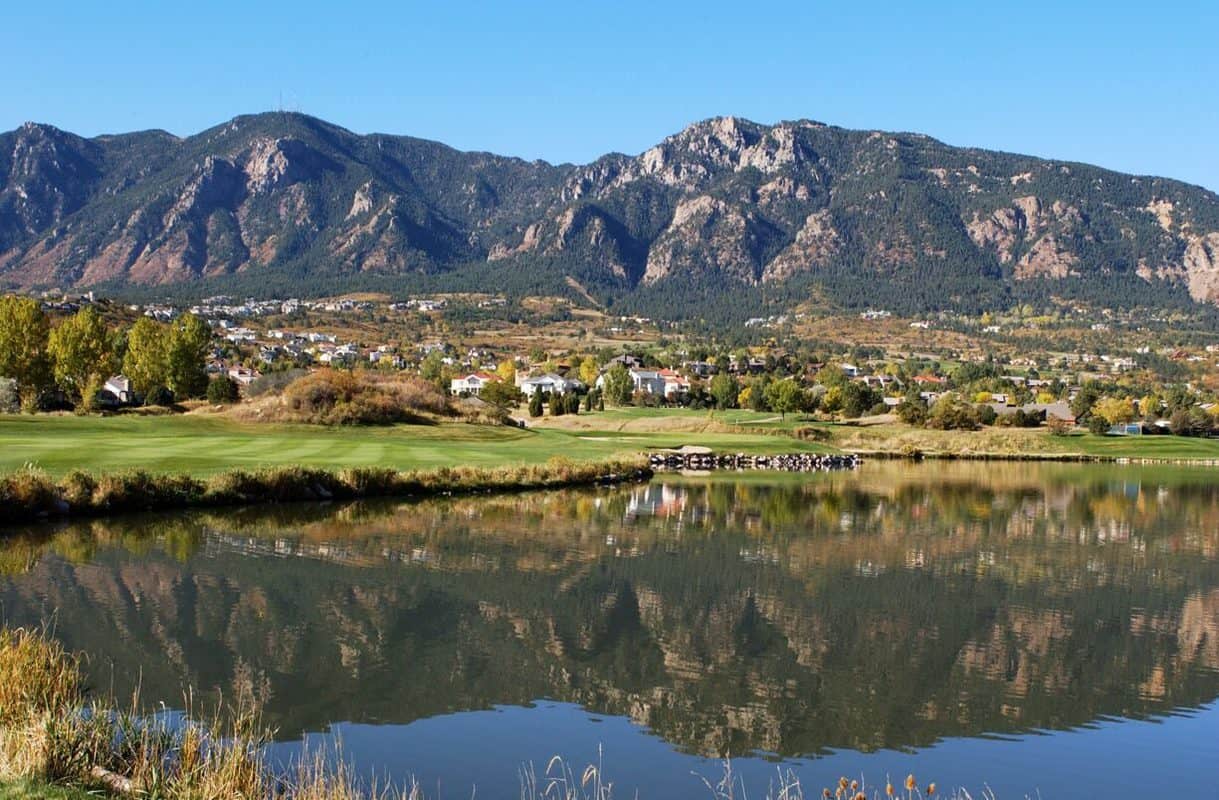 For example, families can keep their adrenaline pumping at Cheyenne Mountain Resort, which offers plenty of on-site recreation opportunities and picturesque views of Cheyenne Mountain.
The resort has a private 35-acre lake with kayaking and boating, indoor and outdoor tennis and pickleball (a hybrid of pingpong and tennis). Plus, the resort features an 18-hole Pete Dye designed golf course at the base of the mountain, a variety of pools, including an Olympic-size pool and a water area for kids.
Meanwhile, parents can work out at the full-size fitness center and take advantage complimentary child care or dart into the on-site spa for some relaxation. The resort is designed to optimize the outdoor views with ample outdoor seating for relaxing, dining and working.
Glen Eyrie Castle
A unique accommodation close to Garden of the Gods is Glen Eyrie Castle, the original English Tudor-style 800-acre estate of General William Jackson Palmer, who founded Colorado Springs.
Dating back to the 1800s, the castle offers 17 rooms, a beautiful outdoor terrace, frequent herds of bighorn sheep, wild turkey and deer grazing, a bookstore in the former carriage house and elegant decor. There are also lodges throughout the property to house larger families.
The Broadmoor
One of most famous resorts in Colorado Springs is The Broadmoor, Historic Hotels of America member which dates back a century. This grand property offers upscale accommodations, including guest rooms, cottages and even private cabins.
You'll also find lots of outdoor activities here like horseback riding, golf courses, mountain biking, hiking trails and pools. Splurge on dinner at the Penrose Room or indulge in a treatment at the Spa at the Broadmoor.
Whether you choose to visit Pikes Peak or simply enjoy a meandering hike in the gorgeous weather, there's no shortage of adventure to be had in Colorado Springs.
Read More: