Panama City Beach, Florida, is a great beach destination that is easy to reach from many US cities with tons of family activities AND it won't break the bank.
We've compiled our favorite 10 things to do in Panama City Beach (otherwise known as "PCB"), as well as the area's best restaurants and accommodations to reap you plenty of Recreation, Refreshment and Rest–the vital 3 R's!
Let's start with recreation and all the great things to do in Panama City Beach…
My family saves more than $8,000 every year flying free using travel rewards, and I can show your family how to make flying free a LIFESTYLE too! Join my Families Fly Free program — where flying free is GUARANTEED — to learn my simple Fly Free Process, so you can start making more priceless travel memories with your family. Learn more below…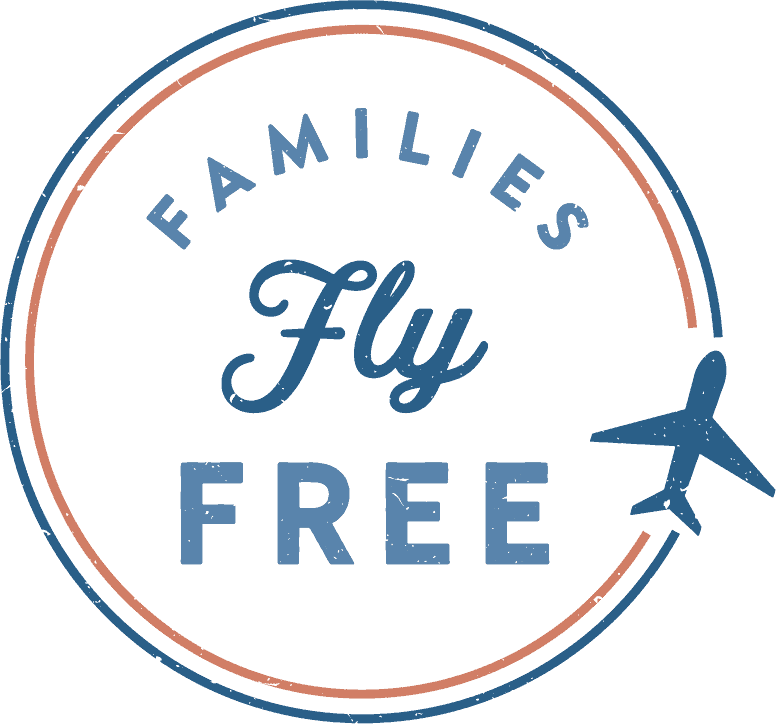 RECREATION: 10 Fantastic Things to Do in Panama City Beach
1. Stop by the Visitor's Center
When planning your trip, head to www.visitpanamacitybeach.com first. Sign up to receive their visitor's guide and do lots of Reading and Research (2 more R's!) from their Recommendations and then make yourself some Reservations (and finally 2 more!). Whew!
Once you get into town, stop by the PCB Official Visitor Information Center and they'll be glad to help you with brochures, event calendars and more.
You may even get a free goody or two in your take-away bag if you tell them it's your first visit!
2. Enjoy the Landscape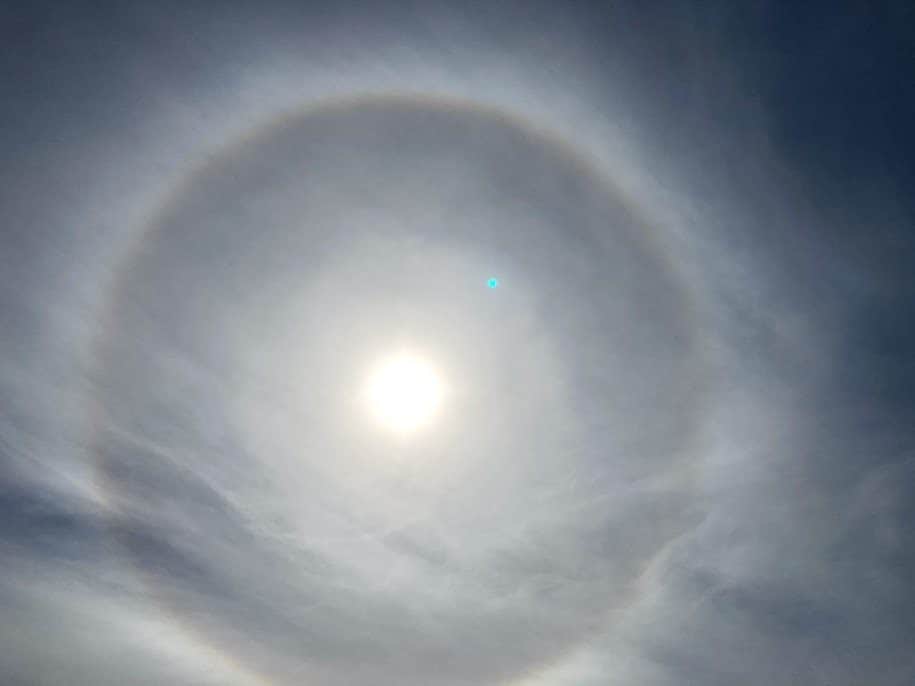 Next, there's the ever-changing landscape outside between the beach, the ocean and the sky!
It amazed me how even the beach landscape changed almost daily while we were there.
If the wind was blowing, it was completely smooth.
If the sea was raging, there would be new hills of sand that weren't there before or a huge tide pool would emerge.
The cloud formations were amazing and, of course, sunsets are not to be missed!
While you're out enjoying the views, you might just get buzzed by a local military fighter jet, hear a historic plane with props or see a refueling helicopter fly by.
3. Play at the Beach
You can spend the day at Panama City Beach in lots of different ways…
Playing in the water (watch for the colored warning flags)
Fishing from shore
Riding a boogie board
Catching up on reading
Taking photos
Getting buried in the sand
Walking on the beach
Searching for seashells
Flying a kite
Playing one of numerous games like Bocce ball
Using your metal detector to find a treasure
Riding a jet ski
Throwing a frisbee
Looking for dolphins
Making sand angels
Trying your balance on a stand-up paddle board
Having a sandcastle competition like we did!
Parking is absolutely free, unlike some beach towns, so you'll be able to visit all 27 miles of beachfront!
What's your favorite beach activity?
4. Explore Florida State Parks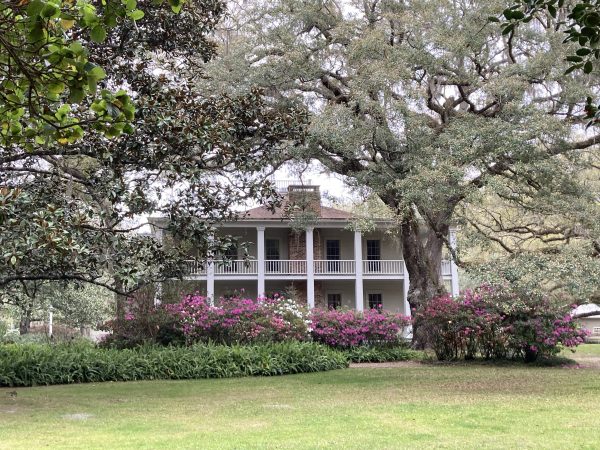 Take a short drive to explore one or more nearby Florida state parks.
Known by Dr. Beach as the home of the "Best Beach in America," St. Andrews State Park is at the far east end of PCB.
There, you can:
Glamp in an Eco-Tent
Camp
Bicycle
Fish from the pier, jetty or Gulf
See wildlife, including alligators
Snorkel or Scuba Dive
Hike or picnic
Swim, surf or paddle
Take a ferry to Shell Island
Eden Gardens contains a beautifully restored 1897 mansion as well as art sculptures, a fountain and lots of landscaped grounds to roam through.
You could also enjoy a picnic, a few easy hiking trails or take a pole to fish for dinner in their lake.
5. See a Dune Lake
Grayton Beach and Camp Helen State Parks will let you experience a dune lake.
What's a dune lake?
This rare phenomenon occurs when a sand dune that lies between a lake and ocean erodes, thus allowing the two bodies of water to collide.
There are only a few of these in the world and 15 of them are located near PCB.
These 2 very different waters meet yet stay separate, kind of like oil and vinegar, and it's an amazing sight to behold!
6. Get Out on the Water
If you'd like to actually get out on the water, you can:
One of Panama City Beach's 7 marinas will have just the excursion for you.
7. Catch a Fish!
My husband was thrilled to book a half-day deep sea fishing trip with friends and our dinner of snapper later that week was delicious!
How about over the water?
PCB has two identical piers that stretch 1,500 feet into the Gulf where you can fish.
Pay your fee and spend an afternoon watching the waves, the surfers or try your hand at fishing, no separate license required.
I got to enjoy lots of different flavors since my husband caught 149 fish including Spanish Mackerel, Herring, Blue Fish, Bonita, Pompano and more. YUM!
8. Visit Pier Park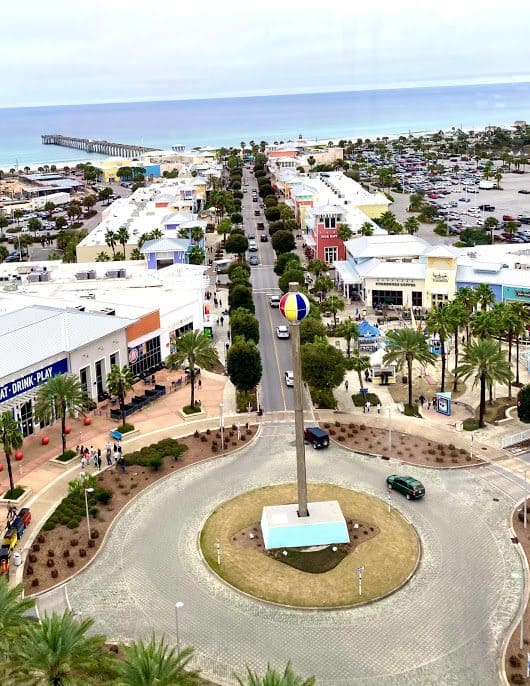 When you're ready to venture away from the water, why not head to Pier Park to shop (they have 124 stores), play mini golf or visit Dave and Buster's arcade?
You can search for additional amusements on site like a maze, escape room, ax throwing, go-karts, zip lines and more.
9. Ride the SkyWheel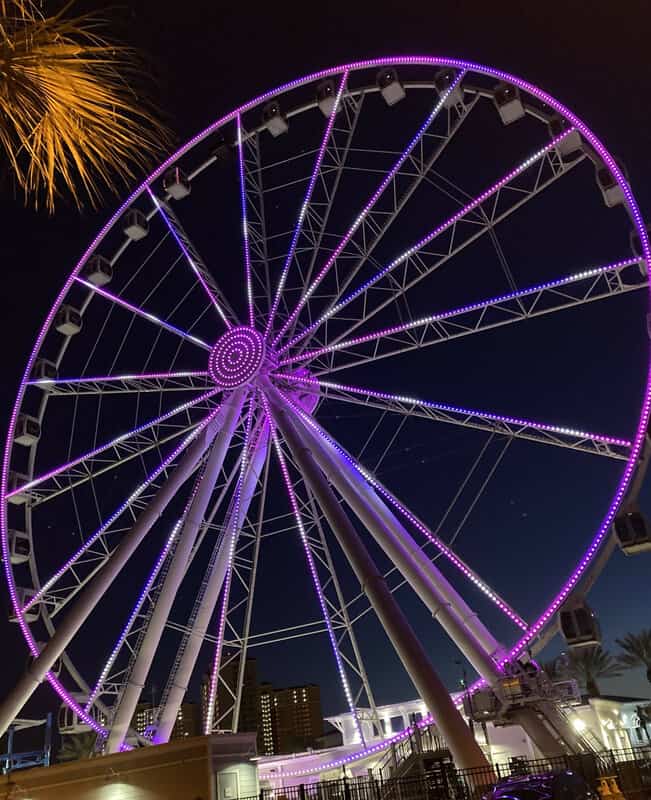 For a bird's eye view of the beauty of Panama City Beach, catch a ride on the SkyWheel during the day.
The SkyWheel cars are climate-controlled, meaning they're a great option ANY time of year.
For a more exciting adventure, take a spin at night for a completely different experience.
10. Enjoy Rainy Day Fun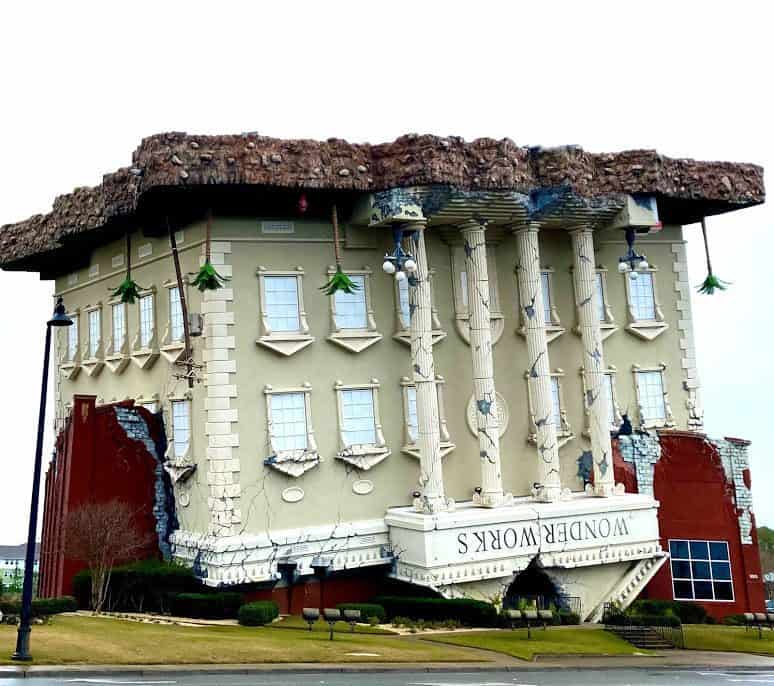 If the weather decides not to cooperate or you need some well-deserved respite from the heat and humidity, Panama City Beach has you covered.
You can…
REFRESHMENT: Best Panama City Beach Restaurants
When your stomach starts to rumble, the choices of Panama City Beach restaurants are extensive.
Whether for breakfast, lunch or dinner, you're sure to find a morsel or two that will hit the spot from among its more than 180 restaurants.
Here are 7 of our picks for the best Panama City Beach restaurants…
1. Andy's Flour Power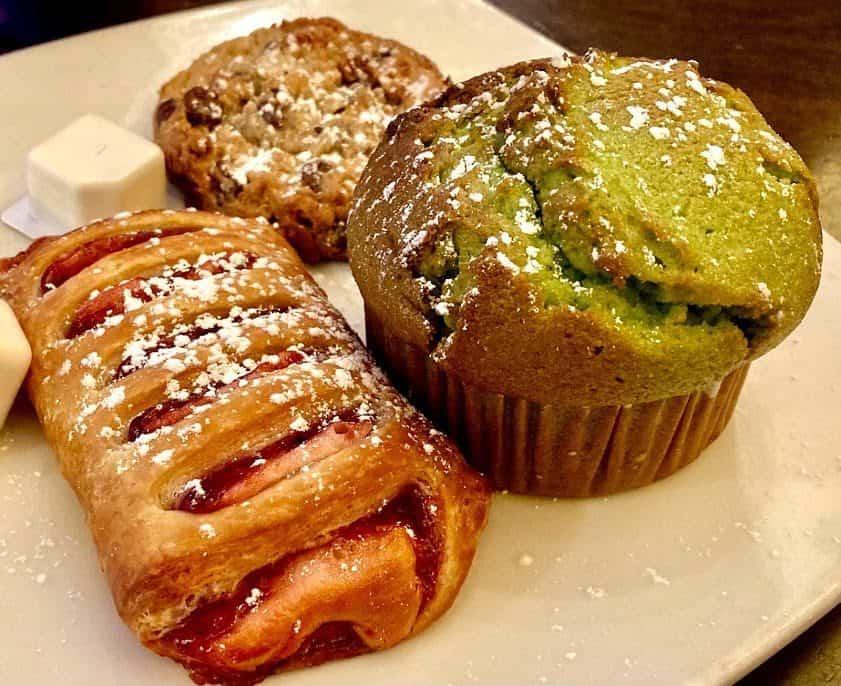 Open for breakfast, brunch or lunch, my first recommendation would be Andy's Flour Power.
Oh my deliciousness!
You can choose to grab-and-go here by picking up something from their bakery or sit down and share a couple of plates.
After our bakery plate "appetizer," we tried biscuits and gravy, French toast (which takes three days to make!), Crawfish Julie and topped it all off with a breakfast margarita.
Absolutely no reason to eat until after 6 p.m. or later that day (or the next!) :).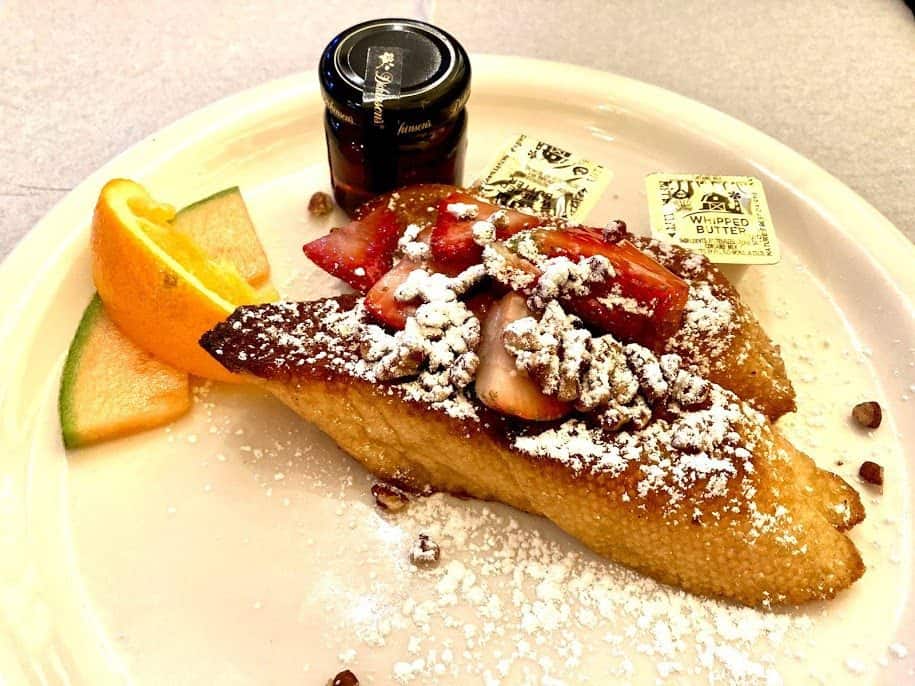 If you time it just right, you might be in for an extra treat when they have live musicians on their in-restaurant performance stage.
2. Finn's Island Style Grub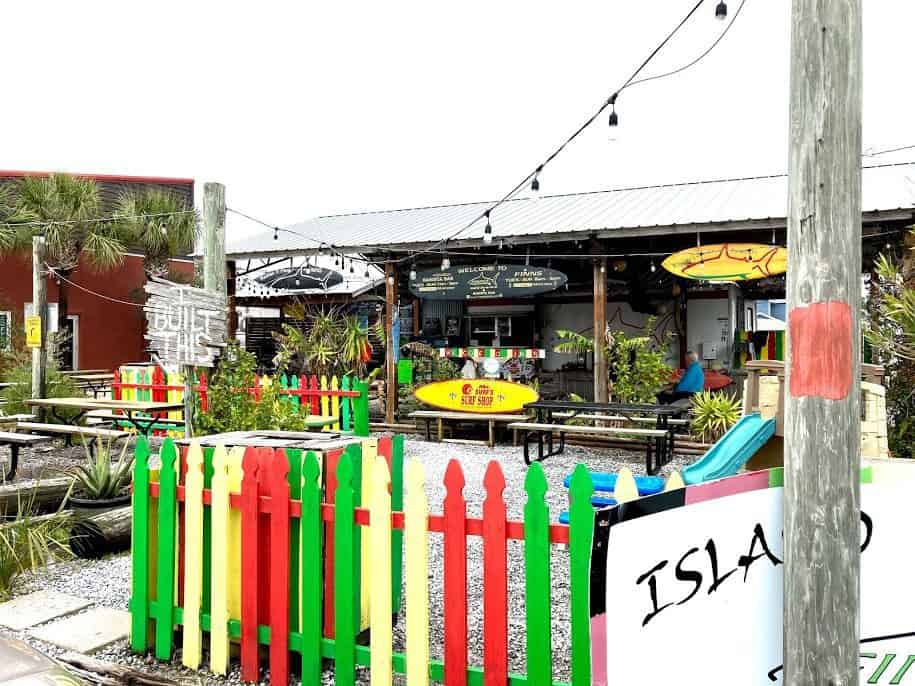 Finn's Island Style Grub "keeps it small, fresh and simple," serving breakfast and lunch from their stationary food truck with outdoor picnic seating.
If you're not in the mood for food, try Finn's Barista Bar right next door.
3. Dat Cajun Place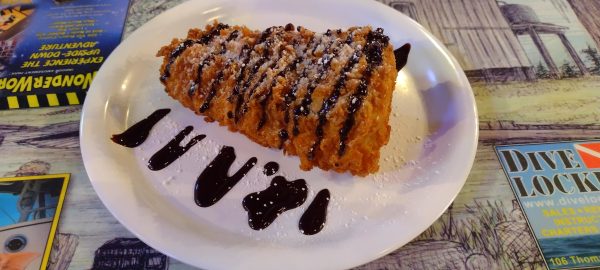 Serving up dishes like Boudin Balls with Voodoo Sauce, Frog Legs, Po' Boys, Shrimp 'n Grits and Crawfish Etouffee that you can savor all while listening to live music, you'll feel like you've made a trip to New Orleans.
Be VERY sure to save room for their Deep Fried Cheese Cake which is breaded with a sweet pancake batter then sprinkled with chocolate syrup and powdered sugar.
I've never had anything quite like it. Too bad I had to share! 🙁
4. David's Sno-Balls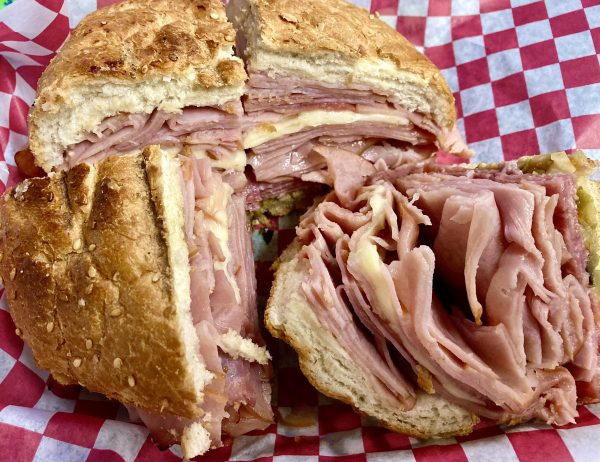 Rated very highly on TripAdvisor, and in my book as well, David's Sno-Balls is another nod to New Orleans but with a different twist.
More cafe style, you'll find sandwiches like Po' Boys and, my favorite, the Muffaletta–ham, cheese and homemade olive salad on a fresh bun, as well as shaved ice Sno Balls, New Orleans style.
If the weather's nice, grab a picnic table outside, place an order for freshly made Beignets and blow powdered sugar on your companions as they go to take a bite for some fun memories.
5. The Grand Marlin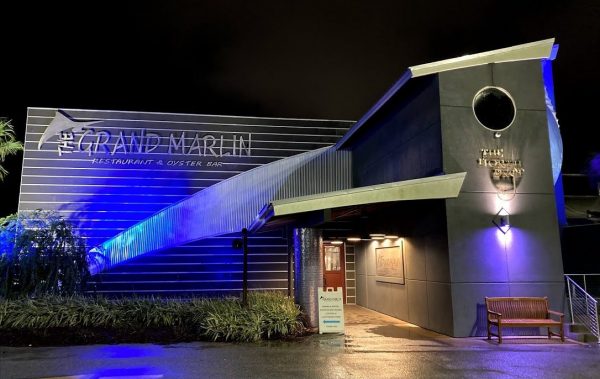 For a more upscale dinner, make a reservation and drive over to the marina to have a meal at The Grand Marlin.
The thought of their Ahi Poke appetizer and Grouper Piccata topped with crispy capers (their most requested dish) still makes my mouth water!
6. Firefly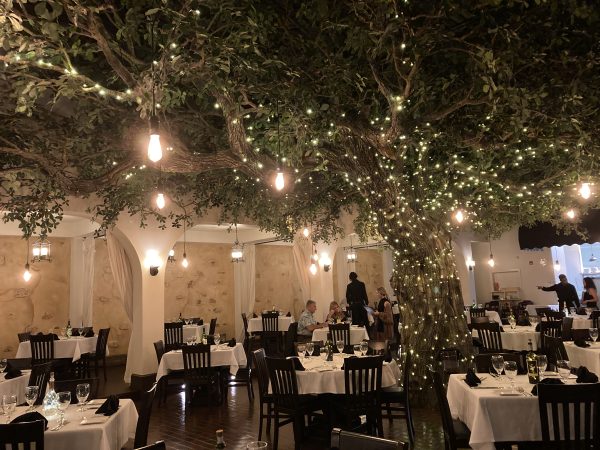 Known for their casual fine dining and lovely upscale atmosphere, Firefly serves delicious award-winning food.
Try their Flash Fried Brussel Sprout appetizer, followed by some She Crab soup and if there's any room left, splurge on their Australian Rack of Lamb or New Zealand Elk.
7. The Yard
For a sweet treat, why not try one of The Yard Milkshake Bar's specialty milkshakes in a keepsake mason jar? If you can't choose from over 20+ flavors, they'll let you create your own.
You can do what we did and fully enjoy it by counting it as lunch! 🙂
If you choose to cook your own food, there are a number of seafood markets around town with freshly caught fish, shrimp and oysters, as well as homemade Key Lime pie.
Grab a container of smoked tuna dip while there. You can thank me later!
You will DEFINITELY not leave PCB hungry. In fact, more walks on the beach might be in order!
REST: Panama City Beach Hotels and Accommodations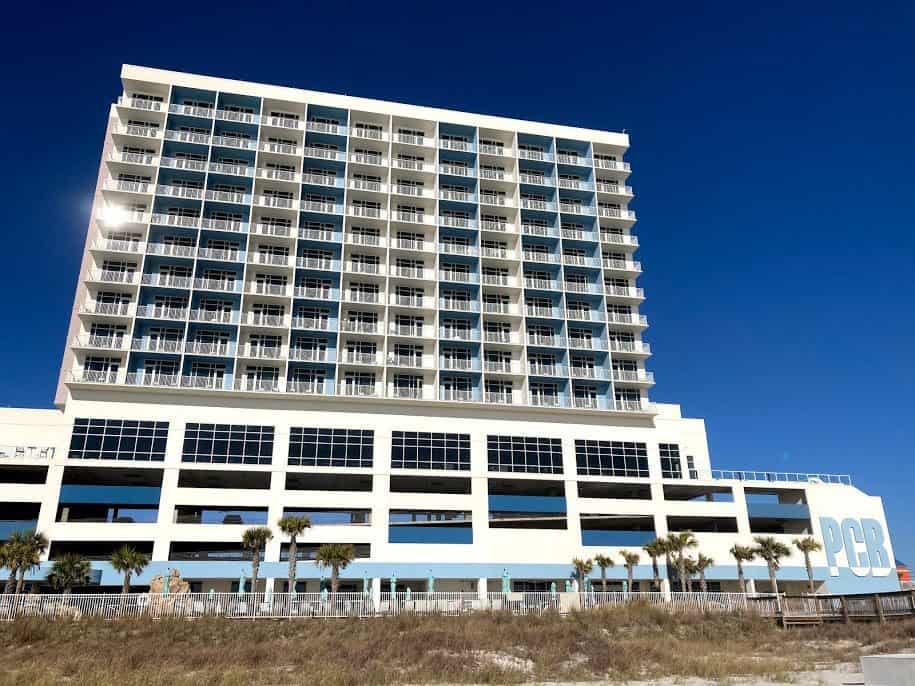 You'll find close to 500 possibilities in Panama City Beach accommodations to rest your weary body after all those activities and food.
This wide range of choices includes campgrounds, hotels, motels, condos, resorts and beach houses; one is sure to be the perfect fit for your travel group!
Springhill Suites Panama City Beach Beachfront
I can suggest from first-hand experience the Springhill Suites PCB Beachfront.
With clean, modern furnishings, their extra large all-suite rooms sport a sofa, coffee maker, mini fridge and microwave as well as a balcony.
I could never get enough of the view right outside!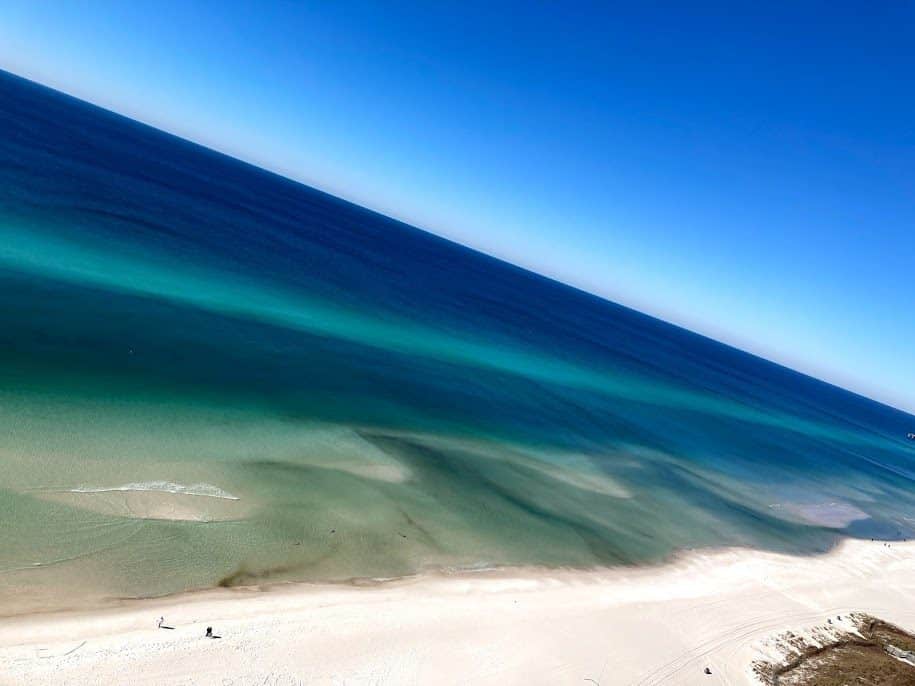 You'll find a variety of options at their free hot breakfast buffet as well as be able to enjoy:
Lobby AND poolside bars
Ice cream shop
Gym
Pool with lazy river
Loungers with umbrellas
Hot tub
Cabanas for rent
Cozy poolside fire pit area
Enjoy all this while overlooking their gorgeous beachfront location.
It's also located next door to the M.B. Miller pier.
Emerald Beach Resort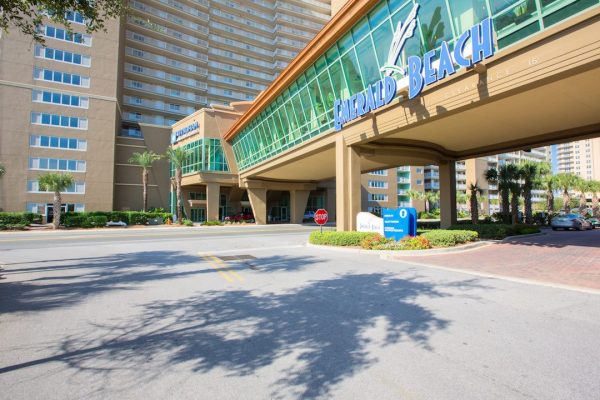 For part of our trip, we rented a condo through Vrbo at Emerald Beach Resort, which was wonderful for the five weeks my husband was working remotely.
Within our 900 square feet on the 21st floor, we had enough sleeping areas for 5 other people to join us plus a kitchen, washer/dryer and balcony overlooking the Gulf.
At Emerald Beach Resort, you get access to:
2 heated pools
Kiddie pool
2 hot tubs
Workout room
Shuffleboard
Volleyball
Corn hole
Ping pong
Game room
Starbucks
Beach store
Ice cream shop
Sky Bar with live music, spanning the walkway between the complex and the parking garage
We're already signed up to go back next year for 2 months!
The best part is that 1 month in the winter is the same price as 1 week the rest of the year!
I'll take temps in the 50s and 60s any day over an Indiana winter ;-). BRRRR…
Hampton Inn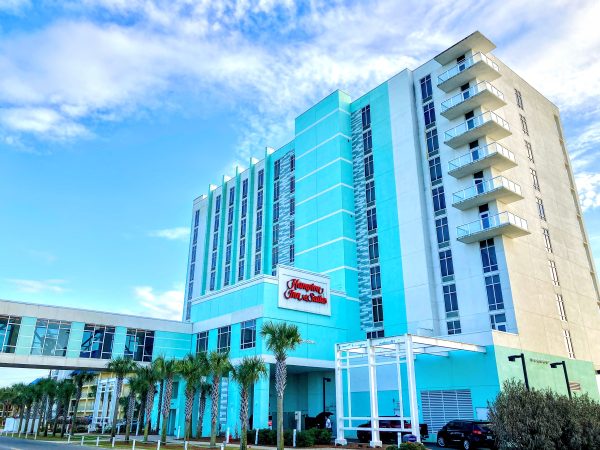 Want a hotel just a short walk from all there is to do at Pier Park and directly across the street from Gulf World?
With a modern, calming interior and large, well-appointed rooms, some with gulf front balconies, the Hampton Inn might be just the spot for you!
This hotel serves a daily hot breakfast in their spacious lobby overlooking the gulf to get your day off to a good start and has these amenities as well:
Gym
Outdoor Pool
Lobby Bar
24/7 coffee station
Whichever recreation, refreshment or place you choose to rest, I don't think you'll be disappointed.
Will visiting Panama City Beach be on your upcoming travel list?
Looking for more sunny destinations?
Check out our posts on these great vacations…