It seems everyone wants to go to Yellowstone National Park these days. The park has been experiencing record numbers of visitors over the last few years.
Yellowstone National Park
Yellowstone National Park, the mother of all National Parks at more than 3,000 square miles, is HUGE!
It's also the first National Park, established in 1872.
The park even has its own pledge:
"I pledge to protect Yellowstone National Park. I will act responsibly and safely, set a good example for others, and share my love of the park and all the things that make it special."
The scenery is otherworldly with geysers and hot pots, but also breathtaking with mountains and waterfalls.
You could spend a month there and never see everything that the park has to offer.
You just don't know what you might find around the next bend, so sit back and enjoy the ride!
Want to learn how to easily be able to fly your family free to Yellowstone and anywhere in the US, Caribbean and Europe? Join our Families Fly Free membership where you'll get access to our simple Fly Free Formula, 1-on-1 support, weekly live webinars and a community of travel lovers just like you. Let us help you make more priceless travel memories with your family just as our hundreds of members are doing.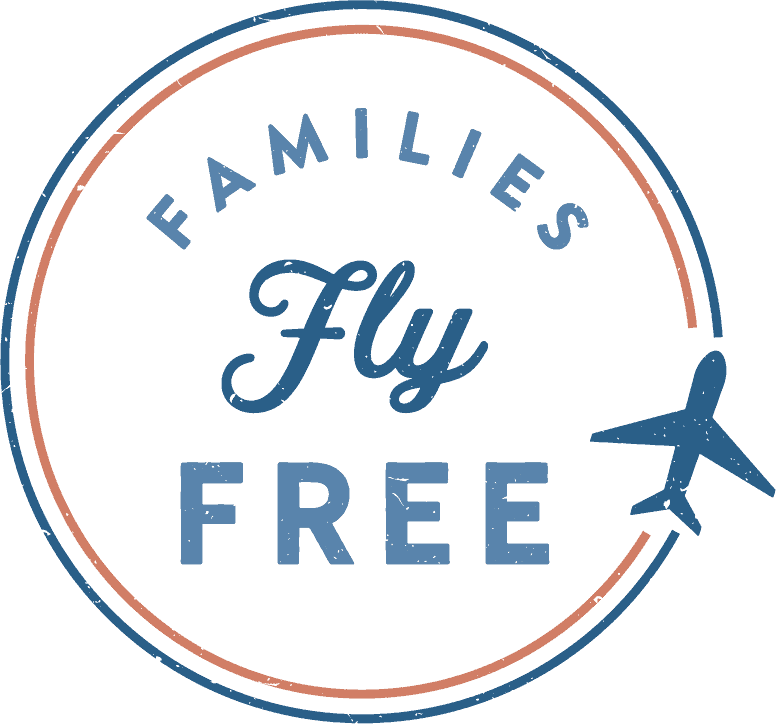 How to Get to Yellowstone National Park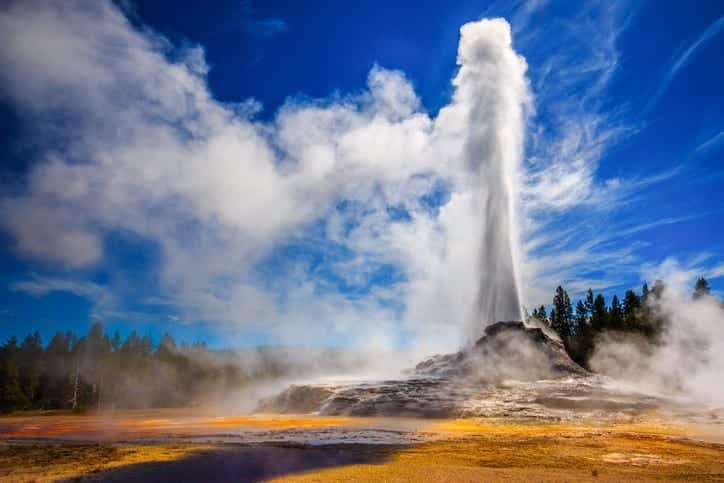 Flying
There are many ways to get to Yellowstone National Park, and there are multiple entrances to access the park.
You can catch a flight into several different cities, each of which has an airport, including:
Bozeman, Montana
Cody, Wyoming
West Yellowstone, Montana
Jackson Hole, Wyoming
Denver
Salt Lake City
If you follow how we teach flying free on Southwest, then you'll want to know that Southwest flies into:
Bozeman (closest option, small and charming as can be)
Denver
Salt Lake City
You'll need to rent a car if you fly, and you'll be in it often, so make sure to choose something that comfortably fits your family, luggage and gear.
If you haven't yet tried Turo, this would be a great place to give it a whirl as Cami did on her recent trip.
We offer some great tips inside the Families Fly Free membership on how to save on car rentals.
Driving and Parking
Did someone say ROAD TRIP?!
If you have the luxury of time on your side, you can probably visit a few different parks on your journey, including Grand Teton National Park, Glacier National Park and maybe even Rocky Mountain National Park, if you choose to make the drive in your own vehicle.
Just know that with a size of 2.2 million acres, it's the second-largest national park in the contiguous United States.
There are only 6 gas stations in the park, so take time to fill up your tank before you hit the entrance and then highlight the gas stations on your map.
You never know when a little detour could turn into an all-day adventure, so keep your gas tank as full as you can!
The Grand Loop Road, an amazing journey in the heart of Yellowstone, is set up like a figure 8, allowing drivers to take in at least half the attractions the park has to offer.
Pick a side — any side — of the loop, take 3 to 4 hours to drive it and stop by lakes, canyons, waterfalls, geysers and hot springs.
While driving, be on the lookout for bison, bear, antelope, moose and wolves ambling across the road, especially around blind curves.
These collisions can be catastrophic for man and animal alike.
Once you get to the park, you could try out the new The Electric Driverless Demonstration in Yellowstone (T.E.D.D.Y.) in certain areas.
It's Busy!
According to a recent study, "Within Yellowstone's most heavily-traveled corridors, parking lots are overflowing, traffic jams abound and roadway safety incidents are on the rise."
The busiest corridors are the roads that connect Yellowstone's West Entrance to visitor attractions throughout the western and central parts of the park.
This includes attractions like:
Be prepared for crowds and bumper-to-bumper traffic if you choose to visit one of those areas.
Yellowstone has yet to institute shuttle buses like some of the other national parks :(.
So, more than any other park, we suggest getting up and out the door as early as possible to experience the park.
Looking for a map of the park to plan your driving route, stops and hikes?
You can access a Yellowstone National Park map here.
Entrance Fees
The Yellowstone National Park entrance fee is $35 per car for a seven-day pass.
You can also purchase a seven-day motorcycle pass for $30.
Spring for a National Parks annual pass here (allow time for shipping), at your local REI or at the entrance to the park for $80, which we definitely recommend if you'll be visiting at least 2-3 parks within one year.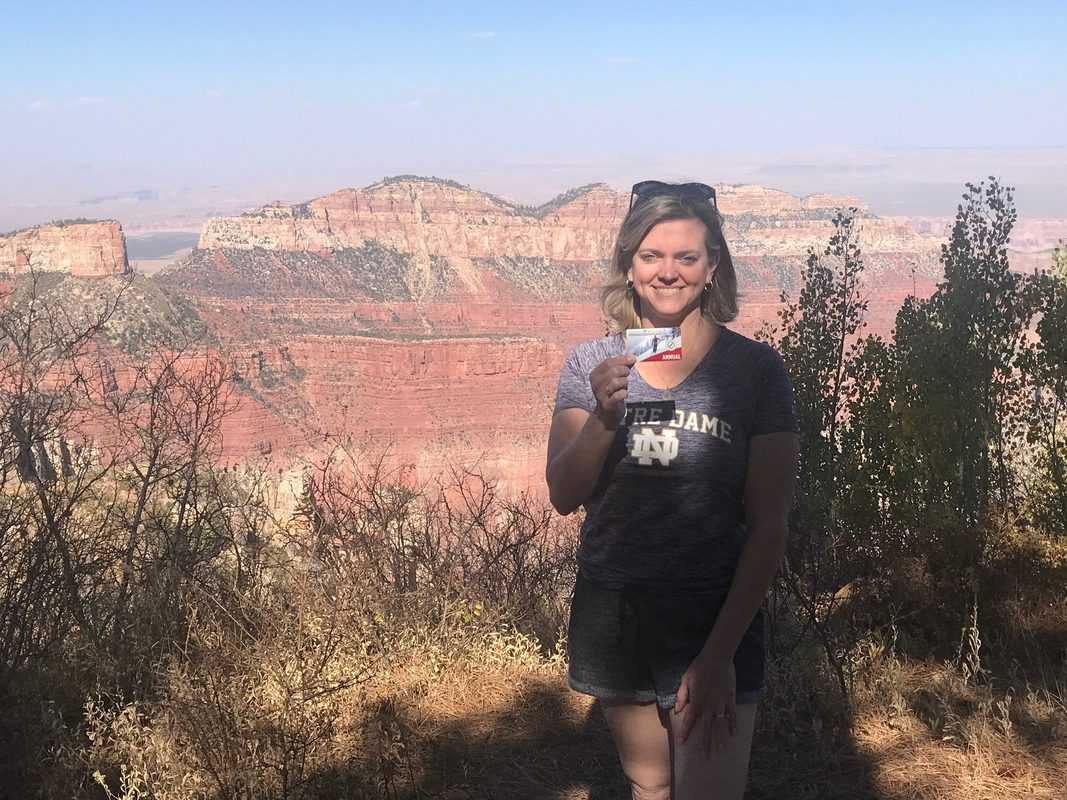 Senior citizens can purchase a lifetime senior pass for ALL national parks for only $80 or instead choose a $20 annual pass.
Everyone in your car gets in for the price of the pass!
Are you an active military member, veteran or Gold Star family?
Grab a FREE pass and thank you for your service!
And, don't forget, if you have a fourth grader, your whole family gets into National Parks free during their school year and the following summer as part of Every Kid Outdoors.
These special passes alone are honored at more than 45 Federal Recreation sites throughout the United States!
You can also access Yellowstone National Park FREE in 2023 on the below days, but keep in mind these days will be even MORE BUSY than usual:
| | |
| --- | --- |
| January 16 | Martin Luther King, Jr. Day |
| April 16 | First Day of National Park Week |
| August 4 | Great American Outdoors Act Anniversary |
| September 24 | National Public Lands Day |
| November 11 | Veterans Day |
Yellowstone National Park Lodging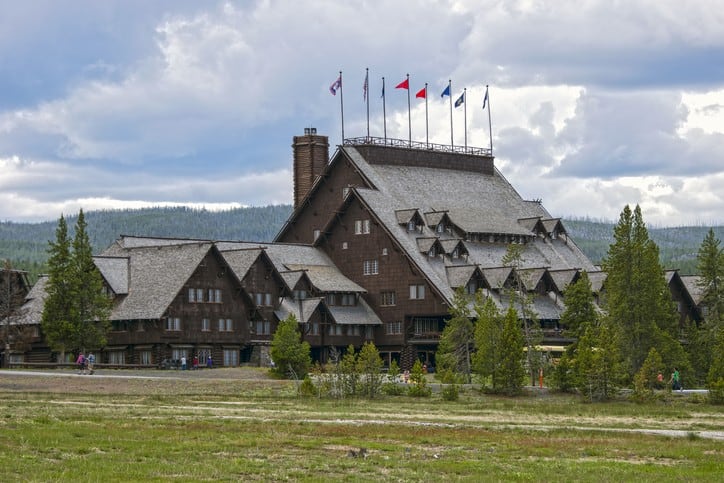 Lodging Inside the Park
Hotels, Lodges, Inns and Cabins
There are various levels of accommodations managed by Xanterra, 9 total, throughout the park located near every major attraction.
Lisa and her family chose to stay at Canyon Lodge and Cabins, which is centrally located in the middle of the park and has the most accommodations.
It also has…
multiple restaurants
a grocery store
a gas station
gift shops
TIP: Reservations open May 1 for the FOLLOWING year's season! Some people set alarms and book a year to the day before their trip :).
Camping
Love roughing it?
You'll be able to reserve a campsite at one of 5 locations in the park or take your chances at one of the other seven first-come, first-serve campgrounds, which usually fill up by mid-morning.
One nice thing that the website now shows is a map with availability and whether the campground was full the night before.
An RV rental through a company like RV Share, the world's largest RV rental company, is another option if you want to "camp" but stay the night inside a nice vehicle instead of a tent ;-).
An RV gives you both a "car" and an "accommodation" and is a popular way many people explore America's National Parks!
Lodging Outside the Park
When visiting Yellowstone, you can also stay in one of the nearby towns outside the park.
You'll be a little further away, but the savings could be worth the extra drive.
These towns include:
Here are some hotel options in towns outside of Yellowstone…
Vacation Rentals
A vacation rental is another great option when visiting a busy National Park like Yellowstone.
Vacation rentals allow you to spread out with separate bedrooms, cook meals in the full kitchen, wash clothes in the washer and dryer and even enjoy fantastic views.
Just remember to factor in driving time to get into the park from your Yellowstone vacation rental.
Near Yellowstone, you'll find everything from cabins and log homes to apartments and lodges.
Cami and her husband stayed in Montana's Yellowstone Bear Den, a delightful VRBO lodging in Gardiner, just minutes from the park entrance.
Check out your options on Vrbo.
Please note this and some other links are affiliate links, through which the blog may earn a commission if you make a purchase after clicking through, though there is no increase in price. You never have to use these links, but we appreciate your support if you do! Thanks!
Yellowstone National Park Weather
Unpredictability lies at the heart of Yellowstone's ever-changing weather since most of it sits at 6,000 feet above sea level.
Prepare by layering your clothing and bringing a jacket and rain poncho.
Huge temperature swings can occur from sunrise to sunset, and rain or snow is possible every month of the year.
From living in the mountains, Cami says she learned that temperatures may drop below freezing at night and rise to 80 degrees in a matter of hours with an occasional afternoon thunderstorm thrown in there just for fun.
Putting on and peeling off various layers of clothing becomes a daily ritual in the mountains, and whatever you do, please don't leave windows open during the day while you're gone.
Otherwise, your car seats and the inside of your lodgings could be soaked upon your return! No fun!
When to Visit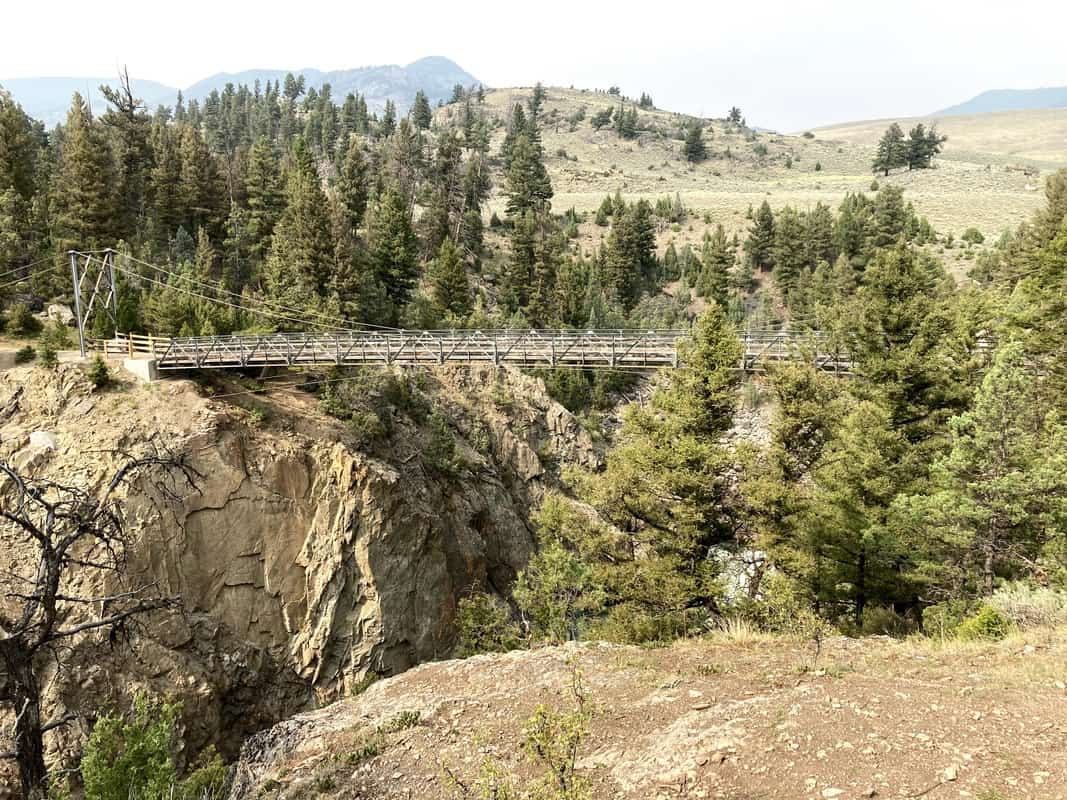 Since July and August are the only months when all roads, facilities and services are open, it's no wonder that the park sees more than 1.7 million visitors in those 2 months alone.
If you find yourself in the park at this time, try to venture more than 15 or 20 minutes from your car and the main sites.
You just might find something off the beaten path that the regular tourist will never see, like Hellroaring Suspension Bridge in the northern part of the park.
Or how about pulling into the park at dawn or on a moonlit night to switch things up a bit and avoid the rush of the crowds?
Whenever you choose to arrive and visit, allow yourself a good 3 to 5 days to see all that the park has to offer. You won't be sorry!
Things to Do in Yellowstone National Park
Speaking of all the park has to offer, you'll find the list of things to do in Yellowstone National Park is lengthy and varied.
You can choose from…
Ranger programs
Swimming in the hot springs
Hiking
Photography
Bicycling
Boating
Wildlife viewing
Horseback riding
Even llama packing! Llama packing? Who knew?!
Then throw in all of the basins and geysers and waterfalls … well, you get the idea.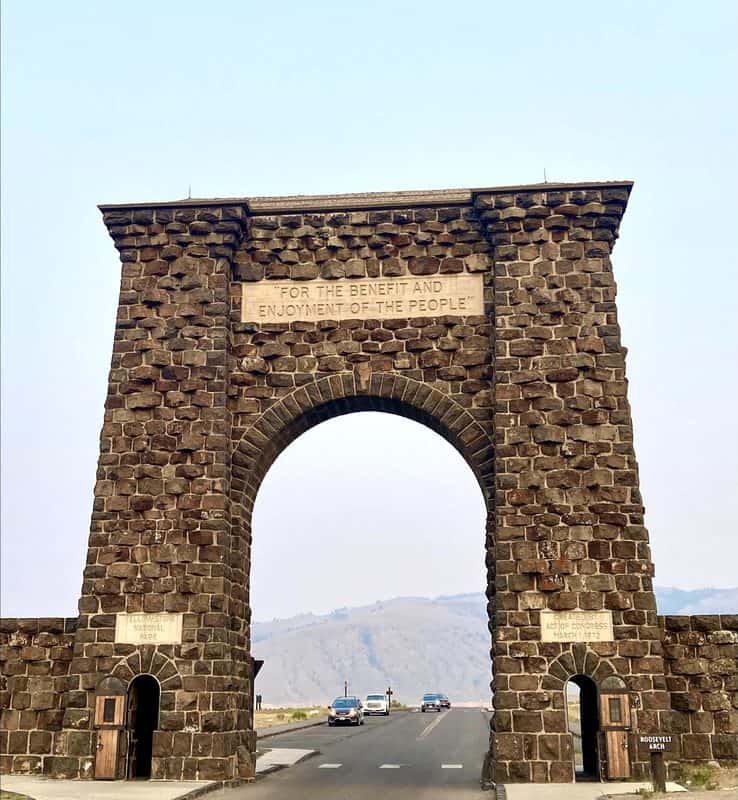 You're going to be really, really busy on your relaxing National Park vacation :).
Fishing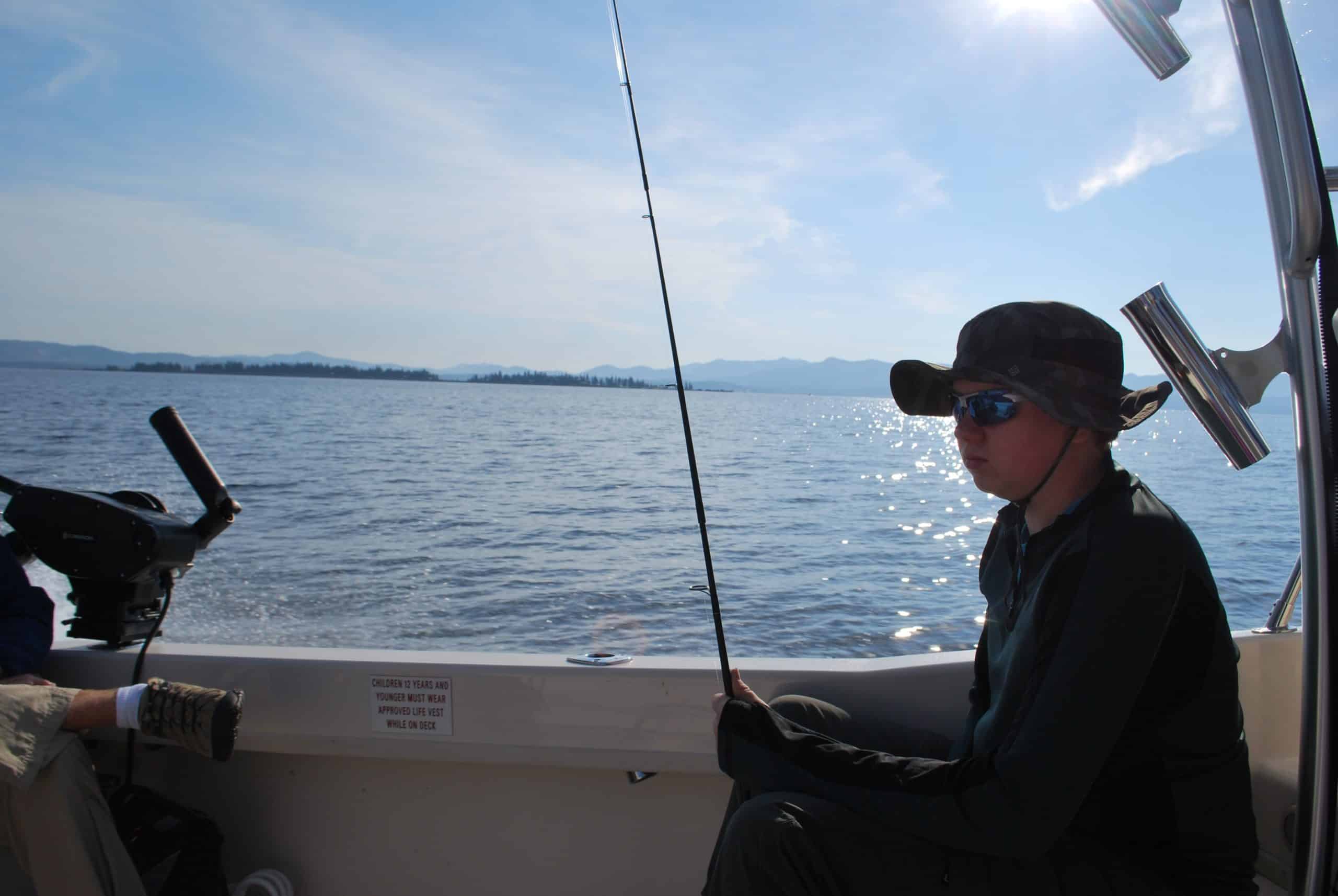 If you have a fisherman in the family, book a guide to fish on Lake Yellowstone.
Cutthroat trout are native to the lake, and if caught, have to be released.
Due to the introduction of non-native fish, the population of Cutthroat trout has greatly diminished.
Non-native fish, such as rainbow trout, are free for the taking.
In fact, the park wants them out of the lake to help preserve the native Cutthroat trout.
The best part of catching a rainbow trout is having your guide clean and prep it for cooking (be sure to tip for this service!).
Take your catch to Lake Lodge where they will prepare it three ways with plenty of sides available to purchase to compliment your amazing lunch.
The kitchen does need some time to prepare your catch, so in the meantime, visit the historic Lake Hotel, which is like taking a step back in time.
After lunch, stop at the Artist Paint Pots.
Yellowstone National Park Hikes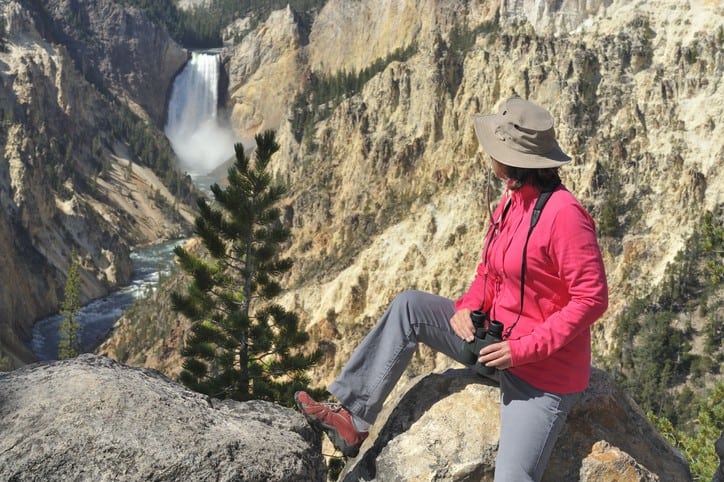 Remember to either pick up a hiking map at one of the visitor's centers for the complete list of hikes or purchase the Falcon guide, Hiking Yellowstone National Park, to plan your hikes ahead of time.
Follow the rules, especially around geysers and mud pots.
It's shocking to see people violate clearly-marked signs warning people about the dangers of getting too close to scalding water or trampling sensitive ecosystems.
Stay on the boardwalks and avoid the temptation to take a soak in what looks like an inviting hot tub.
It's not.
People have died going off designated trails.
We recommend these hikes:
Scenic Overlooks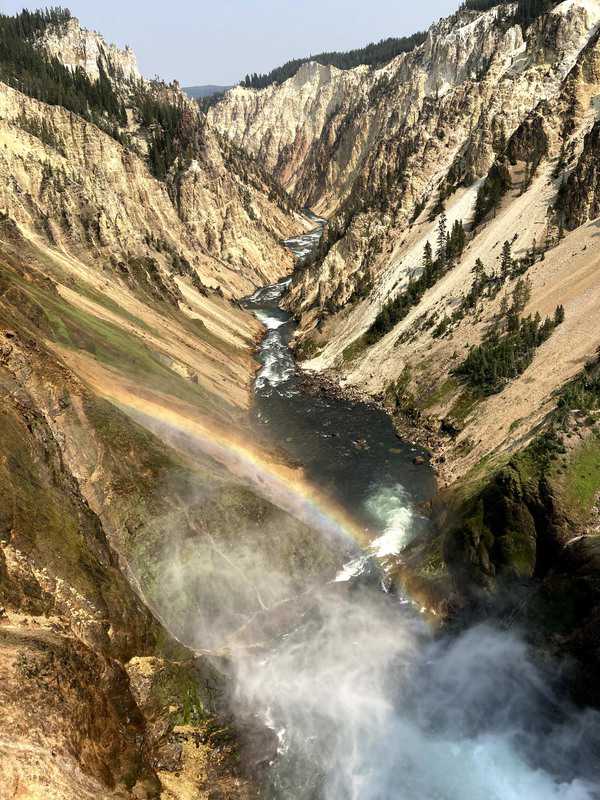 There are so many beautiful spots inside of Yellowstone that there's no way to name them all, but here are a few top spots:
Moose Falls
Brink of the Lower Falls
South Rim Drive to Artist's Point
Thermal Basin Exploring
Yellowstone is full of hydrothermal features, including hot springs, mud pots, fumaroles and geysers.
In fact, more than half of the world's active geysers are found in the park.
Please practice the following safety rules, especially around geysers and mud pots…
STAY on boardwalks and trails, keeping children close at hand
DON'T touch any features or runoff, as it can cause severe or even fatal burns
DON'T swim or soak in hot springs
DON'T throw objects into any features
Lastly, note that toxic gases can and do cause illness, so if you begin to get sick, leave the area immediately.
Keeping that in mind, here are some thermal features we recommend seeing:
Wildlife Viewing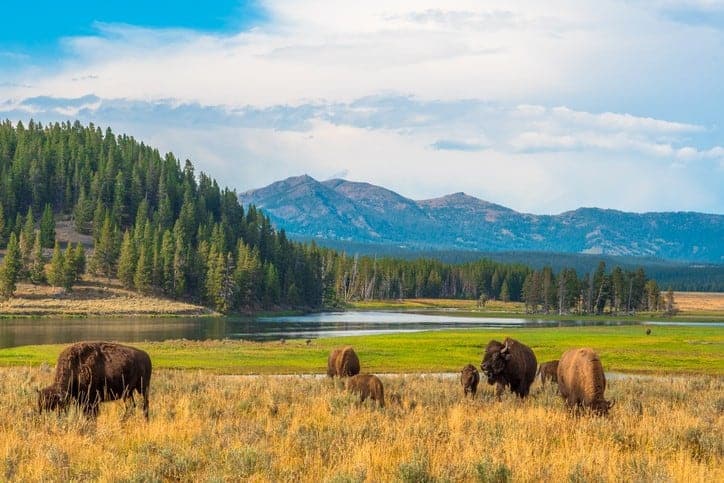 Wildlife abounds in Yellowstone and it's one of the best reasons to go!
Though a mother grizzly and her cubs or a herd of shuffling bison, may look "cute," please resist the urge to leave the confines of your car and get up close.
It could prove to be fatal.
What place will give you the best chance of spotting wildlife? Try these…
Lamar Valley (be sure to start early!)
Hayden Valley overlook (one of our team members saw a pack of wolves through a spotter scope)
Slough Creek Road near the campground for bald eagles, wolves, bison and pronghorn
Where to Eat at Yellowstone National Park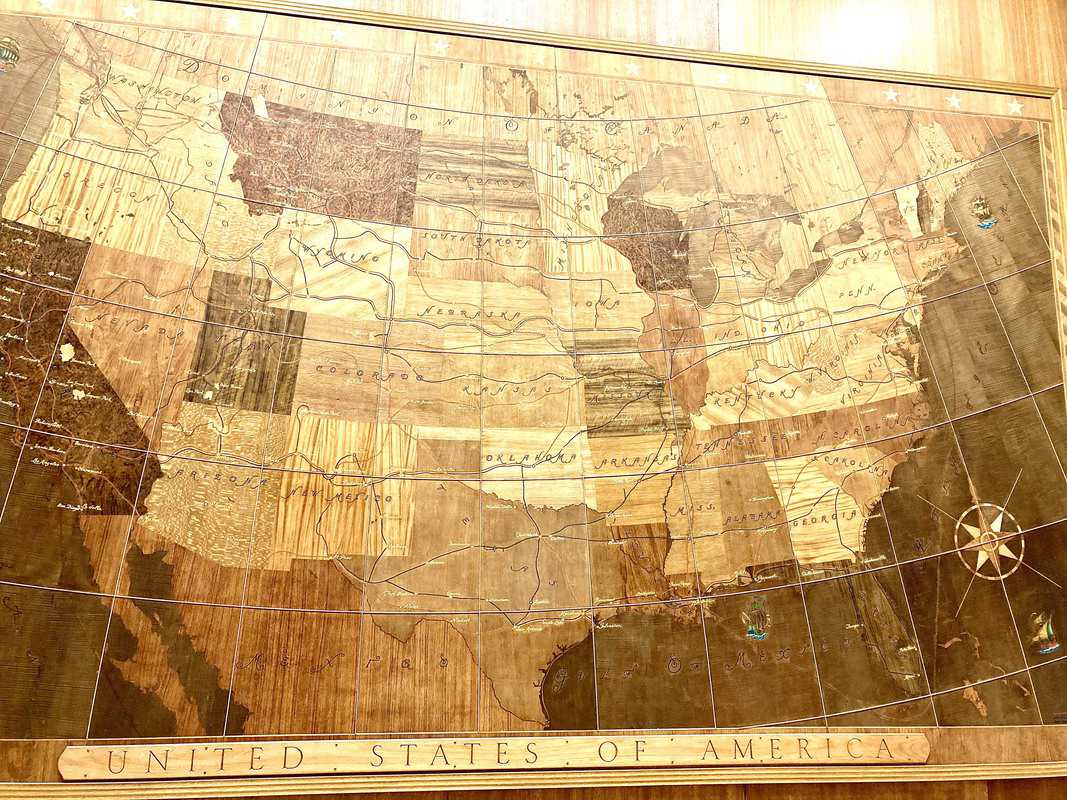 You'll be happy to know that you won't go hungry while at Yellowstone!
There are 19 locations in the park where you will be able to get some type of food or drink, divided into these areas:
Canyon Village
Grant Village
Lake Village, Fishing Bridge and Bridge Bay
Mammoth Hot Springs
Old Faithful
Tower/Roosevelt
This selection ranges from marina stores to cafeterias to dining rooms.
In the mood for a picnic? Yellowstone has more than 50 picnic areas within the park.
One of these is sure to be the perfect spot for a delightful lunch!
We all scream for ice cream!
You know it's going to be hot, and you're going to be burning SO MANY CALORIES with all of the hiking you'll be doing that you can splurge once or twice on ice cream, right? 🙂
There are stores that carry ice cream and several ice cream parlors all over the park.
Team members recommend Mammoth Terrace Grill with its separate line to the left just for ice cream or Old Faithful Inn Bear Paw Deli to get your fix.
What to Bring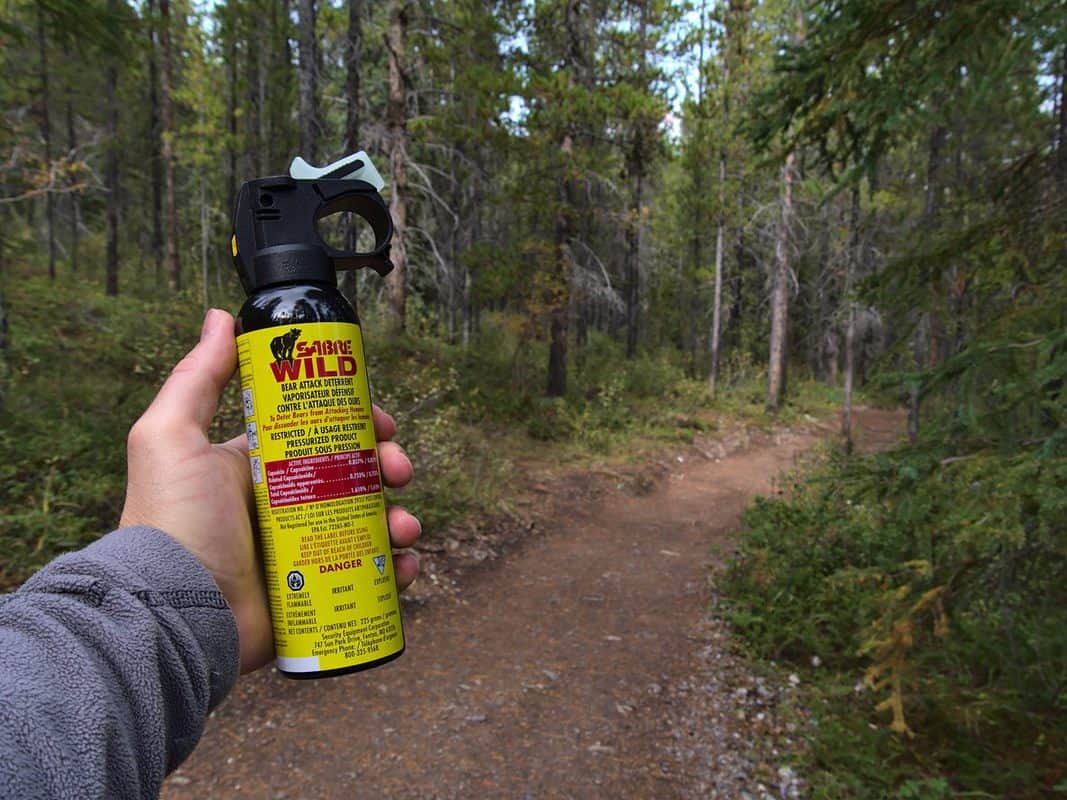 In addition to the normal hiking, camping and packing gear, you may want to make room for these things:
Camera & Binoculars/Spotting Scope
Don't forget your camera's zoom lenses, a pair of binoculars and possibly a spotting scope.
Yellowstone's vastness contributes to its great beauty, but it's also a hindrance when amazing wildlife abounds wa-a-a-y in the distance!
Pull out these essentials to safely and successfully view extraordinary wildlife and stunning scenery.
Bear Spray
Take time and get off the beaten path, but bring your bear spray along when you do, just in case!
You won't be able to pack this in your luggage, so plan on buying or renting a can for the week from the kiosk at the Canyon Village Visitor Center or see if your Turo rental car has an add-on for this.
Wow, that's a huge heap of information for Yellowstone National Park, and we've barely scratched the surface which is probably exactly how you will feel after your visit!
The good thing about National Parks is that they are preserved for us to be able to return time and time again.
When's your next visit?
Want more National Park tips?
Check out our post on 7 Top Tips for Visiting Our National Parks.
Read More:
Plus, here is more information hiking in Glacier National Park from 10Adventures.com.