This post is sponsored by Trtl Pillow, but all opinions are my own.
Note: Purchase Trtl on Amazon using the links below (these are affiliate links):
No matter how you shake it, air travel isn't comfortable or fun! Sure, those folks who are flying first class with lie-back seats and champagne might have it a little easier, but here at Go to Travel Gal that's not how we roll :).
We're always looking to fly somewhere for the fewest points possible, so we can use the miles and points we have to take MORE trips.
I thought it would be fun to do a post on tips for a more comfortable flight, especially with some long flight tips. Southwest, my FAVORITE airline, is not known for its extensive legroom or comfortable seats (it IS better than Allegiant, though, whose tray tables are not even big enough to hold my tiny Chromebook and whose seats seem to be about an inch in depth!).
5 Long Flight Tips for a More Comfortable Trip
1. Choose the Right Travel Pillow
Back in the day when I used to fly back and forth to Atlanta to visit my dad growing up, Delta always had pillows and blankets (albeit not comfy ones, but they did HAVE them!), but those items are few and far between these days. That means you're going to need to bring your own travel pillow, especially if you have dreams of sleeping ;-).
The typical donut pillows sold in most airport stores don't do the trick for me. Do they work for you?
Trtl (designed by a former engineering student after 80 prototypes!) is a new take on the travel pillow that lets you lean your head naturally to the side, just as if you were laying it on the side of the plane (that's what I'm always looking to do if I have the window seat) or perhaps your spouse's or seatmate's 😉 shoulder, but at a more natural angle.
Sidenote: I heard a story recently about a woman who woke up horrified to learn she'd laid her head on the shoulder of the man next to her and it was covered in drool. Aack!
Trtl comes in three options:
All of the Trtl travel pillows are made with super soft fleece and are designed to hold your head in a more natural way than the standard travel pillow. Say goodbye to that post-flight sore neck!
They're also super lightweight, so they are no problem to carry onboard. Simply slide it through the handle of any bag and attach the Velcro. See the video below:

It's also easy to remove the insert of the Trtl to wash the fleece and get rid of airplane germs after your trip ;-). A must-have!
Watch this video to see exactly how Trtl works:
Go to Travel Gal team member Nancy M., who runs the Nancy's Deals Facebook Group, uses Trtl and she loves it! "I find the Trtl more comfortable than a traditional neck pillow, because my neck does not lean to the side when I sleep, causing strain when I wake," Nancy said. "It holds my neck more vertical then a traditional pillow, so I can sleep upright even in a middle seat without neck strain when I wake up."
Nancy said she also likes how it packs much flatter in her backpack than a neck pillow.
The Trtl Pillow Plus version also comes with a breathable mesh fabric, an adjustable neck support to accommodate all heights and sizes and a water-resistant carry bag.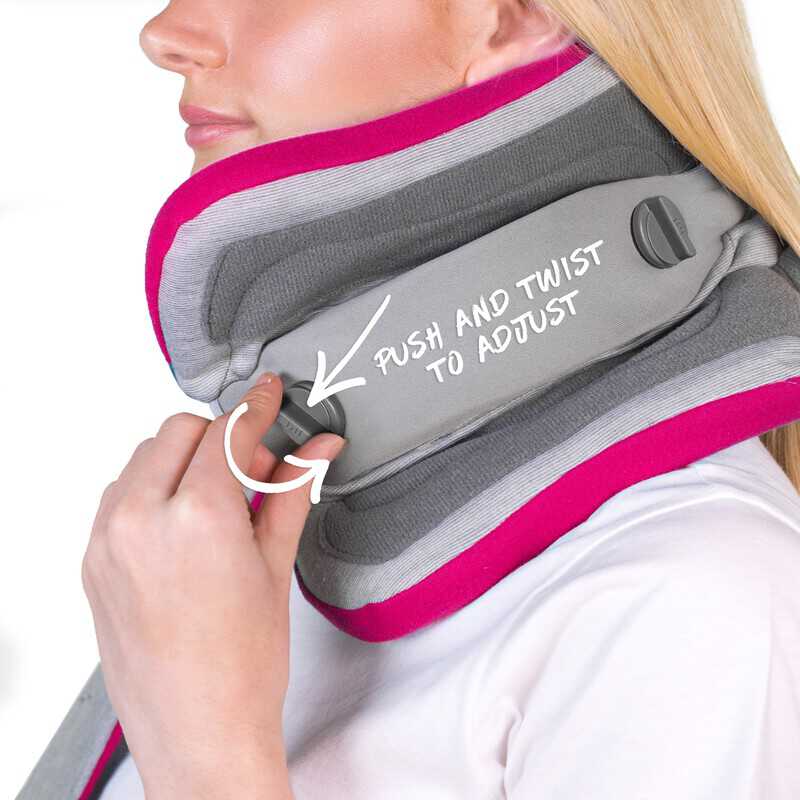 Tips for Using Trtl
Hold the pillow closer to your neck before wrapping for more support, especially for those with longer necks

Try the pillow with ear and jaw tucked inside or pull the scarf over the bottom half of your chin for additional support
2. Bring Layers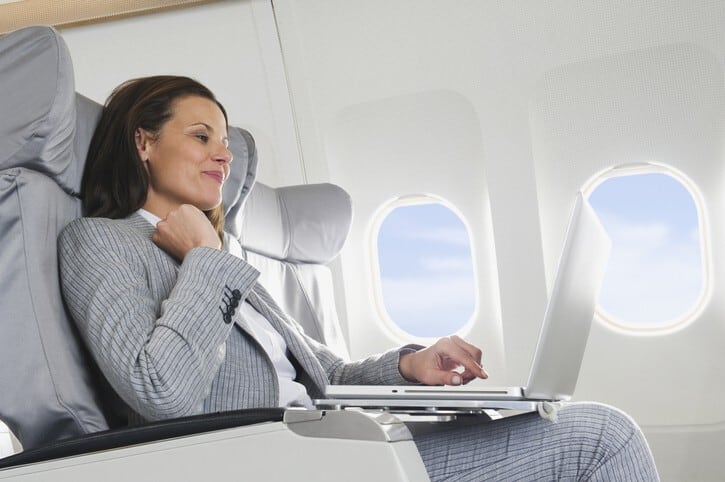 You never know what the temperature is going to be on a plane. Sometimes we burn up, especially when landing in a hotter destination like Las Vegas or Florida, while other times I can get quite cold. Plus, your destination might be wildly different in temperature than where you departed!
I like to travel with a stylish, wrinkle-free wrap that folds up easily in my bag that I can put on if I need. It looks good, isn't all wrinkled and is easily portable. I can pull it out if I need it and stuff it back in my travel backpack if I don't!
3. Make Sure You Have Earplugs or Earphones
There's nothing like planning to work and then realizing you're sitting by a loud group on the other side of the aisle or a poor crying baby who's not handling the pressure well. Earphones can be a lifesaver, especially if sleeping on the flight was in your plans, too.
I always carry a cheap pair that I have left from our Big Bus Tours (they give out tons of earphones so you can hear their guided tour!), as well as my better pair. That way in case I forgot my better pair (totally has never happened ;-)), I've at least got a reserve and an extra in case my kids need some, as well.
Southwest will let you stream iHeartRadio via their website on your computer or device if you need some tunes. I like to be sure I have podcasts downloaded, as well, in case Wi-Fi isn't working and to listen to during take-off/landing if I'm not reading a book.
4. Choose a Bag With Accessible Pockets
Make sure you have a carry-on that's easy to get stuff into and out of. I use a travel backpack that has a padded slot for my Chromebook, as well as about a gazillion zippers and pockets for various things. I'm always amazed at how much I can fit inside it!
I also like to keep the same things in the same pockets every flight, so I know exactly where everything is. You don't want to be scrounging around in your bag throughout the flight for every little thing you might need.
5. Opt for an Eye Mask
Finally, if you really want to get some shut-eye, tuning out the world both with sight and sound can be key. Shut the airplane window shade (if you have access) and put on an eye mask to help further block any light from getting to your eyes.
Another benefit: It'll give the chatty Cathy next to you the idea that you want to be left alone ;-).
What are your tips for a comfortable flight?
If you're in the market for a new travel pillow, grab yourself a Trtl pillow!
Read More: