Southwest Flight Check-in stress you out?
You're not alone! Or maybe you're a first-time flyer on Southwest, wondering exactly what you need to do.
You've come to the right place!
I'm a longtime Southwest flyer, who's going to walk you through exactly what you need to know to master check-in Southwest in a few simple steps :).
Want to jump to the finish line of using travel rewards to fly your whole family for free - WITHOUT the overwhelm? Learn more about our Families Fly Free membership, where we teach you our SIMPLE process to collect and use travel rewards to always fly for free, so you can make more travel memories with your family and save thousands of dollars in the process.
Click below to learn more...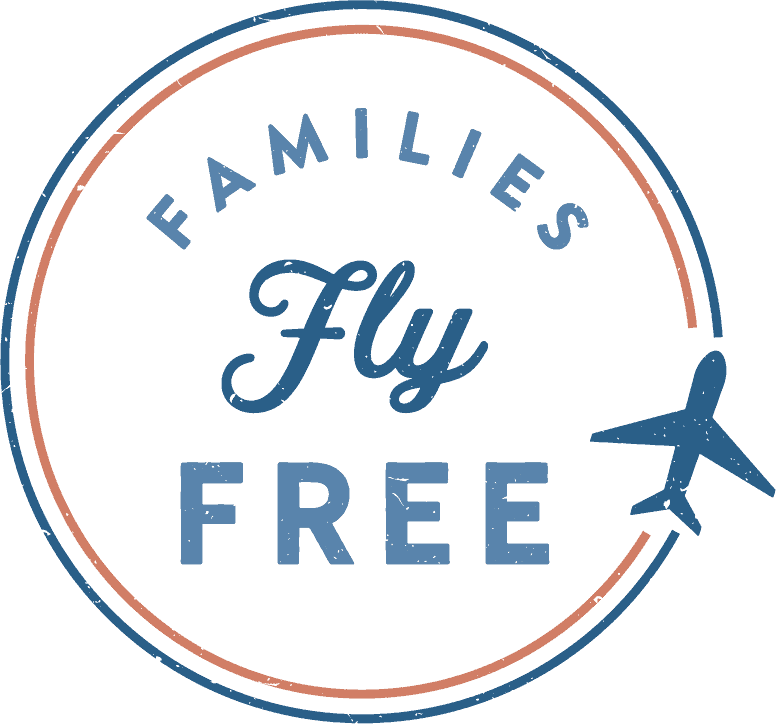 Making Southwest Check-in Stress Free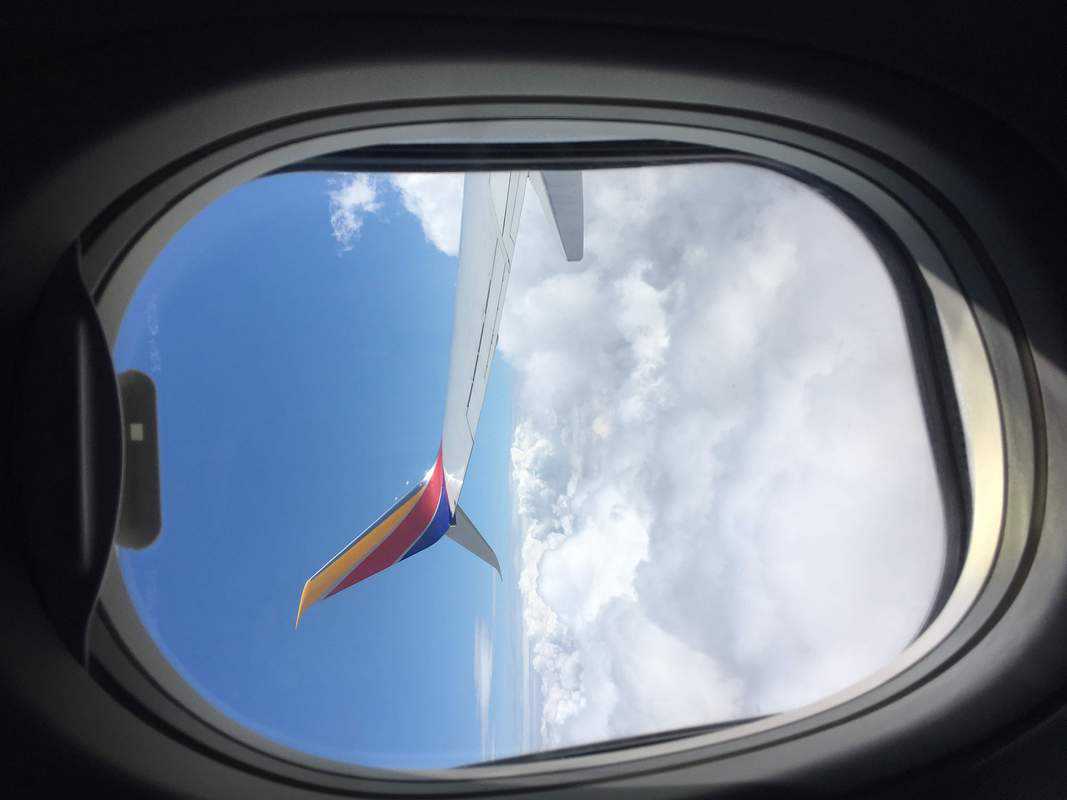 Checking in on this airline can seem a little stressful, largely because you are not issued a seat assignment in advance.
This can be especially daunting if you are flying with kids.
I've put together some tips to help you complete this task STRESS-FREE with the best shot at getting the seat you want — or at least to make sure your children can each sit with an adult family member.
Big relief, right?
Southwest Flight Check-in Basics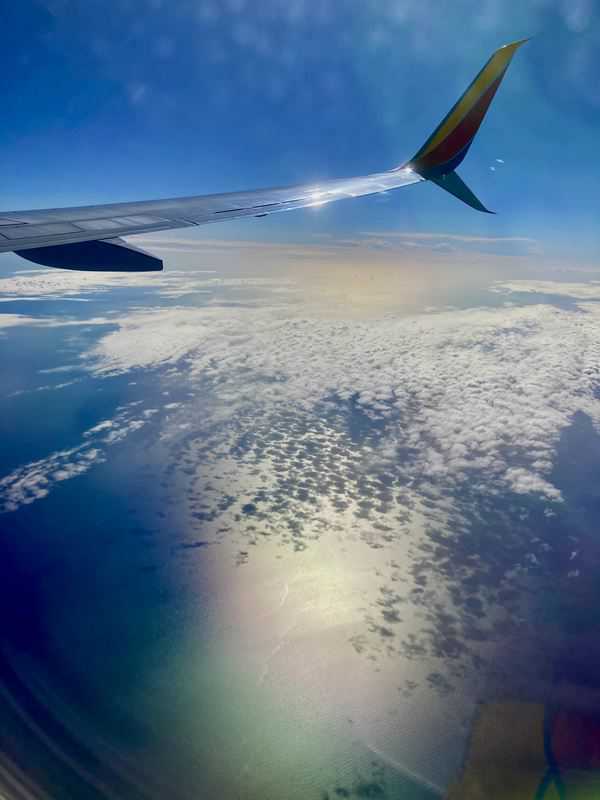 To start, you will only need to check in ONCE per way on Southwest even if you have connecting flights.
No need to check in before boarding the plane at your connection site. One and done!
How Southwest Boarding Works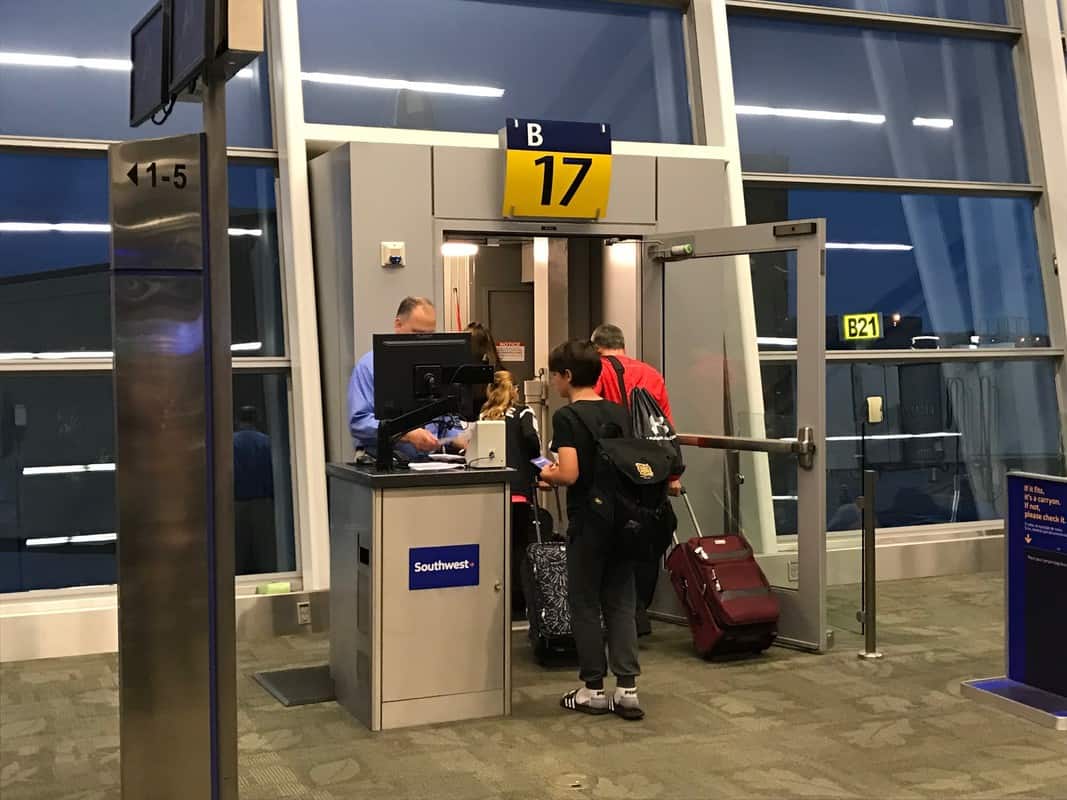 Southwest assigns "zones" for flight boarding based on when you check in and the level of ticket you have purchased.
These zones are A, B and C and order 1-60 in each "zone," and it is the same for both domestic and international flights.
Let's say you are assigned B24.
That will put you in the middle of the B zone for your Southwest check-in.
You board in the order you've been assigned, which is determined by when you checked in, starting with A1 and ending with C60.
Now, let's take a look at how to get you the best possible boarding position!
Options to Ensure a Good Flight Boarding Position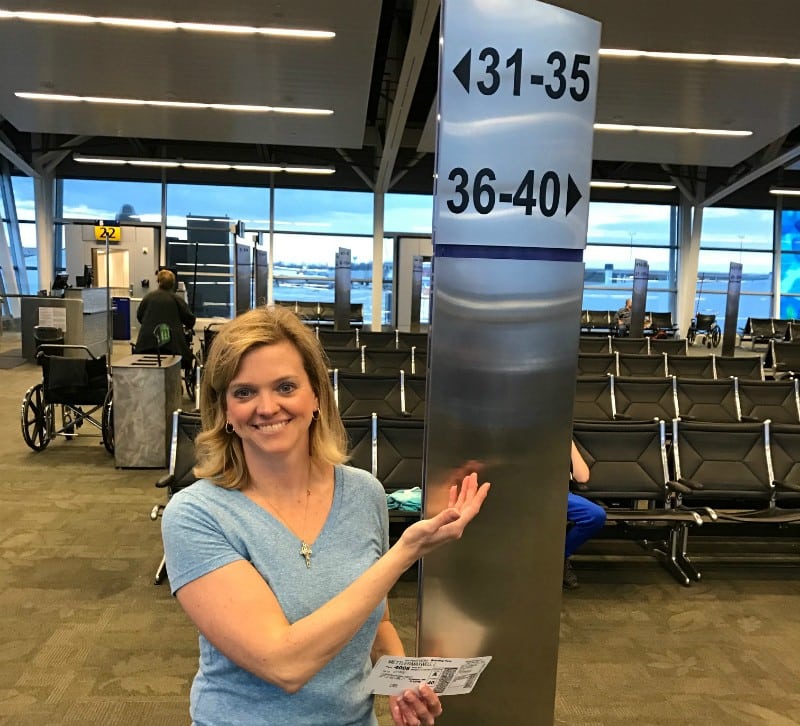 There are several ways you can ENSURE you get a better boarding position and thus earlier seat selection.
They include:
1. Southwest Business Select
If you want to be assured of the best possible seat choice, you have a couple options when booking your Southwest flight.
First, you can choose Southwest Business Select.
This puts you in the first boarding group, which is A 1-15, though BEHIND anyone boarding with a wheelchair.
Once when flying into Ft. Myers, Florida, we had Business Select tickets, but were relegated to the fifth row because of the number of elderly and individuals boarding on wheelchairs.
So, despite the rules, there is no guarantee of the first row.
Southwest Business Select gets you more Southwest points but is also MUCH more expensive, though may be worth it to fund as a business expense write-off.
Note: You also get a free Southwest drink with your business fare.
2. Early Bird Check-in on Southwest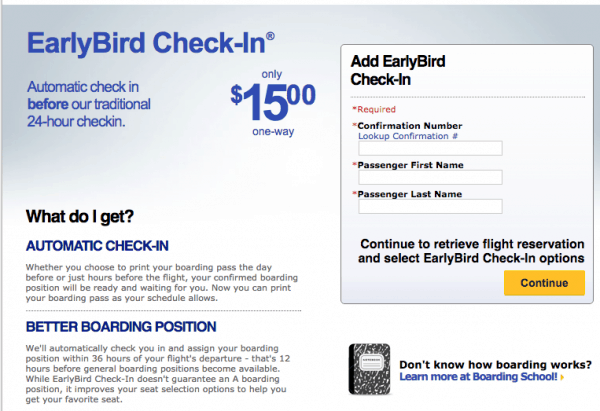 Secondly, you can purchase Early Bird Check-in to reserve your passenger spot earlier than everyone else.
This costs $15-$25 per flight per person per way, which adds up quickly for a family, but it automatically checks you in before the rest of the general public.
Use your Southwest credit card to pay for the fee to earn two Southwest points per dollar spent.
It's best to sign up for Early Bird when you make your reservation, as the order of boarding in Early Bird is determined by when you purchased it.
Also, those with Anytime Fares who purchased Early Bird will board ahead of those with Wanna Get Away fares who booked Early Bird.
If you're late booking your flight (ie it's within a few weeks), you may NOT want to purchase Early Bird, as they sell unlimited Early Birds, because you could be way back in the list.
It may be smarter to instead wait till you get to the gate and upgrade to A1-15. See No. 3 below.
And you'll need to purchase Early Bird at least 36 hours in advance (the timeframe when the automatic check in begins for Early Bird).
We usually purchase Early Bird for my husband to ensure he has enough legroom, because he is tall, and he is usually able to save a middle seat for my oldest son (though technically you aren't really supposed to "save" seats).
But generally, middle seats are the last to be taken (how terrible to have to sit between two people ;-)), so it's usually not a problem.
Here are the most commonly asked questions about Early Bird Check-in for Southwest.
3. Upgraded Boarding at the Gate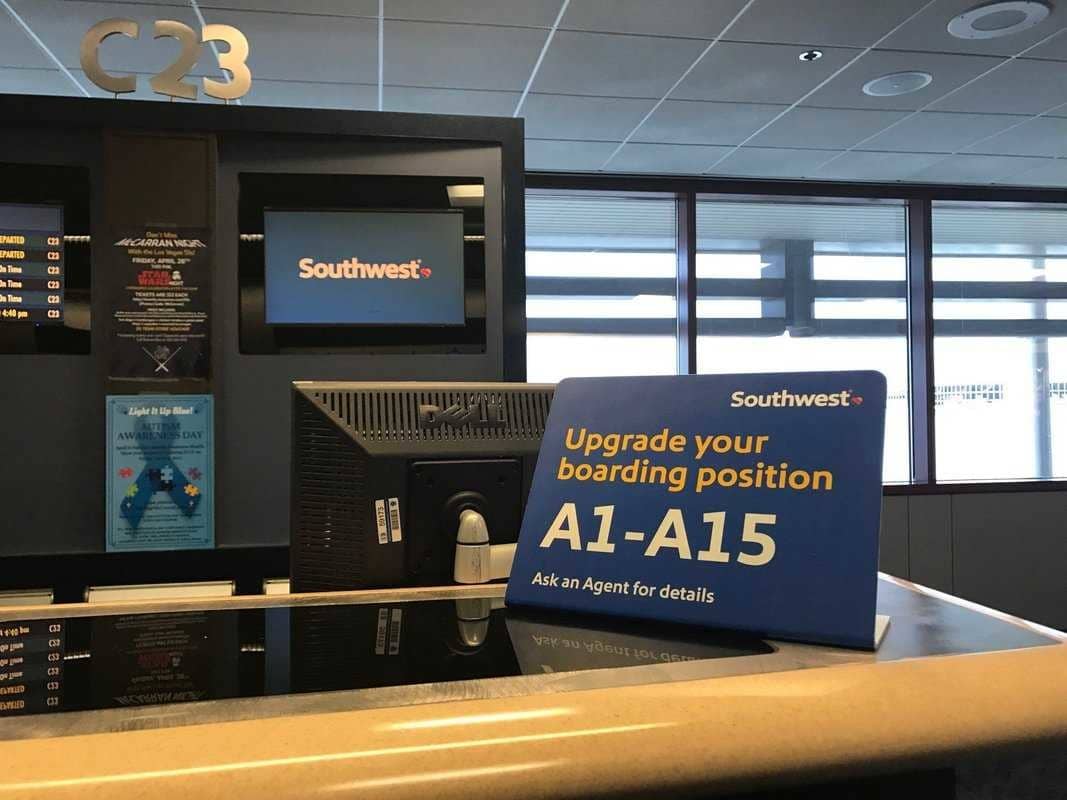 If there is availability, you may be able to upgrade your boarding position to A1-15 for $40-$60 per flight AT THE GATE.
If the airline does not sell all of their available Southwest Business Select seats, which allow those passengers to board in Zone A1-15, they will then sell them to other passengers for a fee.
Look for a sign at the gate that says "Upgrade Your Boarding Position" or ask the agent at the gate.
Also, Southwest's Rapid Rewards Priority card and the Southwest Performance Business card both grant holders 4 upgraded A1-15 positions each year.
Simply pay for the upgrade with your card, and they will credit back the charge. Read my full review of Priority and my full review of the Performance Business card.
More about How to Upgrade Your Southwest Boarding Zone at the Gate.
4. Hold Elite Status with Southwest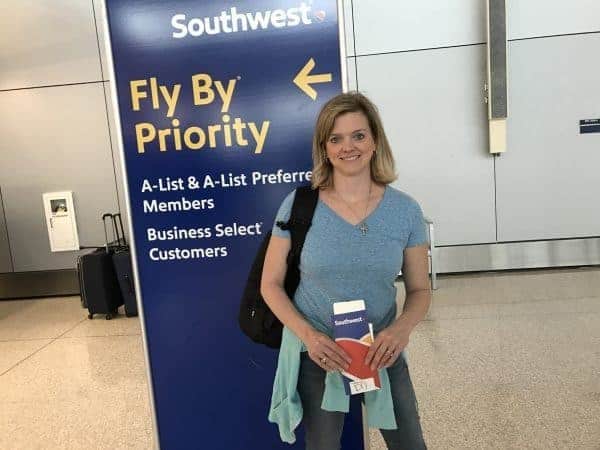 Southwest offers both A-List and A-List Preferred elite status levels. These are largely earned by flying a set number of flights (25-50 one-way flights).
If you hold elite status, you are also automatically checked in before the 24-hour point and thus the rest of the public, but AFTER Business Select.
But unless you fly for business, this is not likely an option, as who really flies that many PAID flights a year for pleasure? Not me!
Next, we're going to take a look at how to make sure you check in AS SOON AS POSSIBLE.
______________________________________________
My Favorite Travel Credit Card: Chase Sapphire Preferred
If you want to earn EVEN MORE Southwest points, Chase Sapphire Preferred, my FAVORITE travel credit card, offers 60,000 points upon meeting a $4,000 minimum spend in the first three months and a low $95 annual fee.

Thanks for using our affiliate link to apply below...
Flexible points transfer to Southwest at a 1:1 ratio instantly and are worth DOUBLE if you have a Southwest Companion Pass
3X points on dining 
2X points on travel
10% points bonus annually on spending
Primary car rental insurance
Trip interruption and cancellation insurance
Please note, this card's points DO NOT qualify for the Southwest Companion Pass but CAN be used to book FREE flights on Southwest.
Read my full review of this card.
All points can be instantly transferred over to Southwest to use to book FREE flights.
______________________________________________
Southwest Flight Check-in Online or Via Mobile: Step-by-Step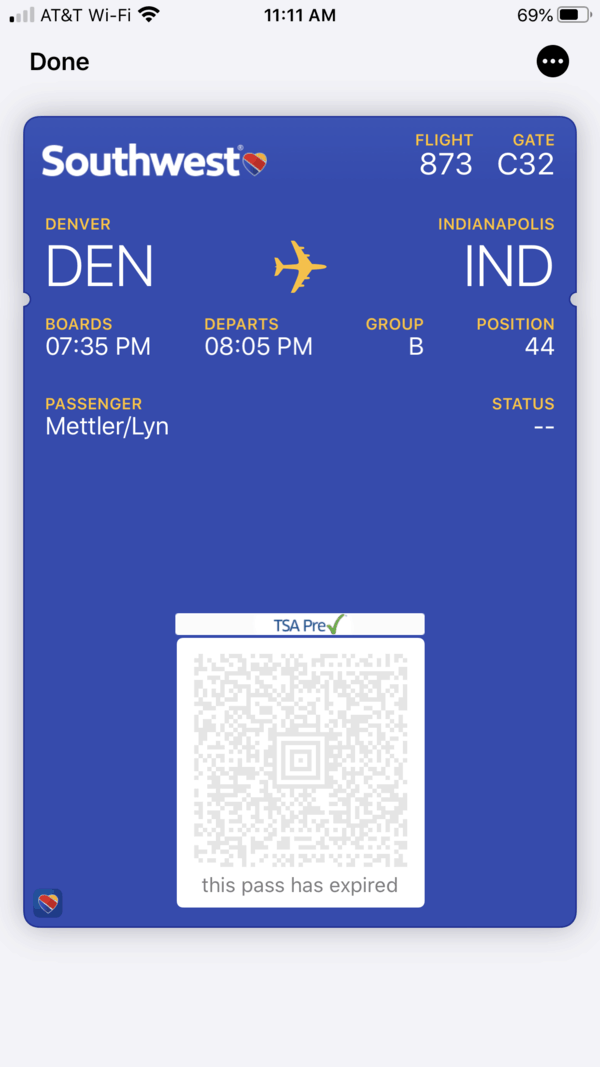 The KEY to getting the best seat possible is to check in for your flight online ahead of time as soon as you humanly can.
Southwest allows you to do this 24 hours in advance, so set your alarm, set your mobile phone, set your calendar notifications, set ANYTHING and EVERYTHING to remind you to do it right at that moment.
If you have the Southwest app and have allowed notifications from the app, it, too, will remind you.
That has saved me before!
Here are your steps:
Open the Southwest app on your smartphone and select "Check in" at the bottom of the screen or click "Check In" on the Southwest home page at www.Southwest.com.
Have your confirmation number handy and go ahead and type it into the appropriate box along with your first and last name.
Click Check In as soon as the clock turns to exactly 24 hours before you board. Heck, try it a few times before in case their clocks run ahead of yours!
Once you click Check-In, Southwest will ask you how you want your boarding pass delivered. Have a plan so you can click your choice and move on. You can choose to print, send to your phone via text or send via email.
That's it! The hardest part here is remembering to do this!
If you are returning from travels, you may be more limited and it can be more difficult to remember, as you're likely to be out and about enjoying your vacation destination.
(We forgot while in San Diego once, which was a bummer, but we still got to sit one parent and one child together even though we were relegated to the C boarding zone!)
That's why it's key to set multiple alarms, so you don't forget, and using your smartphone is super handy in this situation.
OK, on to how to pull up your boarding pass once you've checked in!
How to Find Your Southwest Boarding Pass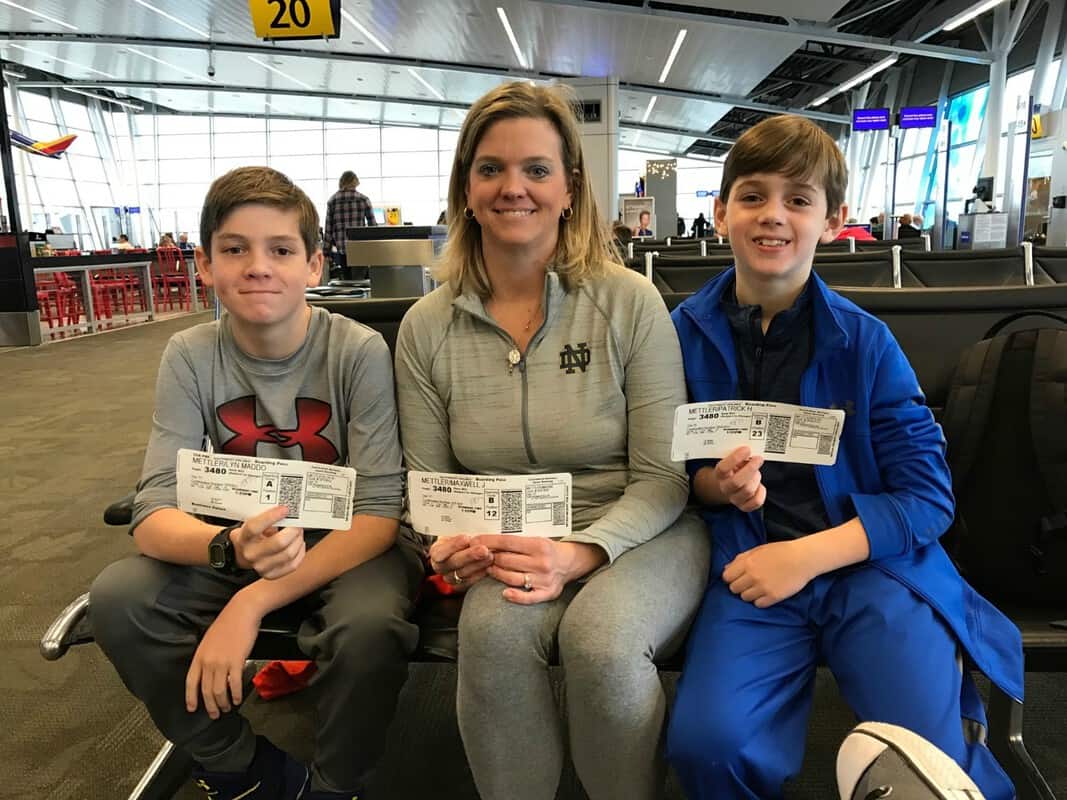 If you did not send boarding passes to your email or text, you will need to log into the Rapid Rewards account of each person (using their Rapid Rewards number and password) on your phone or device to access their mobile boarding pass.
If you use an iPhone, you can then load them all into your "Wallet" app for accessibility whether or not you have WiFi.
Your other option is to print your boarding passes at the airport.
We usually check bags, so we go ahead and print our boarding passes during that process just in case.
It's also helpful if the kids have significantly different boarding orders than we do, so they don't have to try to pull up a boarding pass on their phone or device, but rather they can just hold it wherever they are standing.
If you don't need to check bags, you can bypass that process entirely and simply go to the gate with your boarding pass on your phone (security and gate agents will both scan them) or in hand that you printed from home or the hotel.
Shhh… A "Secret" Tip for Automatic Southwest Flight Check-in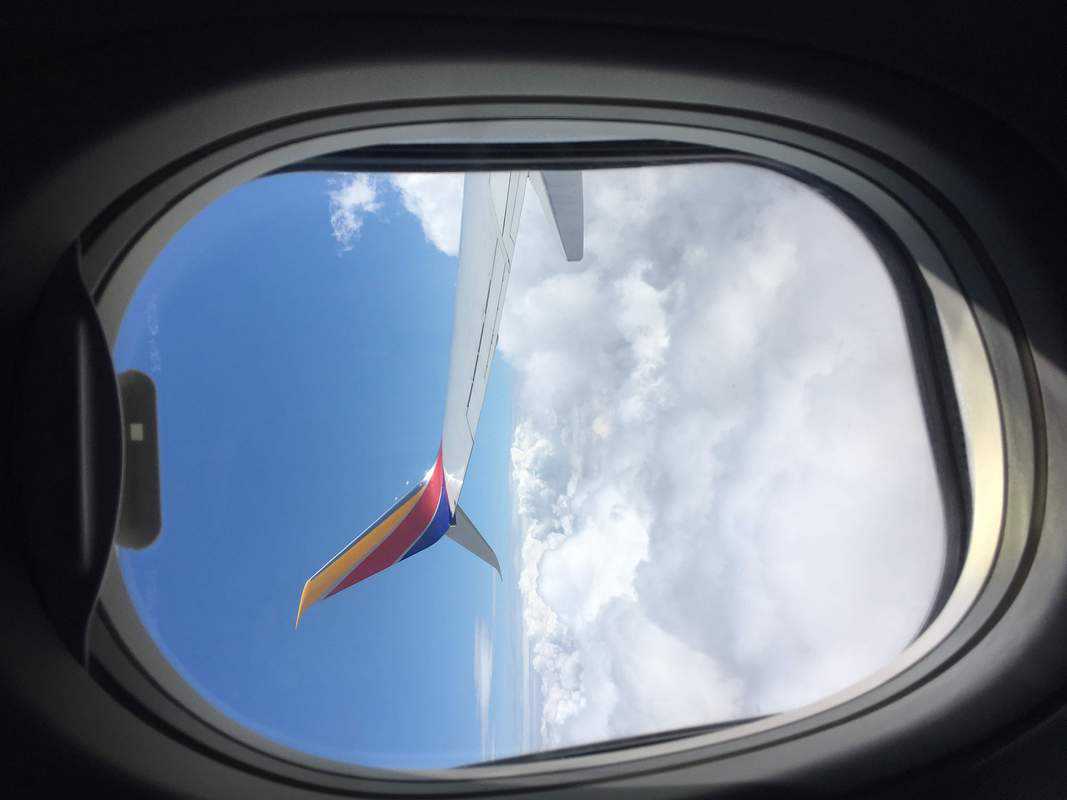 While I have not personally tried this, someone has developed an "extension" you can add to most web browsers that is supposed to automatically check you in exactly 24 hours ahead of your flight. Several of my readers have said it works for them!
I explain how to use this clever trick here. Let me know in the comments if it works for you!
Now, you might be wondering if you have to do this process for every person flying with you…
Can I Check in Once for Everyone in My Party?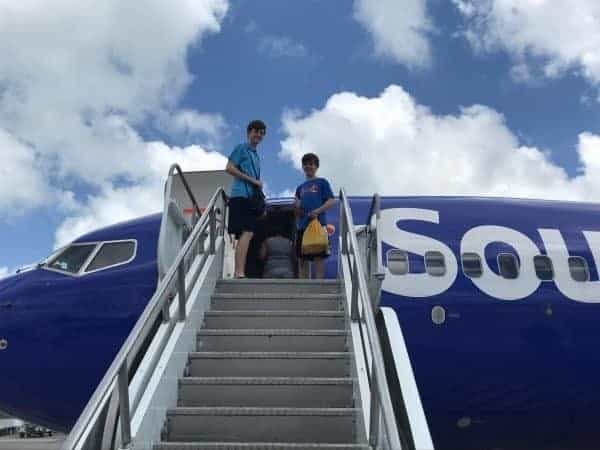 If you purchased everyone's ticket under one account — either with cash or your points balance — you can check everyone in under the same Confirmation number.
That means you only have to check in ONE TIME! That used to not be the case, so thanks to Southwest for this update!
The only exception is if one of your traveling companions is flying using your Southwest Companion Pass, an amazing perk of flying Southwest that lets one person fly free with you for up to two years. It's actually quite easy to earn and I show how in my Families Fly Free program.
If you've added your Companion to the ticket, that person will have a DIFFERENT confirmation number and will need to be checked in separately.
Additionally, if a member of your party purchased their ticket from a different Rapid Rewards account, they, too, will need to check in separately.
If you have children 6 or younger, Southwest lets you board between the A and B zones, which is handy, but if your kids are older, please follow the below:
Online Southwest Flight Check-in Strategy for Families or Parties With Multiple Check-ins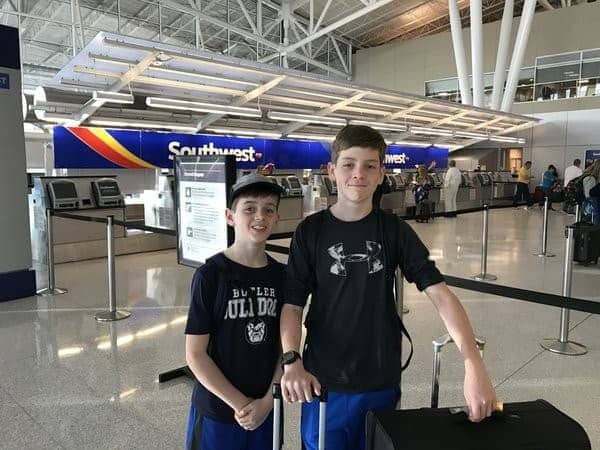 Have everything open, confirmation numbers typed in for the main confirmation number and that of your Companion. Make sure someone is ready to click Submit on each device (phone, etc.) when 24 hours in advance rolls around. DOUBLE CHECK all confirmation numbers and have them written down and available in case you got one wrong.

I like to keep these in Notepad on my phone, which is also handy when checking bags or printing boarding passes at the airport.

Click, click, click!!
When boarding your flight, give Mom and Dad the best boarding position passes (even if it went to a child) and have each parent bring a child (or two) with them.

We've never had anyone question if my husband had my child's boarding pass, who got the best boarding position and if my child is with my husband (despite having a number further back) so long as they are both in the same zone.
If you have older children, they are probably fine standing alone wherever their boarding zone places them.

Look for two seats together, which is usually toward the back of the plane.

We have never had a problem finding two seats even in zone C — and even when I forgot and checked in two hours late!

If you cannot find seats to match kids with a parent, ask if someone will switch seats or ask the flight attendant for help.

A flight attendant announced on one of our Southwest flights that they needed someone to switch so a mom could sit with her two young children … unless someone was up for babysitting… 🙂 Needless to say, someone switched!
You don't HAVE to check in online, even though it's your best option for getting a decent boarding order.
Flying with little ones? Here are some flying with a baby tips from FlyingWithaBaby.com.
Here are some other ways you can check in:
Curbside Check-In Southwest
Some airports offer Southwest Sky Cab curbside check in where you can pull up and unload your car and bags by the curb and then check in right there.
View this list of airports to see which services they offer.
Ticket Counter Check-In
You can also opt to check in at the Southwest ticket counter and/or check your bags and print out boarding passes even if you've already checked in online.
We often do this rather than rely on the boarding passes on our phones, just in case our phones die, we lose service or who knows what else?! It's happened to me before :).
If you purchased a Business Select fare or hold Rapid Rewards A-List or A-List Preferred Status, you can check bags faster through the Fly By Priority Check-in Lanes.
Self-Service Southwest Check-in and Tagging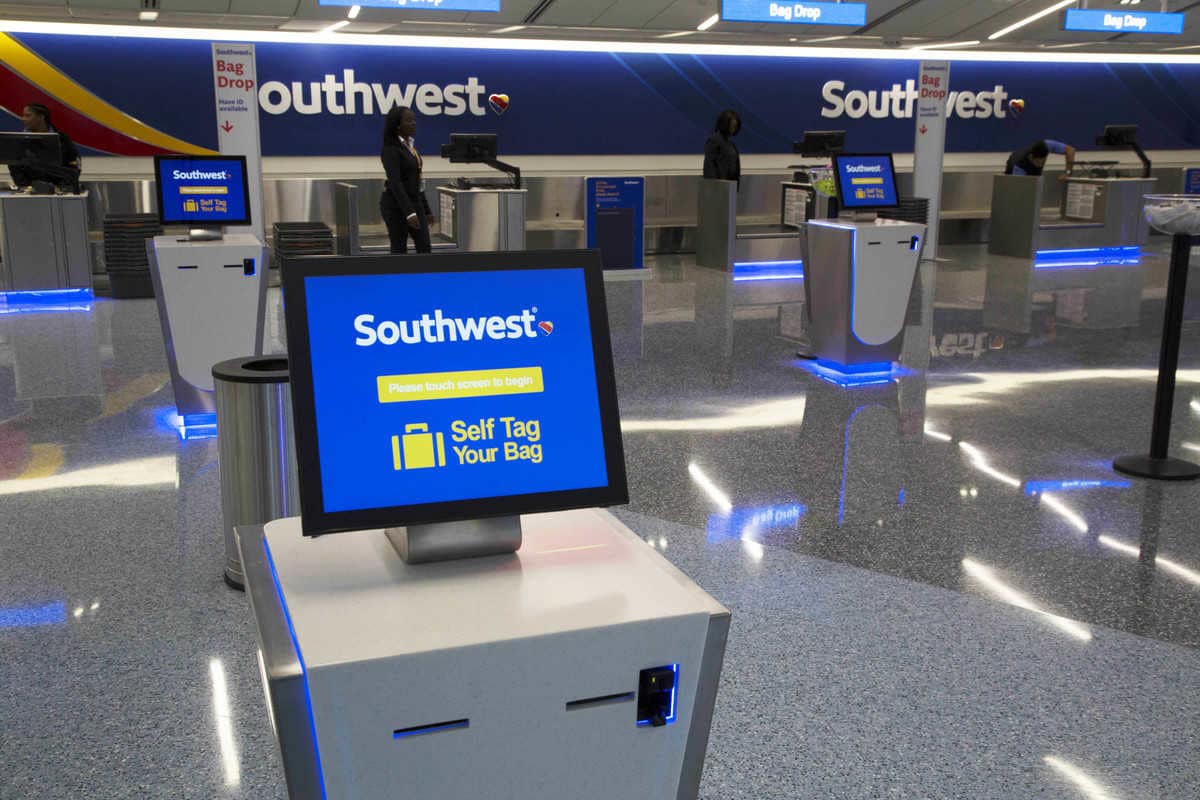 Another option in many airports is Southwest Self-Service Check-In.
Look for a Self Service kiosk at the Southwest gate at airports like LAX (Los Angeles), Las Vegas, Indianapolis, San Diego and Atlanta
Most customers can use the kiosk except for:
Unaccompanied minors
Customers traveling with pets (More about traveling with pets on Southwest)
Customers traveling on age-qualifying fares (Infant, Child, and Senior Fares) that have NOT already been age verified
Customers traveling on a military fare
Customers traveling with paper tickets
At the Self-Service kiosk, which we REALLY like, you can check yourself in and type in the number of bags you are checking.
It will then print baggage tags, which you attach yourself before briefly visiting the Southwest desk to show your IDs and hand over your bags to be loaded onto the plane.
We don't CHECK IN at the kiosk (having already done that online), but we do like to check our bags here.
Note, if you are checking in 20 minutes or less before your flight's departure, per Southwest's requirements, you will need to check in AT THE GATE.
You will be given a security document to get through security, but you will still have to check in at the gate.
View this list of airports to see which services they offer.
Express Bag Drop Southwest
In 16 different airports, Southwest offers a service for those who already have their boarding pass and who only need to check bags. It's called Express Bag Drop.
In airports like Chicago Midway, San Diego and Orlando, you can print your boarding pass, have it emailed to you or have it texted to you ahead of arriving at the airport.
Then, if you have bags to check (and you might as well, because you can check 2 bags up to 50 pounds and with dimensions no more than 62 inches — L+W+H — in size FREE!), simply look for the Express Bag Drop line.
It's usually located near the end of the ticket counter that is closest to the security check point to save you even more time!
Once it's your turn in line, scan your boarding pass at the kiosk and select the number of bags you are checking.
Then, show your ID to the Southwest agent, place your bags on the scale to check their weight and you're on your way!
View a complete list of airports and the various Southwest services they offer.
You probably have a few questions after reading my tips.
Here are some of the most common questions readers ask me…
Other Frequently Asked Questions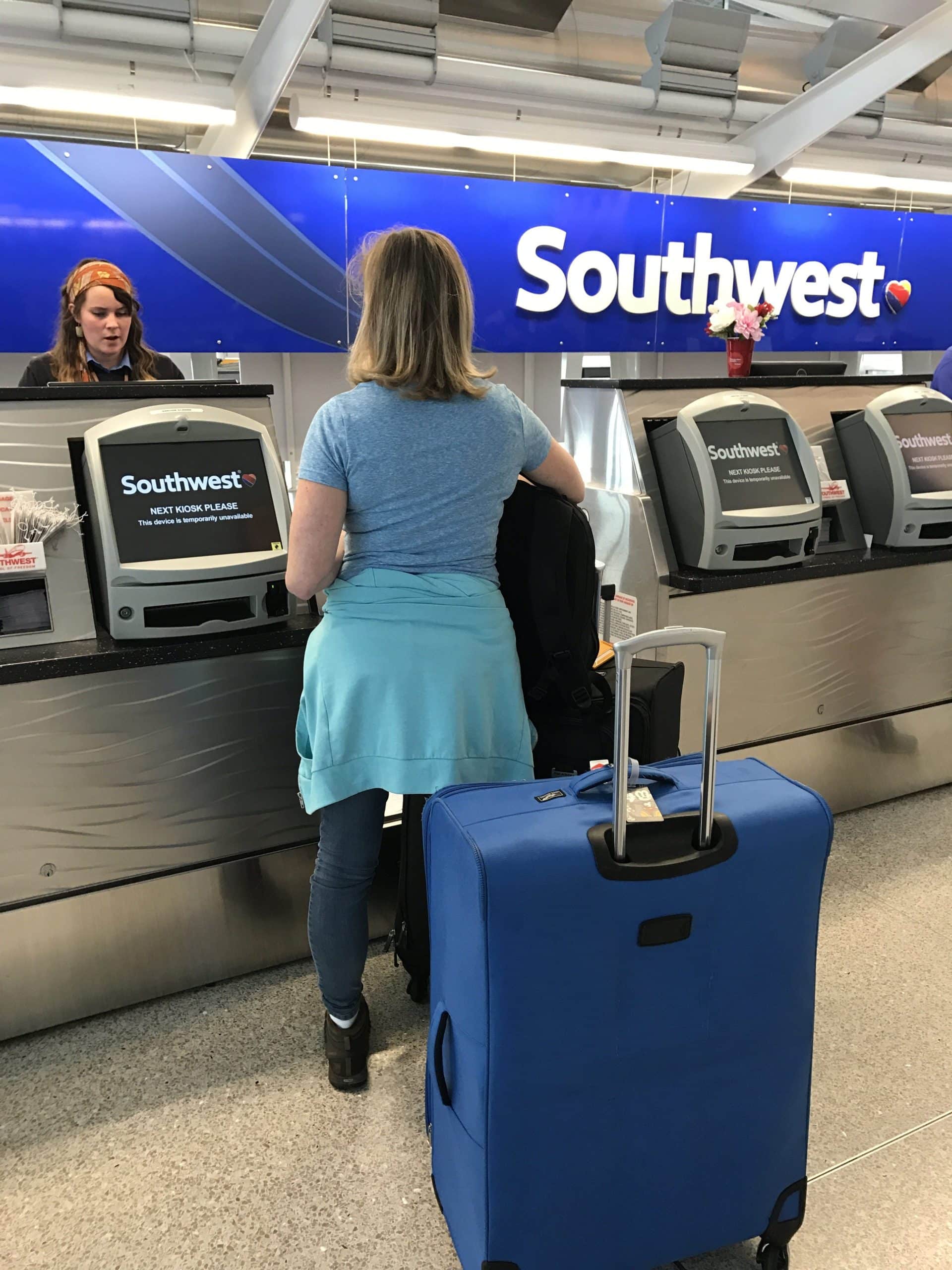 When Should I Arrive for Airport Check In?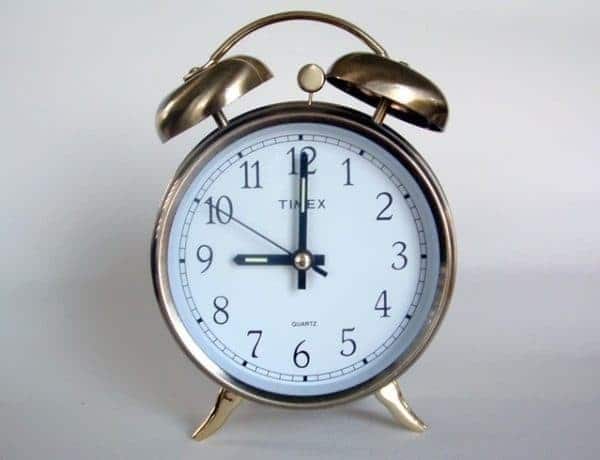 You will need to have your boarding pass at least 40 minutes ahead of your flight's departure and 10 minutes ahead of boarding (which is 30 minutes before departure).
What If I Decide Not to Travel on My Southwest Airlines Scheduled Flights?
If you are not going to be traveling on the flight you booked, you will need to notify Southwest at least 10 minutes before departure, otherwise, you will forfeit the cost of your ticket.
You CAN cancel your ticket up to 10 minutes prior to boarding.
When Do I Need to Be at the Southwest Gate?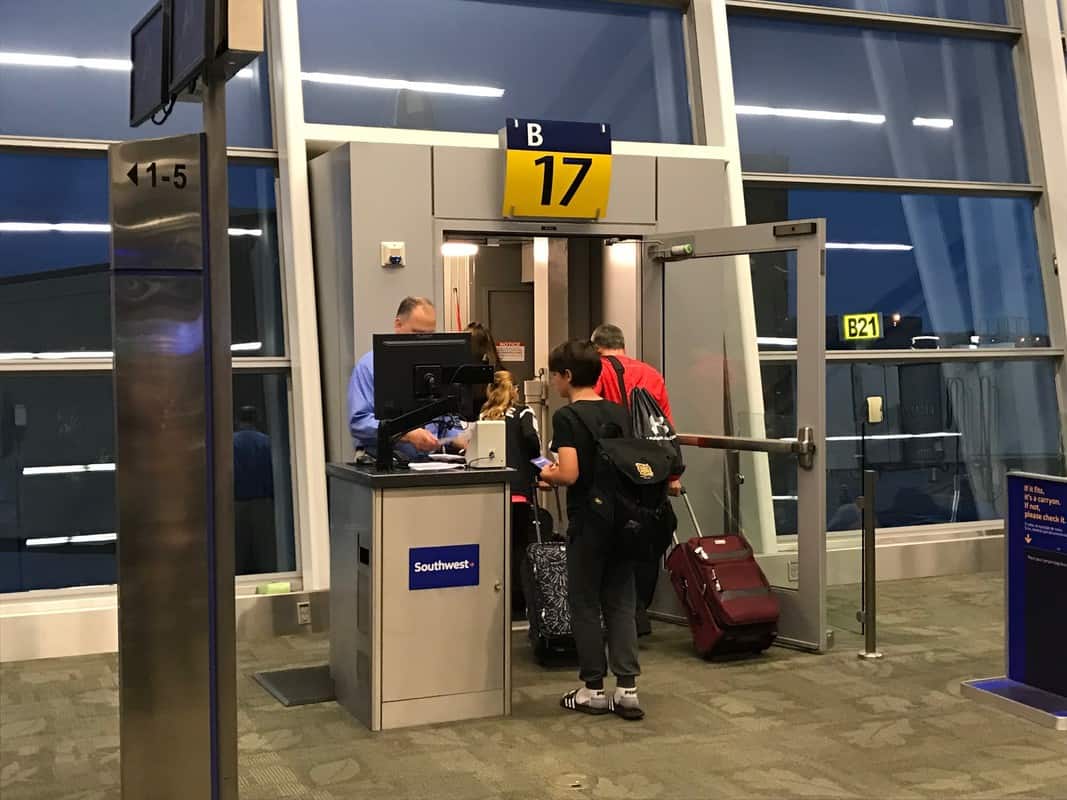 You will need to be at the Southwest Gate to board your flight at least 30 minutes ahead of time.
Allow time to go through security, though if you have TSA Pre-Check, you will likely get through security more quickly, because you will not have to remove shoes, laptops or liquid items, and lines tend to be shorter.
Check the TSA website for a complete list of restrictions for carry-on items, such as firearms.
We like to get there about an hour ahead just to have a few moments to grab something to drink at the airport store or airport Starbucks to take on the plane.
Want to get free drinks on Southwest? While everyone can get a free soda, juice or water, drinks with alcohol cost.
Here are some different ways to score a free alcoholic drink to enjoy once you're up in the air.
What is Southwest's Policy on Strollers?
Southwest allows customers to check one child seat and one stroller (you can even check a pet stroller!!) in addition to the two free bag allowance.
You can check these items at the curb, at the ticket counter or at the gate.
They even have a reusable car seat/stroller bag available for purchase at the ticket counter for $17.
Can I Check Instruments, Golf Clubs and Skis?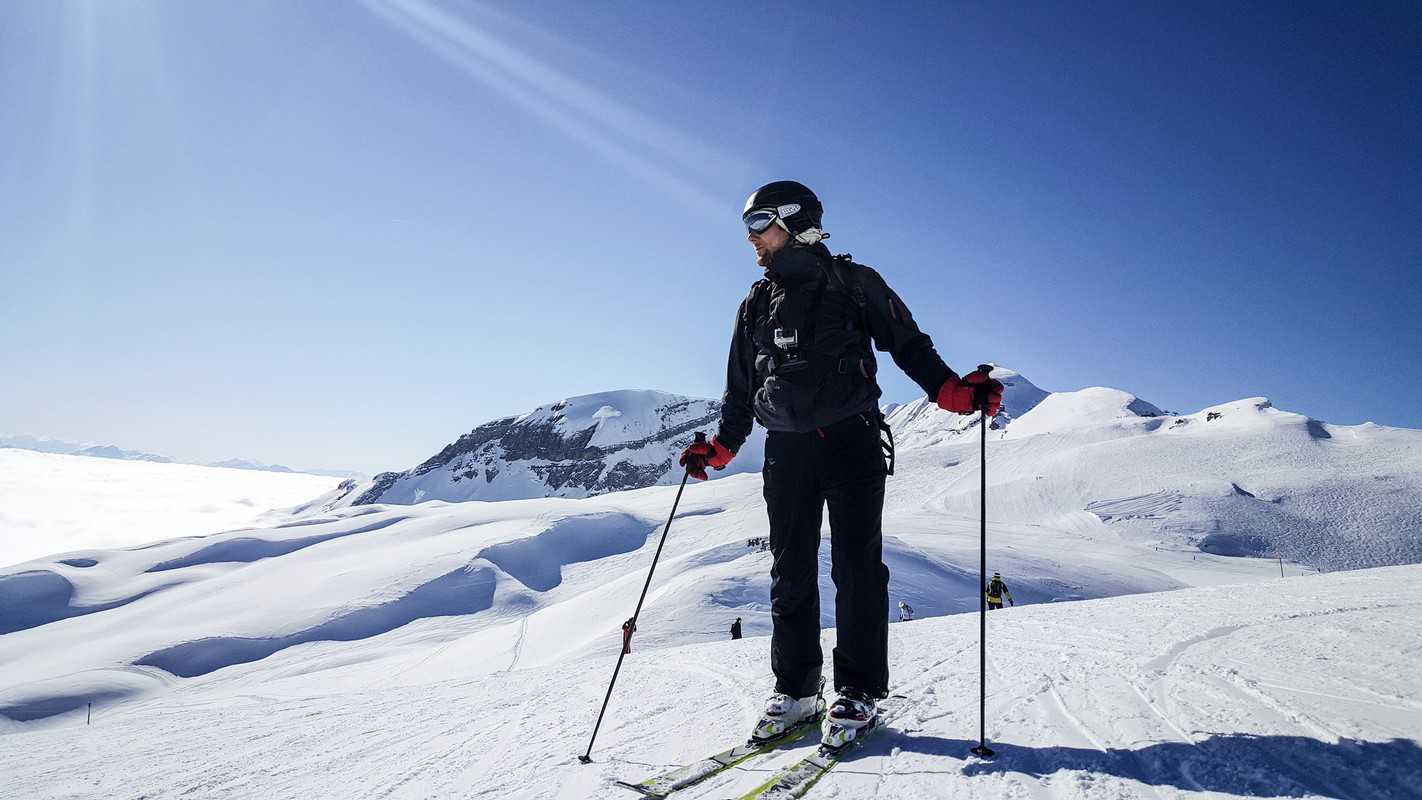 Southwest allows instruments to count as one of your two free checked bags and one small musical instrument as a carry-on.
Golf clubs in a golf bag, which may also include balls or shoes, can count as one of your free checked items, though it must be 50 pounds or less or overweight charges will apply.
If you're flying on your way to ski, Southwest will count up to two bags, each containing one set of skis, poles or boots, as one checked item.
Here is the complete list of rules on sporting items.
In Summary
While checking in on Southwest Airlines is a bit more work than having a seat assignment, I think it's worth it many times over not to have to pay a penny for your flight, because Southwest is one of the easiest airlines to book with points.
Heck, just envision everyone on their way to vacation and only paying $11.20 per person (the mandatory security fee charge that everyone has to pay).
Plus, who can argue with their free luggage policy, allowing you to check two bags per person free, and no change fees if you need to cancel or change your flight? (If you do need to cancel your flight and you paid with points, they will immediately credit back to your account; if you paid the price of your ticket with cash, you will receive a Southwest voucher for the amount good for one year.)
I don't mind sitting in the back and looking for a seat, do you?
Here's more reasons why I love to fly Southwest.
Got any tips for getting a good seat on Southwest?
_____________________________________________
Want more points for free flights on Southwest?
Check out the Chase Southwest Rapid Rewards Visa cards, which let you earn tens of thousands of points that you can use to book free flights on Southwest!
These points also qualify for the 135,000 you need to earn the Southwest Companion Pass, so one person can fly free with you for up to two years.
These include...
Keep in mind you can only hold ONE personal Southwest card at a time, though you can hold two Southwest business cards.
To ensure you time these cards in the best way possible to easily ALWAYS have a Southwest Companion Pass, join hundreds of others inside our Families Fly Free membership, the simplest, most organized, most supportive system for flying your whole family for free.
Read More: