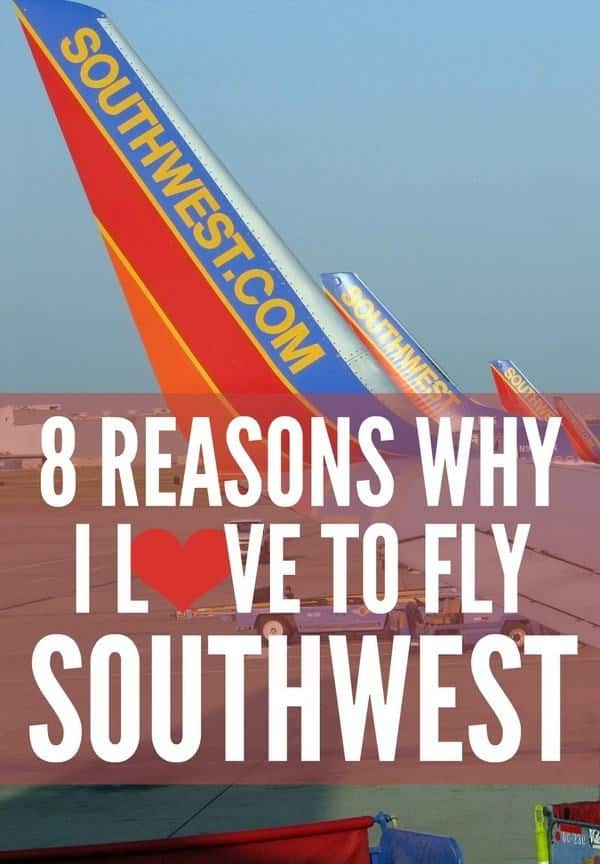 Southwest Airlines is hands down my favorite airline.
I've had bad experiences on both budget carriers (Frontier, I'm talking to you!) and other major airlines.
I really hate bad customer service and being charged for every little thing.
I've never had a bad experience on Southwest, and with my Companion Pass in hand (which lets my husband fly free with me anywhere), we are able to reduce the number of points needed to travel, allowing those we do have to stretch even further.
Download my free cheat sheet of 7 Secret Hacks I Use to Fly My Family Free below…
[convertkit form=2741539]
8 Reasons Why I LOVE to Fly Southwest Airlines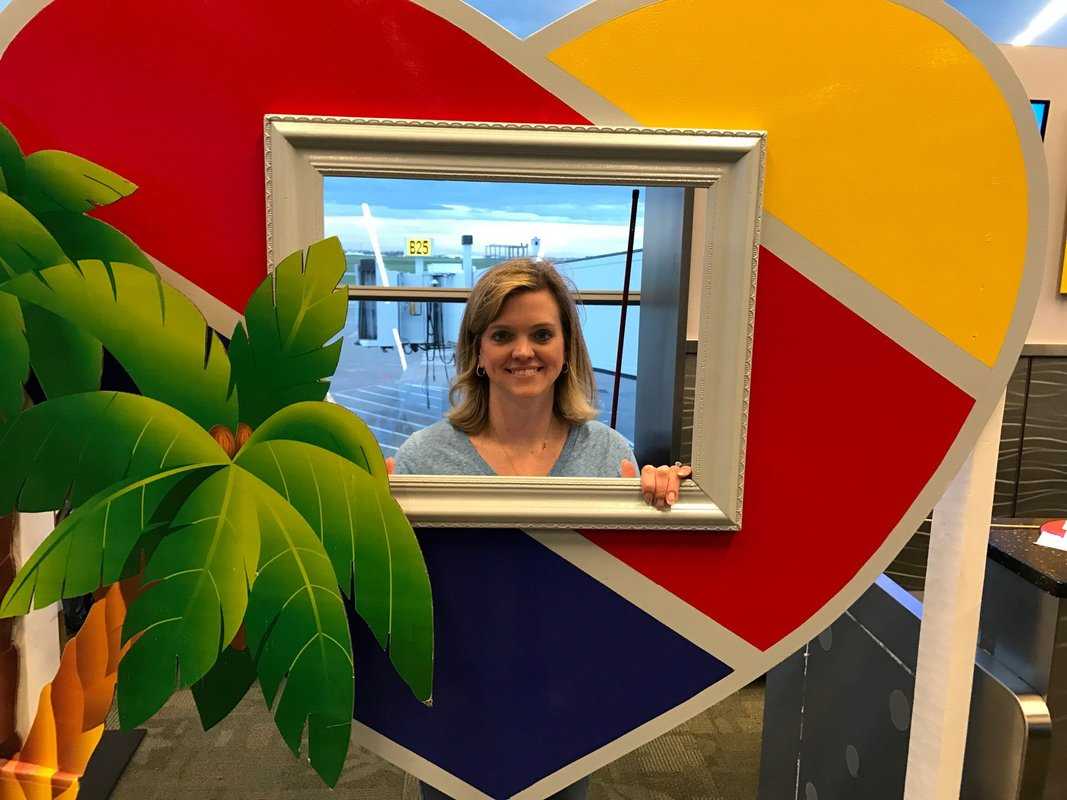 1. Two FREE Checked Bags Per Person
This is a great perk, especially for families who generally need to travel with more stuff.
Try as I might, I cannot condense my family's gear into 1 bag.
My husband's shoes alone fill about half a bag!
While we never take 2 bags per person, we will often fly with 3 checked bags and 1 carry-on. This allows us to bring an entire bag with non-perishable snacks and breakfast items in addition to all of our clothes. Yea!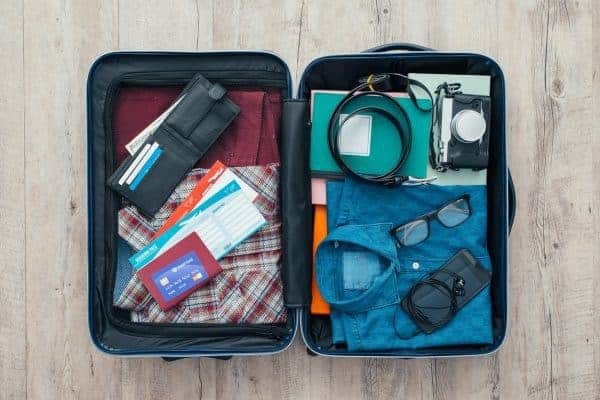 And consider all the gear you might need for a national park trip:
fishing pole
hiking boots and poles
layers of clothing
binoculars
fanny packs, etc.
You get my drift.
Much better to NOT have to worry about whether or not you can fit it all in.
2. No Change Fees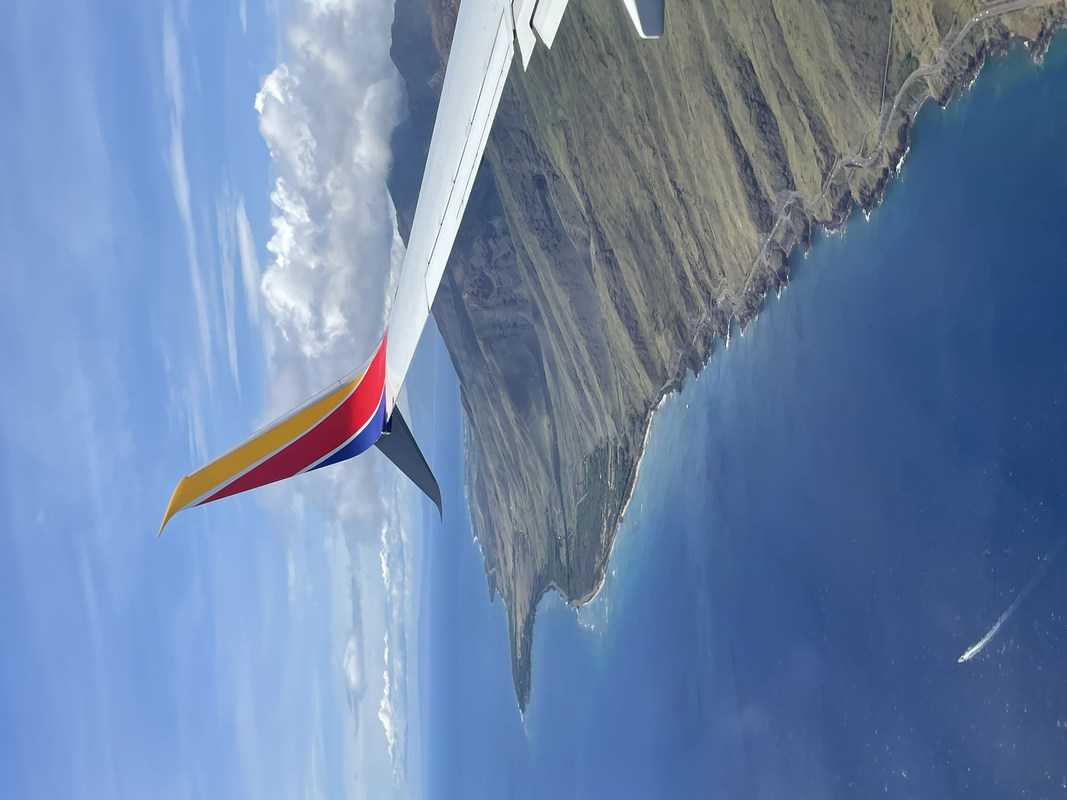 Southwest does not charge you a change fee if you need to cancel or change your reservation; you will only pay the difference in the fare price.
If you book with Southwest Rapid Rewards points and need to cancel, they are simply credited back to your account.
SO easy, quick and helpful!
We will often book a trip, even if we are not certain of it, locking in a good rate but knowing we can cancel at any time.
That was so helpful to Families Fly Free team member, Cami, when she needed to be with her mom during her battle with cancer.
TIP: If you pay with cash instead of points for a Wanna Getaway fare, Southwest only reimburses you in the form of "Unused Travel Funds," which must be used by the original ticket holder. They do not give refunds in cash.
Want to jump to the finish line of using travel rewards to fly your whole family for free - WITHOUT the overwhelm? Learn more about our Families Fly Free membership, where we teach you our SIMPLE process to collect and use travel rewards to always fly for free, so you can make more travel memories with your family and save thousands of dollars in the process.
Click below to learn more...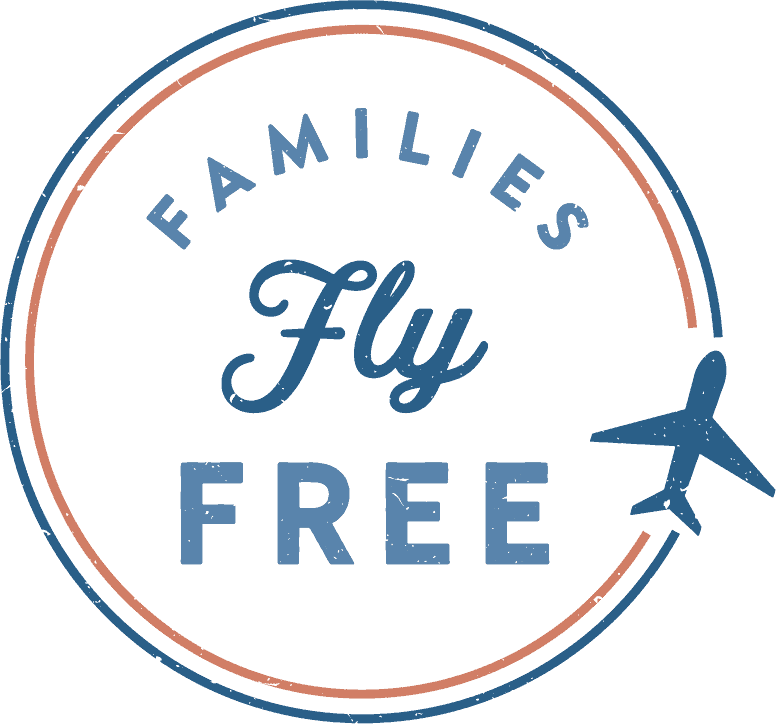 So paying with Southwest points is always better for Wanna Getaway fares.
3. No Blackout Dates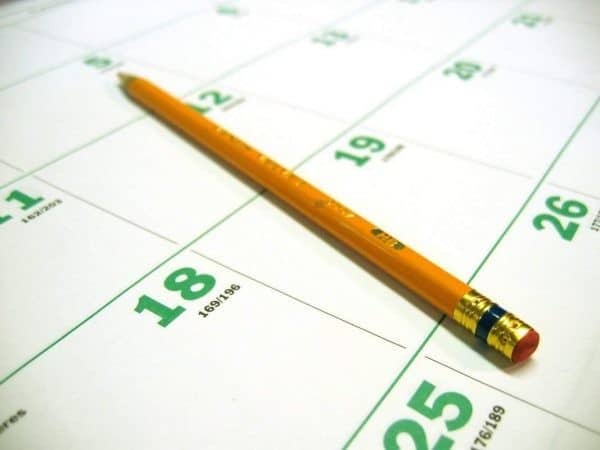 When you book using your Southwest points, you have access to the same flights and same fares as everyone else — even though popular dates and times may cost more points –with no seats blocked out unless they are sold.
Most other airline programs limit award availability to a mere handful of seats per flight or have a standard amount they charge per ticket, such as 12,500 points per way.
Not true with my favorite airline! 🙂
I've seen flights as low as a mere 1,000 points per way.
4. Points are Based on Cost
Southwest follows a dynamic pricing system, meaning they base their cost on what the market demands.
So I wait to purchase flights until a sale, to help conserve and maximize my Rapid Rewards points.
And if the price of a flight goes down?
Southwest will gladly return those extra points to your account, so you can enjoy ANOTHER flight with them in the future.
We show you how to do that inside Families Fly Free.
WIN. WIN.
5. Free TV and Low-Cost Internet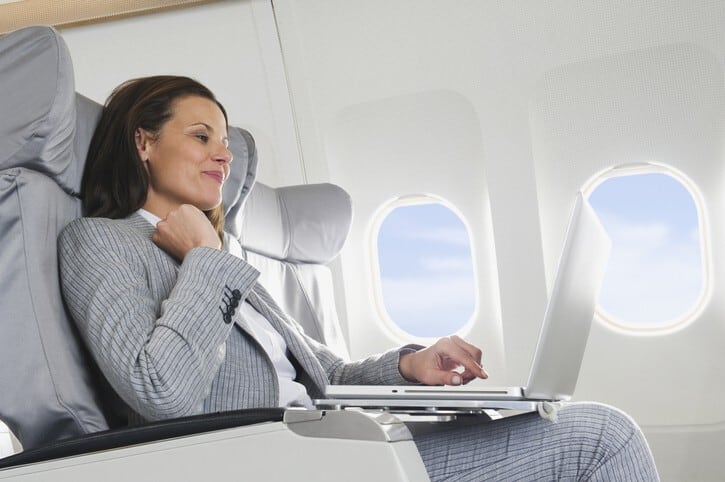 With Southwest in-flight entertainment, you can watch 14 Live TV channels, including HGTV and the Discovery channel, and up to 75 TV episodes on-demand on your personal device via their app for no cost.
This really helps entertain my school-age kiddos.
Most devices are compatible, but make sure that everything is updated and charged before travel.
There are NO outlets onboard Southwest planes to recharge your devices.
And for only $8, you can connect to Southwest WiFi for the entire day, no matter how many flights you have.
6. Southwest Points Don't Expire EVER!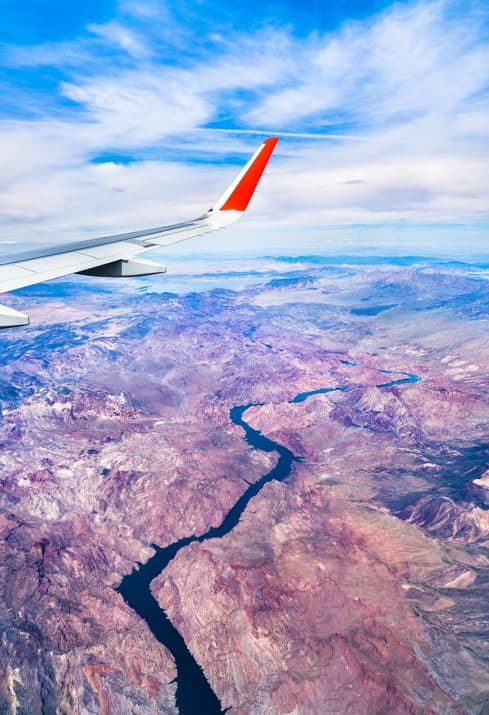 This is great news, because you can accumulate miles and wait until you're ready to use them with absolutely no pressure whatsoever.
Need more creative ideas to stock up on Southwest points?
Check out my article 101 Ways to Earn Southwest Points to Keep Flying FREE!
And better yet, Southwest points NEVER expire!
7. Reasonable Fares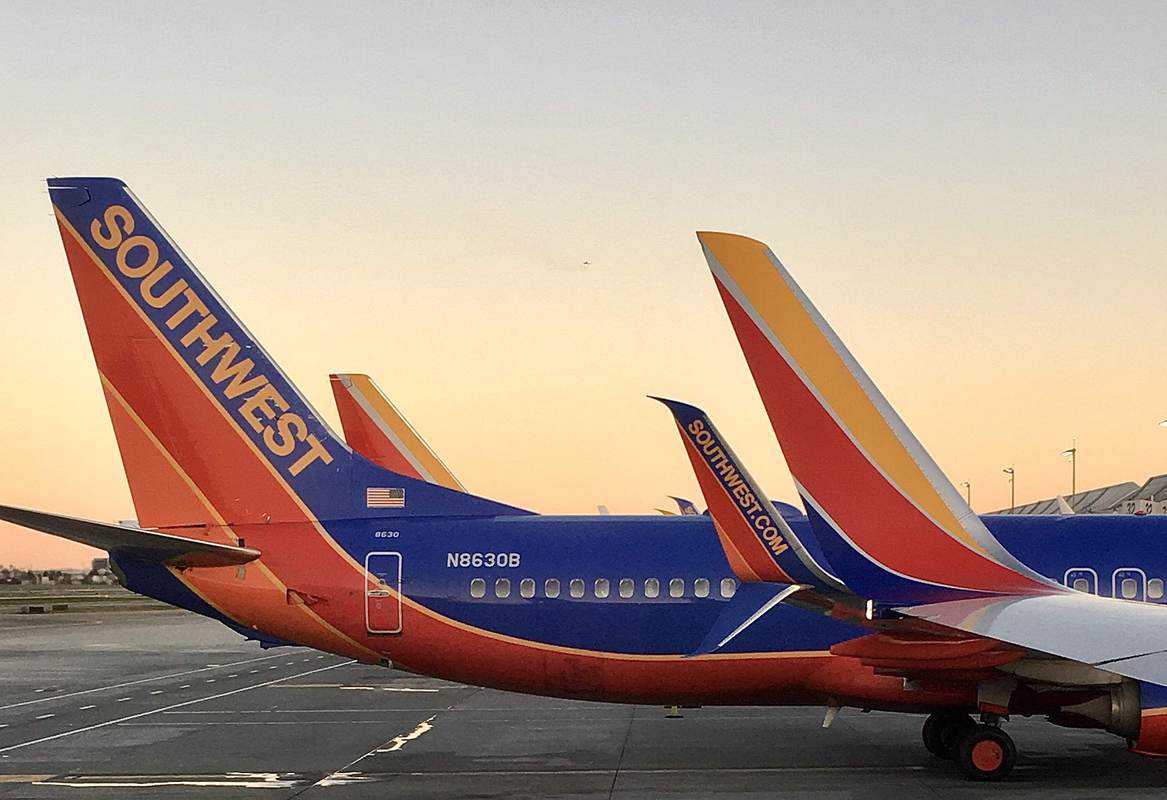 I find that Southwest regularly has very reasonable fares (ie $49-$69 one way) to many of my favorite destinations like Zion National Park, New York City, San Diego and Walt Disney World.
Don't have a certain destination in mind but have wanderlust? Me too!
In that case, you can always search their Route Map for ideas.
Just put in your home airport and a menu will appear with all the destinations.
Let your imagination run wild!
8. Fly 1 Person With You Free for up to TWO Years
Yes, it's true!
This happens once you qualify for the Southwest Companion Pass, which you can earn with very little effort after accumulating 135,000 qualifying points.
We show you how to do this in just a couple of months — and ALWAYS have a Southwest Companion Pass — inside the Families Fly Free membership!
The person you designate as your companion flies free with you from the time you qualify until the end of the following year.
Can you think of any better deal in travel?
Do you love Southwest Airlines? Tell us why in the comments!
Read More: